Duterte again hints at 'very radical change' coming
August 28, 2019 | 10:39am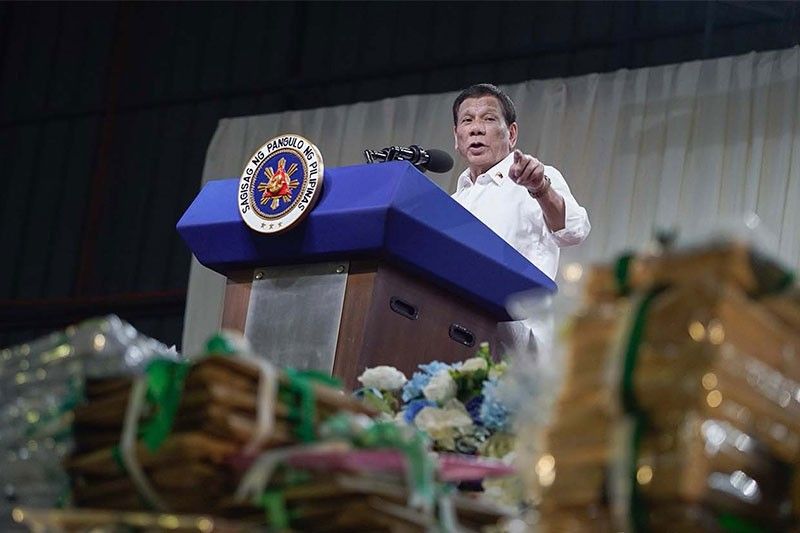 MANILA, Philippines — President Rodrigo Duterte has once again hinted that there will be "very radical change" in the government as it faces security challenges, including communist rebels and the illegal drug trade.
The president had asked the military to put an end to security challenges as the government cannot "afford to pass it on to the next generation."
"I'm serving notice to everybody that in the coming months, it will be not really bloody, but there will be a at least, a little trouble for our country," Duterte said at the 31st anniversary celebration of the Comprehensive Agrarian Reform Program at the Department of Agrarian Reform office in Quezon City.
Duterte noted that the government has been battling "so many fronts," such as the communist insurgency, illegal drugs and the Abu Sayyaf Group.
The president added that such challenges have made the government a "magnet to criticism."
"In the coming days, there will be a very, very radical change in the behavior of government. You know, I am not challenging. You might win or you may lose, but that is something to be seen but I intend to call the attention of the military guys here," the chief executive said.
'Change is coming'
Duterte has long been hinting that he will make a "radical change" in the government. His campaign slogan for the May 2016 presidential race was "change is coming" and even as a candidate, he said that he
In June 2018, the president also declared that he will make radical change to address issues on public order and security.
Duterte made this pronouncement following the apprehensiveness of foreigners to visit the country due to fear of being kidnapped or killed.
Aside from his promise of radical change in the government, the president had also been warning that he will declare a revolutionary government if his opponents try to oust him.
In April, Duterte said he might declare a "revolutionary war" after Senate Minority Leader Franklin Drilon asked the administration to be exercise caution in reviewing and cancelling government deals.
Drilon said then that it is good to review government contracts but that they cannot simply be classified as onerous and cancelled as this would represent a clear breach of contract. Otherwise, he said, "no country or entity would enter into contracts with us because we cannot be trusted to honor our obligations."
The president even warned that he would suspend the writ of habeas corpus "if pushed against the wall."
"You will be at par with rebels, criminals and drug addicts. If you make it hard for me, I will declare a revolutionary war until the end of my term, then we have to bear this," the president said.
Malacañang was quick to clarify Duterte's threat to declare a revolutionary government was just an expression of frustration.
According to presidential spokesperson Salvador Panelo, Duterte's remark against Drilon "was more of an exasperated expression and again to put on notice the transgressors that he will not just sit idly and watch them do illegal things."
In 2017, Duterte also hinted at before ultimately disavowing the idea of declaring a revolutionary government to address a supposed conspiracy by communists, members of the Liberal Party and other factions to destabilize his administration.
This led to rallies in Manila, Iloilo, Bacolod, Cebu and Davao on November 30, Bonifacio Day, of that year where the president's supporters urged him to declare a revolutionary government.