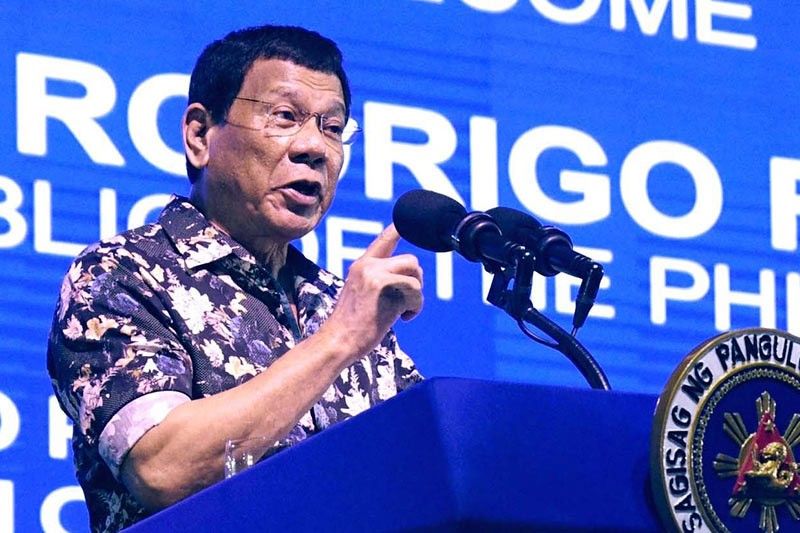 President Rodrigo Duterte delivers his speech during the Partido Demokratiko Pilipino-Lakas ng Bayan campaign rally at the South Cotabato Sports Complex in Koronadal City on March 26, 2019.
Arman Baylon/Presidential Photo
Duterte threatens to declare revolutionary war, suspend writ of habeas corpus
MANILA, Philippines — President Rodrigo Duterte Thursday floated the possibility of declaring a "revolutionary war" after a member of the opposition asked the administration to be cautious in reviewing government contracts.
Senate Minority Leader Franklin Drilon has asked the administration to exercise "extreme caution" in reexamining government deals, saying existing and binding contracts cannot simply be classified as onerous and canceled.
READ: Palace hits critics who question Duterte's directive to review gov't contracts
Drilon, a member of the opposition, said the government must respect the sanctity of the contracts or no country or entity would enter into deals with the Philippines. He also noted that the power to review contracts should not be used as a harassment tool.
Duterte was angered by Drilon's suggestion and insisted that "onerous" provisions should not be honored.
"Why should I be careful in reviewing contracts that are not in the interest of the people? And the onerous and (burdensome) provisions there that the people will have to honor, so you think I will allow it? Just because we cannot impair the obligation of our contracts?" the president said during a gathering of prosecutors in Palawan.
Duterte said he would suspend the writ of habeas corpus "if pushed against the wall."
EXPLAINER: Why is the writ of habeas corpus important?
"I have enough problems with criminality, drugs, rebellion and all pero pag ako ang pinaabot ninyo ng sagad (if you go too far), I will declare a suspension of the writ of habeas corpus and I will arrest all of you," the president said.
"So kasama kayo sa mga rebelde mga kriminal pati mga durugista. Then pahirapan mo ako (You will be at par with rebels, criminals and drug addicts. If you make it hard for me), I will declare a revolutionary war until the end of my term, then pasensiyahan tayo (we have to bear this)," he added.
Duterte did not say who would be arrested if he suspends the writ of habeas corpus.
The president claimed he was ready to be hanged or to die to implement his directive, which officials said cover all government deals.
"Son of a b****, how dare you say that to me Mr. Drilon. Sa inyo yan e. There is a contract signed, the republic, this Republic of the Philippines cannot hinder or hinder cannot dis... interrupt in the matter of the rates? I threw it during the Cabinet meeting," he added.
READ: Business watches as Duterte orders review of gov't contracts
The president also lambasted the opposition for allegedly portraying him as a dictator
"You always do that in the opposition, that I will impose a dictatorship," he said.
"Politicking? What is there to hanker for another term? What do you get?"
In 2017, Duterte threatened to declare a revolutionary government if his opponents try to oust him. But the president claimed he has no plan to become a dictator and promised to step down once his term ends in 2022.