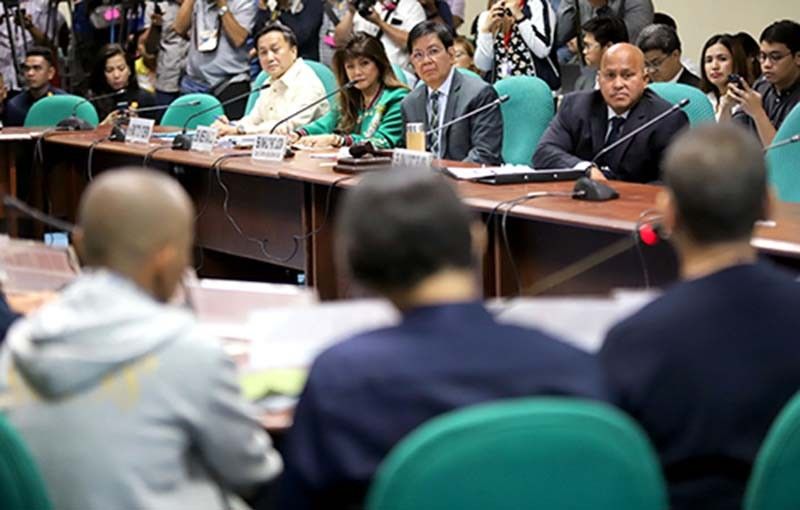 In this August 14 file photo, Senators dela Rosa, Lacson, Marcos and Tolentino listen to the testimonies of rebel returnees at a public hearing on supposedly missing minors allegedly recruited by left-leaning organizations.
Senate PRIB Photo by Cesar Tomambo
Bayan Muna, Anakbayan deny recruiting members for NPA
MANILA, Philippines — Some leftist activists may have become armed rebels, but activists groups do not recruit for the New People's Army and do not "brainwash" members, officers of two groups said Thursday.
Bayan Muna chairman Neri Colmenares and Anakbayan spokesperson Alex Danday said in an interview on ANC's "Early Edition" that the allegation that the groups recruit for the NPA is meant to discredit political organizations critical of the government.
"If the NPA believes that there should be land for the landless, it doesn't preclude other groups from also espousing the same principles," Colmenares said, adding national democratic activist groups have thousands of members.
"In my case, in many activists' cases, they continue their activism through rallies, symposiums and so on," he said.
Both acknowledged that some activists join the NPA, with Danday saying "that's their choice, their decision."
"That is the personal choice of the individual and that is not something that is forced on or even suggested to members," she said in Filipino.
"We don't recruit members of the New People's Army," she said.
"You don't lump the opposition with armed combatants just because they espouse similar issues," Colmenares also said.
The Department of the Interior and Local Government, which is pushing for the revival of the anti-subversion law that would make membership in and support of the Communist Party of the Philippines illegal, claims from 500 to 1,000 youths are indocrinated annually by communist rebels.
Colmenares and Danday are among the respondents in kidnapping and other raps filed by the Philippine National Police-Criminal Investigation and Detection Group over a supposedly missing activist who has gone on record to say that she left home due to family problems and that she is not missing.
RELATED: 'Being leftist is far from being a terrorist,' Justice secretary stresses
'Missing' activist
Danday said Alicia Lucena, whose mother's complaint prompted the police raps, is safe.
"She herself said that she was not kidnapped and that she was not coerced," Danday said, adding Anakbayan members are not barred from going home or from keeping in touch with their families.
"It is our responsibility when we join political organizations to explain that to our parents," she said. "We encourage them to talk to their parents to explain why they joined, why they are still in the organization."
RELATED: Senate probe on students' disappearances hit
Colmenares said he was impleaded because Relissa Lucena, the activist's mother, said she had heard that Alicia had campaigned for him and for Kabataan party-list.
"How can one be charged with kidnapping or exploitation of minors because somebody supported you during the campaign?" he said.
He added that Alicia may have joined Anakbayan as "probably because she was convinced that fighting for lower tuition fees is correct, fighting for human rights is correct... these are the things, you don't need to brainwash people to do that."
Colmenares denied that Bayan Muna and other leftist party-list groups are trying to destroy the government. "Our goal in Bayan Muna is to win in the elections for Congress... we [advocate] nationalism, democracy, cheap electricity."
Danday, meanwhile, said Anakbayan is working towards societal change: "Wage increases, land for the farmers, and free, quality education."
The charges against the activists—including Rep. Tom Villarin (Akbayan) who is from a separate political group altogether—come on the heels of talk of sending police personnel to schools to counter supposed communist recruitment, and campus protests against the proposal.
Sen. Imee Marcos, whose father's decades-long presidency saw the birth and growth of the Communist Party of the Philippines and the NPA, on Thursday cautioned against sending police and military personnel to campuses considered hotspots for activism.
"Please, let's not invade the schools and prove those NPA recruiters right," Marcos said, saying turning the schools into "virtual garrisons" would drive students to "anti-government groups."
She said that students should instead be encouraged to organize Sangguniang Kabataan youth chapters with the support of the National Youth Commission.
"Allow students to organize freely. It's the only way they can develop their convictions and sense of right and wrong," she said.