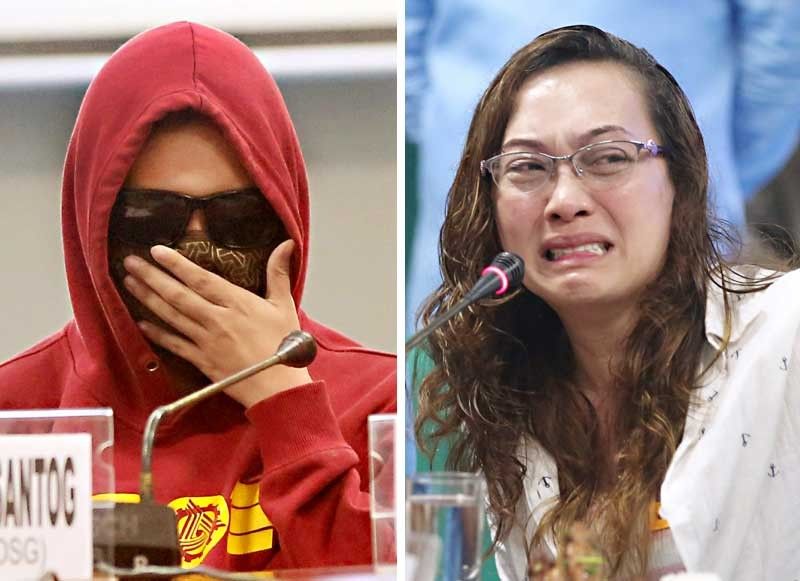 A former communist rebel (left) and the mother of a 'missing' student get emotional during a Senate hearing on the alleged recruitment of minors by militant party-list groups yesterday.
Ernie Peñaredondo
Senate probe on students' disappearances hit
Edu Punay
(The Philippine Star) - August 15, 2019 - 12:00am
MANILA, Philippines — Militant party-list lawmakers in the House of Representatives yesterday slammed the ongoing Senate investigation on the alleged disappearances of students recruited by leftist groups.
Members of the Makabayan bloc alleged that the congressional inquiry led by Sen. Ronald dela Rosa, a former chief of the Philippine National Police, is a witch hunt targeting progressive organizations.
They called on the Senate to end the probe and instead focus its investigative power on pressing concerns like poverty.
"This ongoing Senate investigation is an obvious witch hunting. This is part of tactics against progressive movements," Bayan Muna Rep. Carlos Isagani Zarate said at a press conference.
Zarate said they see nothing wrong with students – or even minors – joining leftist organizations despite concerns raised by parents regarding risks on the safety and education of the recruits.
"We understand the predicaments of their parents, but we should not take away their right to join groups, be it progressive or religious. Let us allow our youths to decide for themselves," the lawmaker stressed.
Kabataan party-list Rep. Sarah Elago also argued that the participation of students and youths in the fight against injustices should not be suppressed.
"We have to treat our youth intelligently," she stressed.
The group presented to the media 18-year-old Alicia Lucena, a senior high school student whose mother Relissa had claimed before the Senate panel that leftist group Anakbayan had kidnapped her daughter.
"I voluntarily joined Anakbayan because I saw the need for us youth to be involved. The military is using my family in this issue to suppress those who are fighting the administration," she said.
Alicia admitted that she joined Anakbayan and had left school and their home last July 10.
"I preferred not to talk to them (parents) because they were super hostile towards me," she narrated, saying she stayed in a friend's house.
Alicia said she decided to leave home after her parents brought her to military camps, particularly Camp Aguinaldo in Quezon City and Camp Bagong Diwa in Taguig City, where she was made to mingle with rebel returnees.
UP zones of peace
With the military and the police seeking to be allowed to operate in schools to discourage rebel recruitment of students, student councils at all University of the Philippines campuses have issued a joint manifesto rejecting the plan.
"We condemn to the highest of terms this pronouncement that will surely endanger our right to organize and to protest in a university where academic freedom and collective decisiveness shall continuously thrive," the manifesto read. Signing the manifesto were 47 UP student councils. "We declare that the University of the Philippines shall remain a zone of peace and its spaces shall cater to the free expression of ideas and dissent. We will never allow martial law to be implemented in our campuses," it said.
A 1989 agreement with the Department of National Defense prohibits police and military presence and operations at any UP campus without authorization from the university administration.
Intrusion of state forces, the student councils said, "will result (in) massive surveillance and monitoring on the students, especially leaders and vocal critics, in their attempt to pacify the ever-growing resistance among our ranks."
This proposal, they added, "evidently targets students, professors, and school officials" critical of Duterte, especially of his bloody war on drugs and martial law in Mindanao, among other issues.
"The question of who really negatively brainwashes the people definitely remains as this government continues to desperately save its image while imposing policies and programs that starve and kill citizens," the manifesto read. – With Cecille Suerte Felipe, Emmanuel Tupas, Artemio Dumlao