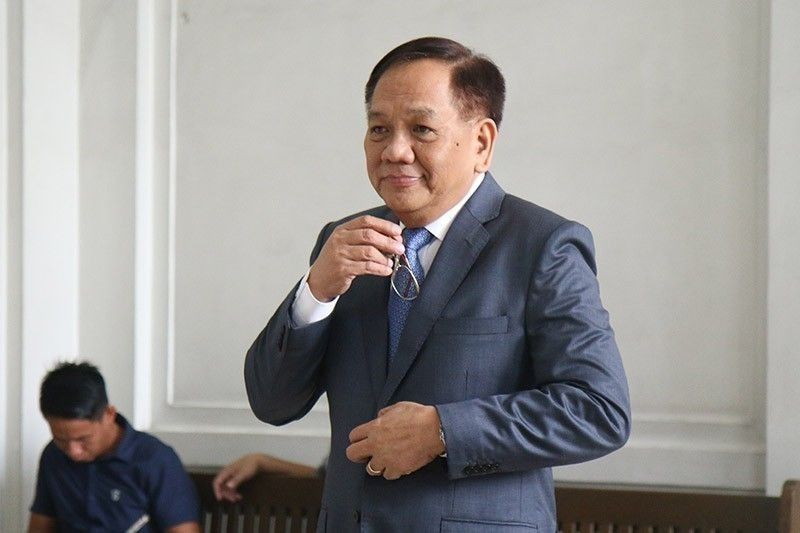 File photo shows Associate Justice Diosdado Peralta, taken during the Judicial and Bar Council public interview for the chief justice post, vice ousted Chief Justice Maria Lourdes Sereno.
Philstar.com/Erwin Cagadas
Peralta, Reyes accept nominations for chief justice
MANILA, Philippines — Associate Justice Diosdado Peralta has accepted his automatic nomination to become the next head of the Judiciary after Chief Justice Lucas Bersamin retires in October.
Justice Secretary Menardo Guevarra, a member of the Judicial and Bar Council by virtue of his position, confirmed Peralta's acceptance of the nomination.
Of the five who received automatic nominations for being the most senior justices at the SC, only Peralta and Associate Justice Estela Perlas-Bernabe accepted theirs.
Senior Associate Justice Antonio Carpio and Associate Justices Marvic Leonen and Alfredo Benjamin Caguioa bowed out of the chief justice search.
Bersamin is due to retire on October 18.
RELATED: Who's who: A look at chief justice aspirants
Who is Peralta?
In terms of years of service at the SC, Peralta is the most senior.
He started his career in government service in 1987 as third assistant city fiscal in Laoag City.
He was assigned to the Manila prosecutor's office a year later.
In 1994, Peralta was appointed criminal court judge in Quezon City. Among the cases he handled involved heinous crimes and drug-related cases. During his stint as a judge, he received several commendations.
According to his profile, Peralta was "Bar reviewer, professor, lecturer and resource person in Criminal Law, Criminal Procedure, Remedial Law and Trial Technique in notable universities."
Peralta penned the SC ruling that allowed the burial of the late dictator Ferdinand Marcos' remains at the Libingan ng mga Bayani.
READ: Marcos burial brought closure and unity, Peralta claims
He is due to retire from the SC on March 27, 2022.
Andy Reyes applies for top post
Guevarra also said that Associate Justice Andres Reyes Jr. has accepted two nominations
Reyes is currently the 8th most senior justice at the SC.
President Rodrigo Duterte appointed him to the SC in July 2017.
During the oral arguments on a petition for a Writ of Kalikasan at parts of the West Philippine Sea, Reyes said the "embarrassing" petition "saddened" him.
READ: Justice Reyes: Plea for Kalikasan writ 'embarrasses' Philippines
He said the petitioners, fisherfolk from Palawan and Zambales, were asking the government to enforce maritime laws when "we don't have enough money."
The justice said that Duterte and his officials may have "other important things to do" in the country, other than guarding the Ayungin Shoal for 24 hours a day. The BRP Sierra Madre, which is grounded on Ayungin, has a complement of Marines on board.