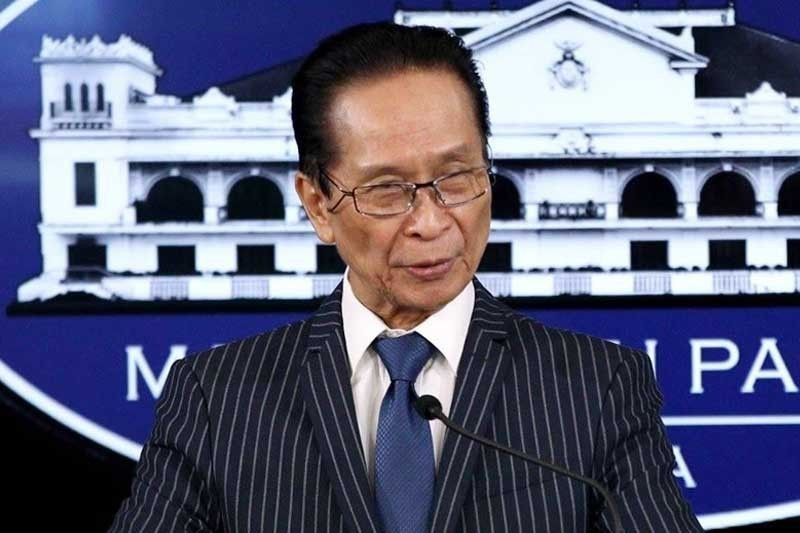 Malacañang is concerned over growing reports on foreign workers allegedly being abused even by their own countrymen while in the Philippines.
Salvador Panelo/Facebook, File
Palace alarmed by death of Chinese worker in Las Piñas
MANILA, Philippines — Malacañang Sunday expressed alarm over the death of a Chinese national who was allegedly detained by his employer in Las Piñas and maintained that the government does not condone any form of abuse against foreigners in the country.
Earlier reports said the 27-year-old Chinese worker identified as Yang Kang fell to his death from the sixth floor of a building in Pamplona Dos last Friday. The worker was found dead wearing handcuffs.
READ: China alarmed over alleged abuse of Chinese workers in Philippines
Authorities suspect Kang owed a debt to his employer, who allegedly held him prisoner.
"We express alarm on the death of a handcuffed Chinese national who reportedly died after escaping from a sixth-floor window and falling from the building," presidential spokesman Salvador Panelo said in a statement.
"We ask the Philippine National Police, which is seriously looking into the matter, including tracking down the supervisor of the victim who allegedly made the former a prisoner, to treat the case with dispatch," he added.
READ: Palace urges Chinese workers to file complaint against alleged 'modern slavery'
Panelo said Malacañang is concerned with growing reports that foreign workers in the country are being subjected to coercion, illegal detention and other violations of law even by their own countrymen while in the Philippines.
"We need to put a stop to these illegal acts. We will not allow nor tolerate any kind of abuse inflicted on any foreigner whether sojourning or working in this country, whether done by their fellow nationals or by our own citizens," he said.
Panelo urged foreign nationals, especially Chinese workers, to report to authorities employers who violate the law.
"No one is exempted from the strict enforcement of our laws of the land," the presidential spokesman said.
The incident in Las Piñas happened a day after the Chinese embassy expressed concern on the supposed "modern slavery" being experienced by some Chinese citizens who are working illegally in Philippine gambling entities.
READ: Security adviser Esperon sees influx of Chinese nationals as 'threat'
Some Chinese workers reportedly experience severe limitations to their personal freedom, are confined to live and work in certain designated places and are subjected to extortion, physical abuse, torture and other ill-treatment.