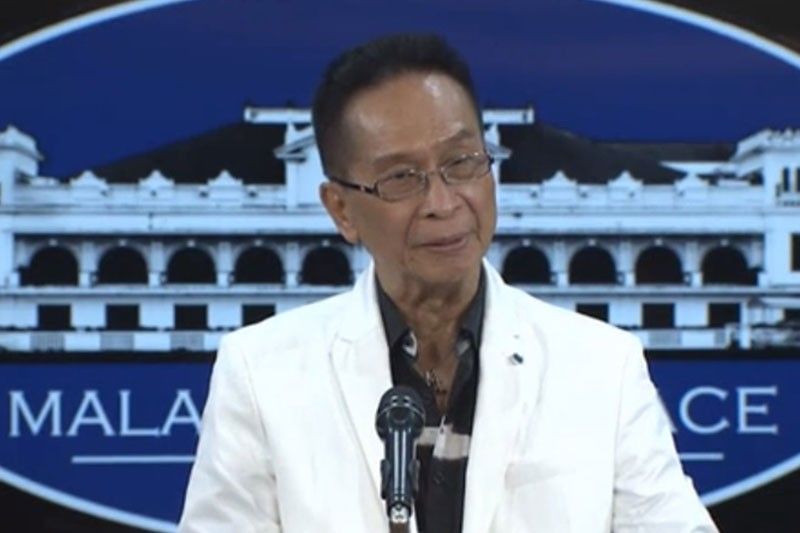 Presidential spokesperson Salvador Panelo holds a press briefing at Malacañang on August 8.
Facebook screengrab/RTVM
Palace urges Chinese workers to file complaint against alleged 'modern slavery'
MANILA, Philippines — Malacañang urged Chinese workers who have been allegedly subject to abuses in the country to file a formal complaint.
This follows the statement of the Chinese Embassy in Manila claiming that Chinese nationals working illegally in the Philippines have been experiencing "modern slavery" in the country.
"My suggestion to them is they should file formal complaint so that this particular concern will be raised in the appropriate agencies of the government so we can properly respond," presidential spokesperson Salavdor Panelo said Thursday.
Panelo stressed that the Philippine government would not allow any violation of the rights of Chinese citizens as visitors or workers in the country.
"We certainly have the Constitution to guide government authorities in dealing with them. We will not allow any abuse of any foreign visitor or any worker in this country," Panelo said.
The Chinese Embassy claimed that Philippine offshore gaming operations (POGOs), casinos and other gambling entities have lured Chinese nationals into working illegally with only tourist visas.
It further claimed that Filipino employers of the Chinese workers have limited their personal freedom and even confiscated their passports.
"They are confined to live and work in certain designated places and some of them have been subjected to extortion, physical abuse and torture as well as other ill treatments," the Chinese Embassy said.
Beijing also called on the Philippine government to "pay attention" to China's position and take concrete measures to avoid illegal employment and other crimes that "hurt" Chinese citizens.