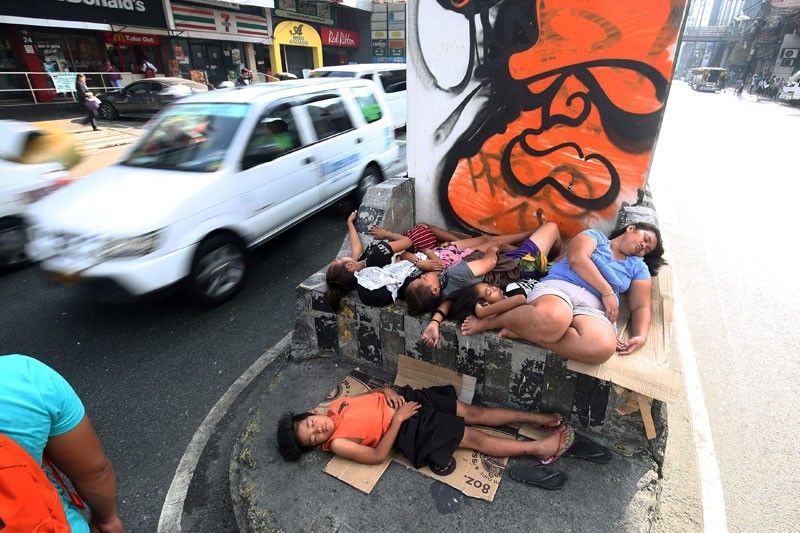 The law also mandated that there will be non-diminution of the rights of the poor or that "all other rights of the poor provided under existing laws shall remain in full force and effect."
Miguel de Guzman
Duterte signs Magna Carta of the Poor
DAVAO CITY , Philippines — President Duterte has signed into law Republic Act 11291 or the Magna Carta of the Poor as part of measures to ease poverty
"The government shall establish a system of progressive realization or implementation to provide the requirements, conditions and opportunities for the full enjoyment or realization of the following rights of the poor, which are essential requirements towards poverty alleviation," the law states.
The law also mandated that there will be non-diminution of the rights of the poor or that "all other rights of the poor provided under existing laws shall remain in full force and effect."
Under the law the National Anti-Poverty Commission is tasked, in coordination with the government agencies and local government units, to promulgate rules and regulations to carry out the provisions of the measure.
RA 11291 was signed last April 12 but a copy of the law was only released to media yesterday.
Aside from the Magna Carta of the Poor, Duterte also signed into law last April 17 Republic Act 11310 institutionalizing the Pantawid Pamilyang Pilipino Program (4Ps).
RA 11310 makes 4Ps a permanent program of the government requiring regular appropriations from the budget of the Department of Social Welfare and Development.
The 4Ps is the national poverty reduction strategy and human capital investment program that provides conditional cash transfer to poor households for a maximum period of seven years to improve their health, nutrition and education.
Good governance
Caritas Manila executive director Fr. Anton Pascual said the President displayed good governance in public service when he signed the Magna Carta of the Poor.
Pascual congratulated Duterte for signing the Magna Carta, which requires government agencies to provide the poor full access to government services.
"We hope that the agencies of government have the resources to implement the Magna Carta. That is always the problem – efficiency and effect of government execution," Pascual said.
Under the law, the poor shall be classified as those whose income fall below the poverty line, according to the definition given by the National Economic and Development Authority and those who are unable to provide for their own basic necessities in terms of food, health, housing and education.
Cebu City South District Rep. Raul del Mar, principal author of the bill, said he was thankful that the President has signed it into law. – With Evelyn Macairan, Mitchelle Palaubsanon/The Freeman