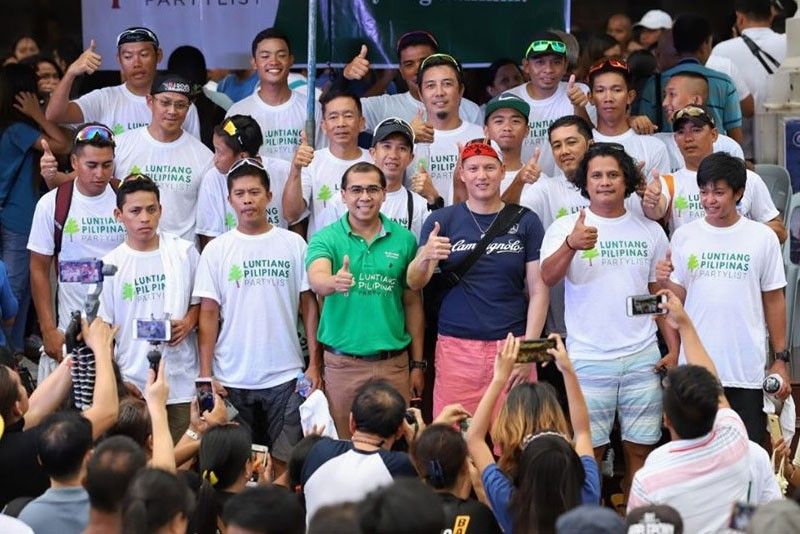 Luntian first nominee Michael Ubac said the party-list group does not only aim to win a seat in Congress but also to make the Philippines green again.
Luntiang Pilipinas party-list FB Page
Party-list group seeks to plant 10 million trees
CALAMBA, Laguna, Philippines — Luntiang Pilipinas party-list launched on Monday a campaign to plant 10 million trees as part of a nationwide regreening effort and to help improve the country's environment.
Luntian first nominee Michael Ubac said the party-list group does not only aim to win a seat in Congress but also to make the Philippines green again.
"We lose around 47,000 hectares of forest cover each year. If we do not do anything to reverse this trend, these losses will have tragic consequences for our country's biodiversity, water security and disaster prevention efforts," Ubac said.
The launch was marked with the planting of fruit-bearings trees such as cacao, coffee, atis, santol, mango and sampaloc at the Calamba City Hall grounds and various parts of the city.
The event was attended by Senate President Vicente Sotto III and Senators Nancy Binay, Sonny Angara and Paolo Benigno Aquino IV.
Sen. Cynthia Villar was represented by her daughter Camille, while Sen. Aquilino Pimentel III sent his wife Kathryna.
Calamba Mayor Justin Marc Chipeco and other local officials hosted the event.
The launch coincided with several other activities of the group like the Luntian Green Rider bike ride from Batangas City to Laguna.
Ubac said that at present the country has less than a third of the forest cover it used to have at the turn of the 20th century.
"From 21 million hectares of forests in 1900, we are now left with less than seven million hectares. This cannot be allowed to be left unchecked. Only by working together, by rallying Filipinos and our leaders to this cause, will we be able to reverse the tide."
Sen. Loren Legarda, founder of Luntiang Pilipinas movement, said the challenge is doable if everyone gets involved.
Legarda said that when she launched the movement in 1998 with the aim of growing trees and establishing forest parks nationwide, they wanted to show that with simple acts, such as planting a tree and letting it grow, Filipinos can protect the Earth and ensure our survival.
"The 10-million trees challenge should be easy for us because if each Filipino does his or her share, we would have a hundred million trees and thousands of thriving forest parks in our country," Legarda said.
Luntiang Pilipinas has planted and grew two million trees in 33 provinces, 28 cities and 84 municipalities across the country.
The group's platform is founded on its four pillars: regreening (forest parks, mangrove growing and gulayan sa paaralan); solid waste management; coastal and marine resource management; and disaster risk reduction and climate change adaptation.
Luntian party-list is vying to be the first green party in the House. It has been endorsed by the Senate President and Aksyon Demokratiko, the party founded by the late senator Raul Roco.