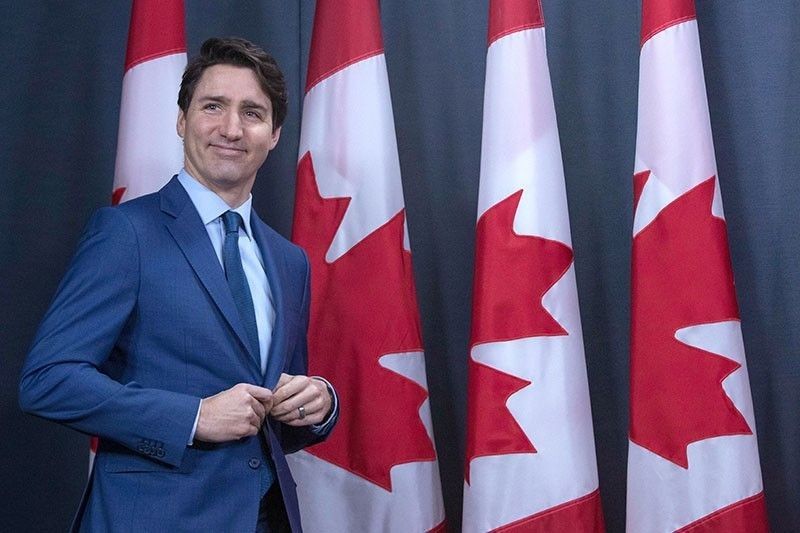 In this file photo taken on March 7, 2019 Canadian Prime Minister Justin Trudeau arrives to speak to the media at the national press gallery in Ottawa, Ontario.
AFP/Lars Hagberg
'No more vague promises': Groups urge Canada to resolve trash dumping issue swiftly
MANILA, Philippines — More environmental groups pressed the Canadian government to immediately ship back tons of illegal garbage that have languished on Philippine soil despite Ottawa's reiteration of commitment to resolve the long standing issue.
In a release Friday, EcoWaste Coalition said the assurance of the North American nation failed to appease civil society groups tired of the Canadian government's "sluggish efforts" to reclaim their garbage.
"We hope that the clamor for Canada to get their trash out of the Philippines will not again fall on deaf ears," Aileen Lucero, EcoWaste Coalition national coordinator, said.
Joey Papa, president of Bangon Kalikasan, lamented that Canada has ignored the issue for six years. Between 2013 and 2014, Canada shipped 103 container vans of wastes—which contained household trash, used adult diapers and electronic waste—to the Philippines.
"We do not deserve such disrespect, much less the damage wrought by their garbage on our environment and affected communities," he said.
"The period of making vague promises and statements is over. We expect Prime Minister [Justin] Trudeau to order without any precondition the speedy reshipment of the reeking garbage to Canada where it belongs," Consumer Rights to Safe Food President Rene Pineda said, adding that any scheme to get the trash processed, buried or burned in the Philippines would be unacceptable.
Tessa Oliva, executive director of the Green Convergence for Safe Food, Healthy Environment and Sustainable Economy, noted the continued presence of Canadian garbage in the country is an "affront to the rule of law and to our environmental rights."
READ: Canada's trash shipment, refusal to take back wastes are illegal — legal non-profit
Moving on
Everyone will move once Canada take back its wastes, Ochie Tolentino, Cavite Green Coalition coordinator, said.
"Prime Minister Trudeau has no other option but to take back their garbage to put this long standing irritant between Canada and the Philippines to rest. It's the only decent, moral and legal thing to do to bring this mess behind us," Sonia Mendoza, Mother Earth Foundation chairman, also said.
President Rodrigo Duterte on Tuesday warned Canada that he would be sailing to the North American country to dump their trash back.
This prompted the Canadian Embassy in Manila to say Ottawa is committed in collaborating with the Philippines to address the dumping of waste in the country.
The Canadian Embassy added a joint technical working group composed of officials from both Canada and the Philippines has been looking into the issues surrounding the removal of the waste in the country "with a view to a timely resolution."