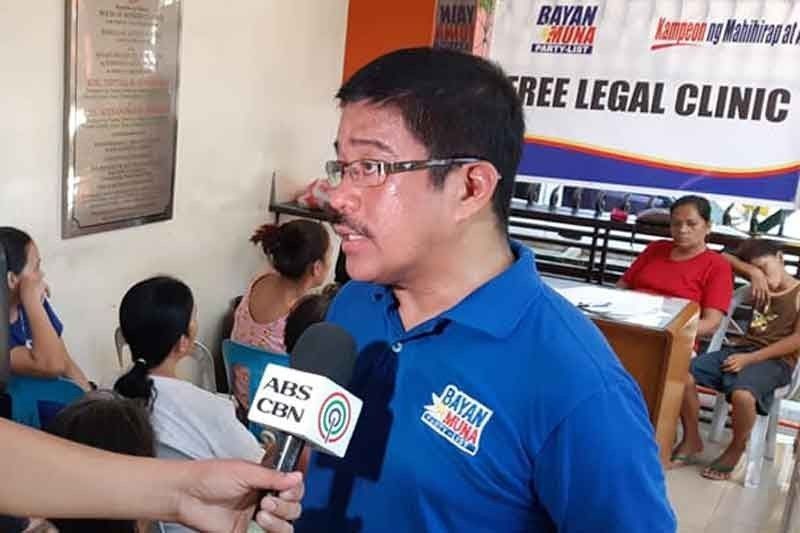 Lawmakers condemn killing of rights worker, Makabayan partylist coordinator
(Philstar.com) - April 24, 2019 - 4:44pm
MANILA, Philippines — Two opposition lawmakers filed a resolution condemning the killing of rights worker and Negros Occidental councillor Bernardino "Toto" Patigas.
Reps. Carlos Zarate (Bayan Muna partylist) and Emmi de Jesus (Gabriela Women's Party), in a three-page resolution filed Wednesday, expressed "strong condemnation over the cold-blooded asssination of Escalante City Bayan Muna Coordinator and Councilor...Patigas."
"The murder of Councilor Bernadino 'Toto' Patigas is apparently just part of an active, systematic and lethal campaign against progressive candidates and their supporters in the months leading to the May 13, 2019 elections," the lawmakers said.
Patigas, fondly called as "Tay Toto," is a human rights worker of the North Negros Alliance of Human Rights Alliance and Escalante City Coordinator of Bayan Muna partylist since 2010. He is seeking a reelection as a Sangguniang Panglungsod member in Escalante City, Negros Occidental.
He was shot dead on Monday, April 22, on his way home from a campaign.
Rights group Karapatan said that prior to his death, the slain rights worker was included in a poster identifying him as a communist personality.
It was the same poster where slain rights lawyer Benjamin Ramos and 60 others were also included.
READ: Murdered NUPL lawyer was 'red-tagged' earlier in 2018
The lawmakers claimed that there is "a visible nationwide vilification campaign directed against members and candidates of the Makabayang Koalisyon ng Mamamayan Bloc."
They said that there "are posters and banners with malicious red-tagging are being put up in Metro Manila and in the provinces," while their actual campaign posters are defaced with red-tagging slogans.
RELATED: 14 farmers latest in killings of 'red-tagged' personalities in Negros — group
Philippine jurisprudence defines red-tagging as "the act of labelling, branding, naming and accusing individuals and/or organizations of being left-leaning, subversives, communists or terrorists (used as) a strategy... by State agents, particularly law enforcement agencies and the military, against those perceived to be 'threats' or 'enemies of the State.'"
The lawmakers said: "As members of the House of Representatives, we should not only strongly condemn these killings, these attempts to silence voices of dissent in our country, but, we should do everything within our powers to ensure that justice be given to the victims of this state of impunity." — Kristine Joy Patag