Luzon quake death toll hits 16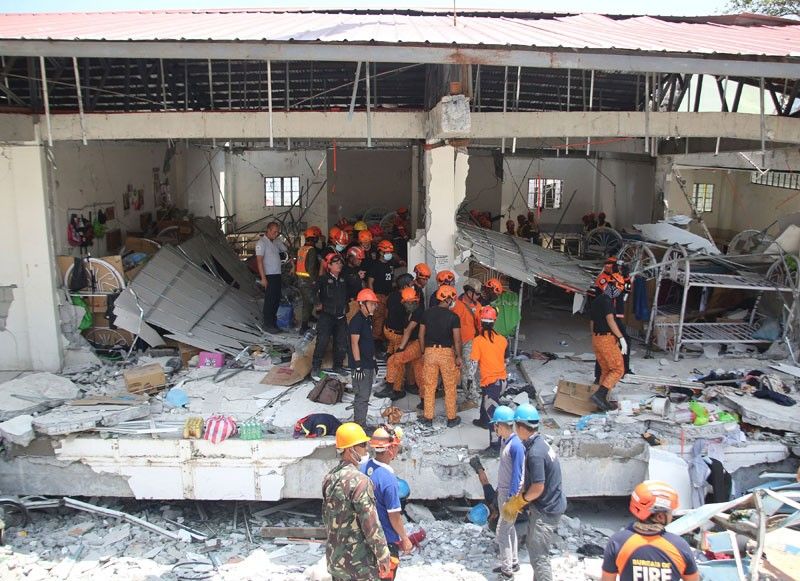 MANILA, Philippines — Even as a new powerful earthquake hit central Visayas yesterday, rescuers worked overnight to retrieve more bodies from the rubble of quake-stricken Central Luzon.
The National Disaster Risk Reduction and Management Council (NDRRMC) yesterday reported 16 dead, 81 injured and 14 still missing from last Monday's magnitude 6.1 quake that hit Central Luzon, including Metro Manila.
The number of fatalities is expected to increase as rescue teams are digging through the rubble of the collapsed Chuzon Supermarket in Porac, Pampanga, NDRRMC executive director and Office of Civil Defense (OCD) administrator Ricardo Jalad said.
"An earthquake-induced landslide was reported in Mt. Bimmukel, Sitio Lombao, Barangay San Rafael, San Marcelino, Zambales," Jalad added.
The strong quake whose epicenter was traced in Castillejos, Zambales also damaged 29 buildings in Central Luzon and the National Capital Region.
Angelina Blanco, head of Pampanga's Provincial Disaster Risk Reduction and Management Office (PDRRMO) initially reported the quake-related fatalities in the province included 12 from Porac, where five were from the four-story Chuzon supermarket; three from several barangays, three from upland villages and two from Lubao town.
The rest of the fatalities came from Zambales, where a six-year-old child was crushed to death in a landslide in a mountain village of San Marcelino town.
Jalad said around 120 families have evacuated to safer grounds following the landslide at Mt. Bimmukel in San Marcelino.
The displaced residents came from the landslide-stricken Sitio Lomibao, Sitio Bayaron Tikes, all in Barangay Buhawen, where six-year old Waring Sernao, died from massive head injuries.
State of calamity
Pampanga Gov. Lilia Pineda said at least 10 people died in her province, including some in Porac town. The quake damaged houses, roads, bridges, churches and the Clark International Airport terminal at Clark Freeport in Pampanga.
Clark airport was closed temporarily because of damaged check-in counters, ceilings and parts of the departure area, airport official Jaime Melo said, adding that seven people were slightly injured and more than 100 flights were canceled.
A state of calamity was declared in Porac to allow contingency funds to be released faster.
The provincial board of Pampanga yesterday declared a state of calamity for the entire province.
The PDRRMC said eight bodies had already been recovered from the debris of the supermarket, while at least 20 others had been dug up alive but with injuries, including a woman whose leg had to be amputated due to serious injury.
Yesterday morning, rescuers pulled out a man alive, sparking cheers and applause.
"We're all very happy, many clapped their hands in relief because we're still finding survivors after several hours," Porac town Councilor Maynard Lapid said, adding another victim was expected to be pulled out alive soon.
The Philippine National Red Cross reported at least 59 persons were injured while 19 others were still missing at the supermarket site. It also brought body bags needed by rescuers.
Rescuers from the Subic Bay Metropolitan Authority (SBMA) and the Metropolitan Manila Development Authority (MMDA) were also deployed for rescue operations.
Pineda and Public Works and Highway Secretary Mark Villar, both at the supermarket rescue operations, sought investigation of the construction of the Chuzon supermarket, noting the three upper floors of the building collapsed onto the ground floor.
Villar said it was a difficult task to implement the rescue operation in Chuzon.
"The Chuzon market is still new. We are concerned with the collapse of this building so we would be getting samples to make an assessment on what was the cause of collapse. As of now, the focus is on the recovery effort because there are still 'signs of life.' We have now mobilized lifter cranes for the rescue efforts," he said.
Rescuers used cranes, crowbars and sniffer dogs to look for people in the rubble, some of whom were yelling for help.
Authorities inserted a tube to blow in oxygen in the hope of helping people pinned there to breathe.
Villar also said the collapsed arch in Dinalupihan, Bataan, the Megadike road between Porac and Bacolor, Pampanga and the Consuelo Bridge in Floridablanca also in Pampanga all sustained considerable damage.
Villar initially estimated the cost of damage sustained on national roads in Central Luzon at P200 million.?"The damage in Pampanga is quite big. We have not yet received any reports of major damage on national roads in other provinces," he said.
As for Metro Manila, Villar mentioned the Emilio Aguinaldo College building along San Marcelino Street in Manila, which leaned on another building after the tremor.
"The safety officer of Emilio Aguinaldo College has been informed not to utilize the building anymore and to ask occupants to vacate the building. DPWH personnel had cordoned one lane of UN Avenue to preclude any further impact on the building which may be caused by vehicles passing through the road," Villar said.
The Department of Social Welfare and Development (DSWD), on the other hand, said they have stockpiles and standby funds amounting to P764,336,659.34.
"The Disaster Response Operations Monitoring and Information Center continues to closely coordinate with the DSWD-Field Office III for significant reports on the status of affected families, assistance and relief efforts," Jalad added. – With Ding Cervantes, Evelyn Macairan, Ramon Efren Lazaro, Janvic Mateo, Mayen Jaymalin, Raymund Catindig