Chinese blockade of sandbars may lead to Philippines' loss of aerial access to Pag-asa, expert says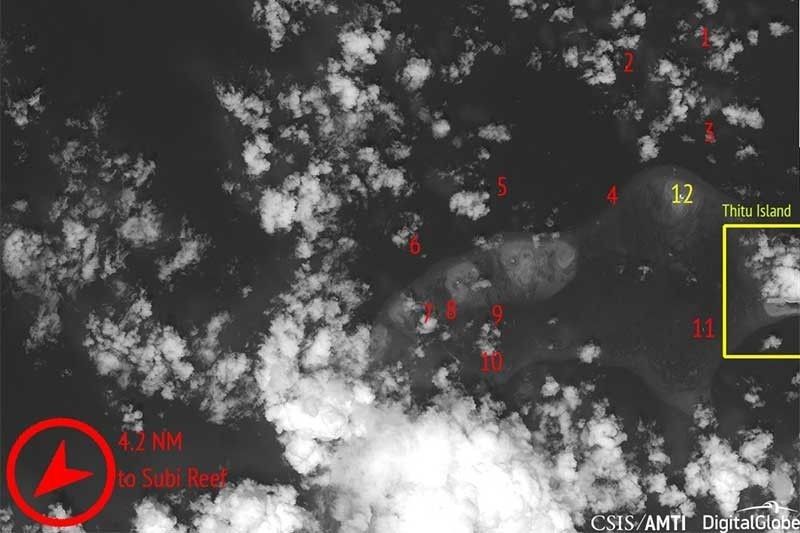 MANILA, Philippines — Chinese vessels in the vicinity of Pag-asa Island in the West Philippine Sea pose a threat to any aircraft that would use the runway on the island, a maritime expert said.
The military confirmed that hundreds of Chinese ships have been loitering in the area while the Philippine government's efforts to repair a dilapidated runway on the island are underway.
Jay Batongbacal, director of the University of the Philippines Institute for Maritime Affairs and Law of the Sea, warned that the Chinese vessels are along the flight path of any aircraft coming into and out of Pag-asa Island.
"(President Rodrigo Duterte) thinks it's not worth fighting over this sandbar. He does not see that if he cedes control of that pile of sand, he will cede aerial access to Pag-asa, directly undermining the Philippines' ability to keep its hold on its largest island in the Kalayaan Island Group and the seat of government of the Municipality of Kalayaan," Batongbacal said in a Facebook post.
The fishing vessels, believed to part of China's maritime militia, may carry portable weaponry.
Citing an image released by the Armed Forces of the Philippines, Batongbacal noted that the Chinese maritime militia has come closer to Sandy Cay in the past months.
Majority of the Chinese boats maintain positions about four nautical miles away but close to Sandy Cay while a smaller number of ships are stationed southwest of Pag-asa Island as close as one nautical mile.
"In contrast, Philippine vessels don't come as close to Chinese positions. So when (Chinese Ambassador Zhao Jianhua) says fishermen should keep their distance from the other's places, he obviously refers only to Filipinos," Batongbacal said.
Philippine control of the Pag-asa Island vicinity may be lost if China continues its non-military blockade of Sandy Cay that cuts access from the island.
This blockade would likely reduce the Philippines' control of the area of Pag-asa to four nautical miles "and that piece of territory will likewise be lost," according to the maritime expert.
"That may be small, but it's more than a 'single inch.' As early as 2017, it was already reported that any Philippine boats coming near the cay would be met by Chinese Coast Guard or fishing vessels warning them away, sirens blaring," he said.
In the Facebook post, Batongbacal referred to the blockade of Sandy Cay as "Scarborough 2.0."
In 2012, the Philippine Navy and Chinese fishing vessels have been engaged in a standoff in Scarborough Shoal, or what locals call Bajo de Masinloc, a traditional fishing ground off the coast of Zambales.
Seven years after the standoff, Filipino fishermen have been reporting that Chinese Coast Guard personnel have been seizing their catch and denying them access of the shoal.
In a US Congressional hearing weeks ago, US Indo-Pacific Command Adm. Philip Davidson reported that Chinese Coast Guard vessels "regularly harass and intimidate fishing vessels from our treaty ally, the Philippines, operating near Scarborough Reef, as well as the fishing fleets of other regional nations."