Alternative news orgs sue IT firms over cyberattacks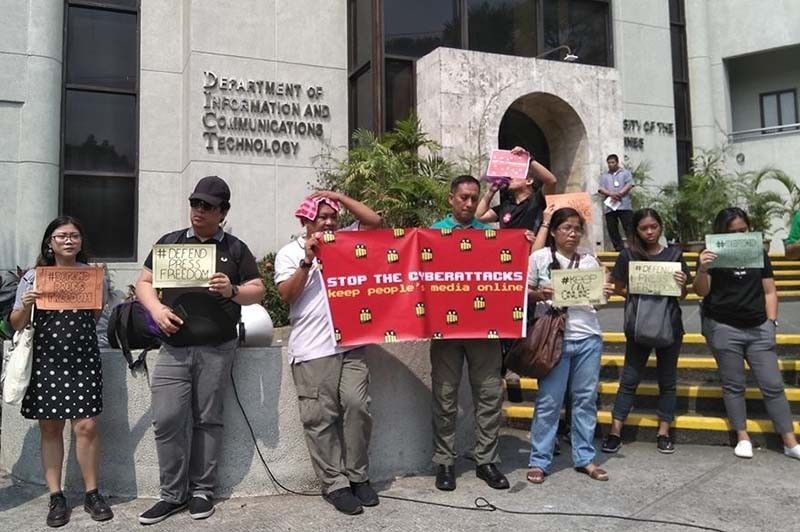 MANILA, Philippines (Updated 5:10 p.m.) — Alternative media organizations on Friday filed a civil complaint against IT companies alleged to have involvement in the cyberattacks on their websites.
Bulatlat, Kodao Productions, Altermidya and Pinoy Weekly filed a complaint against firms IP Converge Data Services and Suniway Group of Companies, Inc. at the Quezon City Hall of Justice.
March 29 also marked the 25th year of the internet in the Philippines.
The websites of these alternative news outlets have been targeted by Distributed Denial of Service attacks since late December 2018.
DDoS, according to the Electronic Frontier Foundation, "aims to make online resources temporarily or indefinitely unavailable by flooding them with so much traffic that their intended users cannot access or use them.
Qurium forensics
Sweden-based IT group Qurium Media Foundation, which provides hosting and support to these news organizations, said in a release it has documented the involvement of the IT firms in the DDoS attacks on the news outlets' websites.
In a report, Qurium said the networks used to control the attacks appear to be advertised in Hong Kong by providers IP-Converge Data Services and Hong Kong Broadband Network "but are in fact 'network traffic tunnels,' a special type of VPN used to hide the traffic's origin.
Qurium said the router responsible for hiding the networks is "part of the infrastructure" of Suniway Group of Companies, Inc.
"The user agents who conducted the attacks using devices within the premises and under the control and supervision of defendants IP Converge and Suniway are unidentified at this point but can become indentifiable in due time," the complaint read.
According to its website, IP Converge Data Services is the "Philippines' first cloud services provider that operates its own state-of-the-art data center facilities and international network infrastructure."
Asked for comment, IP Converge Data Services told Philstar.com that "the company has been made aware this afternoon and we are looking into it further." It said "an official statement will be made when we are ready."
Suniway, on the other hand, belongs to "Suniway Group Hong Kong which devotes to offer stable and fast access to internet services," it said on its Jobstreet profile.
"It is difficult to fully understand what 'Suniway Group of Companies, Inc." actually does. Their website includes vague information and their domain is protected by private whois. No personal details of the owners can be found," Qurium said.
"The investigation also reveals that the attacker is based in the Philippines, is most probably a Mandarin native speaker and uses the Telegram nick 'P4p3r,'" Qurium said.
The Sweden-based IT group, moreover, said that the "attacker" seems to have an Excel spreadsheet with all targets listed.
Earlier this month, Bulatlat, Kodao Productions, Altermidya and Pinoy Weekly called on the National Computer Emergency Response Team of the Department of Information and Communications Technology to act on the DDoS attacks on their websites.
NUJP: Media will fight back
In a statement on Friday afternoon, the National Union of Journalists of the Philippines said it fully supports Bulatlat, Kodao Productions, Altermidya and Pinoy Weekly in their filing of the civil complaint.
"We stand by them not only because we have chapters in these outfits, we do so because we, ourselves, have been the target of similar cyberattacks and, most of all, because these attacks are clearly part of a pattern," the journalists' group said.
NUJP reported DDoS attacks on its website in February and has had its website hacked in the past.
RELATED: NUJP website hacked by 'enemies of press freedom, free expression'
"This civil action sends a clear message to those who seek to silence the independent Philippine media: Not only will you fail, we will fight back," NUJP said.
"We will fight back because we cannot allow you to deprive our people of their right to the information they need to chart their individual and collective futures, we cannot allow you to deprive them of their voice. We will fight back because no less than democracy and our basic freedoms are at stake."— Gaea Katreena Cabico