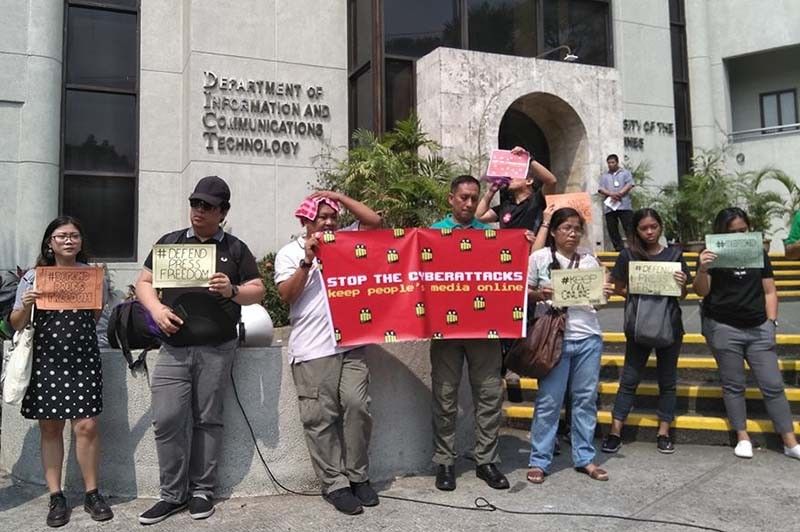 In this handout photo, journalists with alternative media organizations call on the Department of Information and Communications Technology to act on cyber attacks on their websites.
Courtesy of Ronalyn Olea, Bulatlat
Alternative news orgs demand DICT action on cyber attacks
(Philstar.com) - March 12, 2019 - 12:18pm
MANILA, Philippines — Journalists with alternative news organizations called on the Department of Information and Communications Technology on Tuesday, World Day Against Cyber-Censorship, to act on Distributed Denial of Service attacks on their websites.
"We have reason to believe that the Duterte administration has orchestrated this cyber attack on websites of critical and independent media as part of its efforts to silence criticism and dissent against it," Ronalyn Olea, managing editor of Bulatlat, said.
Olea claimed that the cyber attacks against alternative media are "in conjunction" with an overall assault on press freedom in the country, which includes threats against Rappler and ABS-CBN.
The Palace has said that cases against Rappler are not a press freedom issue while the Presidential Communications Operations Office has said that press freedom "is alive and well" in the Philippines.
"Not content with fomenting disinformation and fake news, the Duterte administration is hell-bent on silencing what it considers as fierce critics and political opponents and goes to extreme lengths and harnessing even the power of the dark web," Jola Diones-Mamangun, Kodao Productions executive director, said.
They did not provide details on why they suspect the government is behind the attacks on their websites.
DDoS attacks since December
The websites of Bulatlat, Kodao Productions, Pinoy Weekly, and Altermidya have been targeted by DDoS attacks since late December 2018.
DDoS, according to Electronic Frontier Foundation, "aims to make online resources temporarily or indefinitely unavailable by flooding them with so much traffic that their intended users cannot access or use them."
Since January, Bulatlat, Altermidya and Pinoy Weekly have sought hosting and quick response support from Sweden-based IT advocacy non-profit group Qurium Media Foundation.
Qurium then called the attention of the National Computer Emergency Response Team and the DICT on the DDos attacks but the government agencies did not respond to Qurium's queries, the alternative media outlets said.
"This is why we are here. We demand that they act on the attacks. Otherwise, we will be led to believe that NCERT and DICT are complicit in the attack on press freedom," Rhea Padilla, Altermidya national coordinator, said.
SEAPA: Attacks a form of censorship
The Southeast Asian Press Alliance, which monitors press freedom and journalist safety issues in the region, said in a release for the World Day Against Cyber-Censorship that "alternative news organizations play a crucial role in informing the people about issues and concerns of public interest that are usually overlooked by the mainstream media."
It added that alternative media "provide a platform for voices in society that are conveniently ignored, or worse muted, by state and non-state actors alike." It said that that role makes alternative and independent media websites prone to attack.
"Since 2016, when Duterte assumed office, at least 10 cases of cyber onslaught against select news outlets have been documented. A form of censorship, such attacks make information inaccessible to the public, thus undermining freedom of expression and the people's right to know," it also said.
[#Philippines] To mark World Day Against Cyber #Censorship, SEAPA recalls the specific incidents when target independent news sites were forced offline.

READ FULL REPORT: https://t.co/LsW4Uxwor0#DefendIndependentMedia #NoToCyberCensorship #StopTheAttacks #DefendPressFreedom pic.twitter.com/WrkFDbgHqx

— SEAPA (@seapa) March 12, 2019
Websites of the National Union of Journalists of the Philippines, Philippine Center for Investigative Journalism and Vera Files also experienced digital attacks in recent years. — Gaea Katreena Cabico