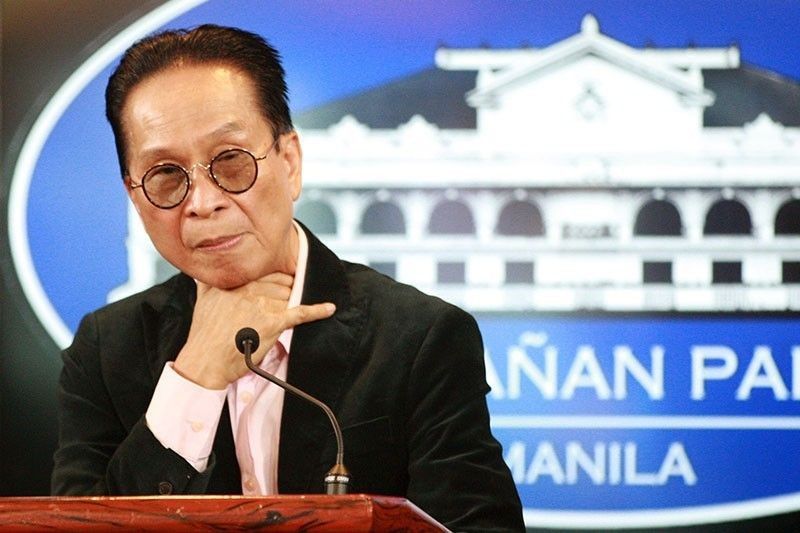 In this Jan. 15, 2019 photo, presidential spokesperson Salvador Panelo holds a press briefing at Malacañang.
The STAR/Joven Cagande
Palace 'saddened' by inclusion of 31 celebrities on 'narco list'
MANILA, Philippines — Celebrities involved in illegal drugs would not be spared from the anti-narcotics crackdown, Malacañang said Tuesday, after the Philippine Drug Enforcement Agency revealed that at least 31 popular personalities are on its narco list.
Presidential spokesman Salvador Panelo said the government was saddened that some celebrities are into narcotics that renders families dysfunctional.
"We're saddened that these people are involved, but we will never tolerate it," Panelo said in a press briefing.
"If they (PDEA) have sufficient evidence to back them up in court, then they should...and they must," he added.
Panelo assured the public the war on illegal drugs would not spare anyone, including those who helped President Rodrigo Duterte during the presidential race in 2016.
"He (Duterte) will be thankful for the help, but he will not tolerate their involvement," the presidential spokesman said.
While the administration disclosed the names of 46 politicians believed to be involved in the illegal drugs trade, Panelo could not say whether the celebrities on the narco list would be revealed.
"I will ask the president because my opinion doesn't matter, I am just the mouthpiece of my principal," Panelo said.
"I do not know his stand yet," he added.
PDEA Director General Aaron Aquino previously said all the 31 celebrities on the narco list are "popular." Officials previously claimed celebrities were among the clients of suspected party drugs dealer Steve Pasion, who was killed in a law enforcement operation in Manila this month.