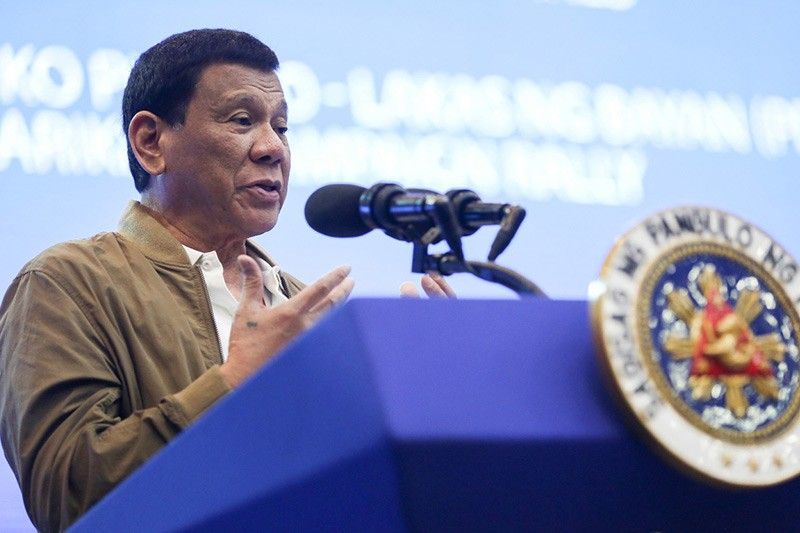 President Rodrigo Duterte delivers his speech during the Partido Demokratiko Pilipino-Lakas ng Bayan campaign rally at the Marikina Hotel and Convention Center in Marikina City on March 20, 2019.
Toto Lozano/Presidential Photo
Duterte declares permanent termination of talks with Reds
MANILA, Philippines — President Rodrigo Duterte Thursday announced what he described as the "permanent" termination of the peace talks with the communists days after he terminated the appointments of members of the government peace panel.
Duterte, who vowed to end the decades-old Maoist insurgency before he steps down, said he would no longer entertain any attempt to convince him to return to the negotiating table.
"I am officially announcing the permanent termination of our talks between the government panel and the Communist Party of the Philippines," Duterte said during the 122nd anniversary of the Philippine Army in Fort Bonifacio.
"I am no longer entertaining any interventions or maybe persuasions in this democratic state of the Republic of the Philippines. My sense is that maybe you can talk to the next President of this republic one day," he added.
READ: OPAPP: New panel to oversee localized 'peace engagements' with Reds
Duterte called the communist rebels "terrorists" in his speech and assailed them for allegedly taking over lands illegally. He also vowed to continue the government's land reform, saying it would make the rebellion irrelevant.
"I am telling the communists, you are not the ones who are capable of distributing land," the president said.
Duterte warned the rebels he would order state forces to shoot them dead if they forcibly occupy lands. He said the illegal occupation of land was made possible by what he described as the "lousy" job of former Agrarian Reform Secretary Rafael Mariano, a former Cabinet member aligned with the left.
"I have to give the warning that if you do that, I will order the soldiers and the police to shoot you," Duterte said.
"Do not seize lands. I will give all government lands to the Filipino people," he added.
READ: Communist negotiators seek meeting for return to peace talks, Duterte says
Earlier this month, Duterte terminated the services of government negotiators to pave way to localized talks.