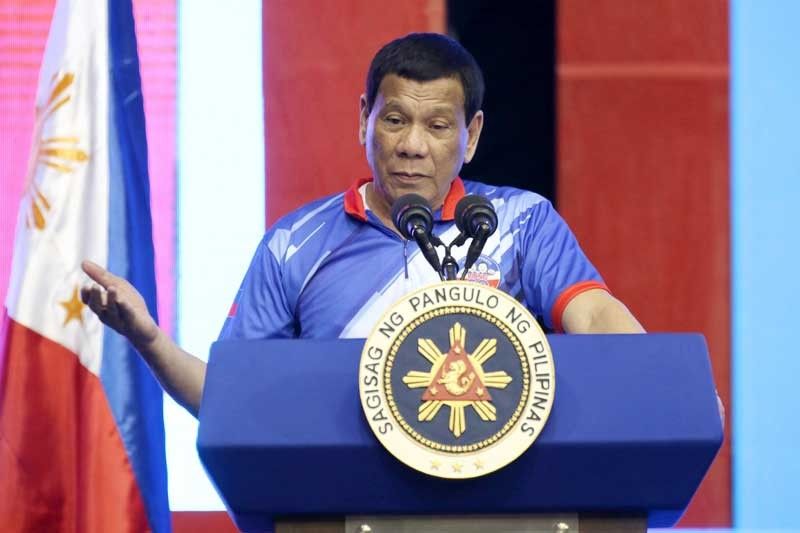 Duterte read out the names of the 46 so-called narco politicians on Thursday, consisting of 35 mayors, seven vice mayors, three congressmen and one provincial board member.
Politicians deny drug trade links
MANILA, Philippines — A day after President Duterte released the names of alleged narco politicians, most of them rushed to deny involvement in the illegal drug trade.
Duterte read out the names of the 46 so-called narco politicians on Thursday, consisting of 35 mayors, seven vice mayors, three congressmen and one provincial board member.
They gave various reasons why they should not be included in the list.
Among the three congressmen named in the list, Pangasinan's First District Rep. Jesus Celeste said he was puzzled by his inclusion.
Celeste said the Regional Peace and Order Council (RPOC) had already cleared him of drug links.
He said the RPOC's investigation report late last year that cleared him possibly did not reach the President.
Celeste said he welcomes the filing of charges against him.
"It's better this way because I know I am innocent and this will finally put an end to this allegation often hurled at me every election," Celeste said.
Pasuquin, Ilocos Norte Mayor Ferdinand Dancel Aguinaldo blamed politics for his inclusion in the narco list.
Aguinaldo, seeking reelection this May, challenged authorities to launch a public validation of the narco list.
Lucena City, Quezon Mayor Roderick Alcala also claimed politics was behind the inclusion of his name in the list.
Alcala claimed he was being blackmailed by a rival political family. He said he was being forced to stop a certain broadcaster from criticizing the political family over some social issues.
San Rafael, Bulacan Mayor Cipriano Violago Jr. also claimed politics was behind his alleged involvement.
Violago said he was actually not surprised that his name was included in the narco list. He said he had expected his political rivals to include his name to lessen his chances of reelection.
Violago said he had been cleared of the allegations by the regional and national police and was already subject for de-listing.
"However, someone is blocking it at the Office of the President," Violago said without naming the personality.
For Maasin, Iloilo town Mayor Mariano Malones, his inclusion in the list is no big deal.
"It doesn't mean that if your name is validated, you're guilty," he said.
Malones said he is gratified the validation process has been done and his name was submitted to the Office of the Ombudsman for the filing of charges.
"I'm happy that my name is submitted. It's now the ombudsman will decide if we're guilty or not," Malones said. "The truth will come out in the end."
Carles, Iloilo Mayor Sigfredo Betita likewise denied the allegations.
He surmised that his being a Betita might have something to do with his being tagged as drug protector. He said he was earlier linked to slain drug lord Melvin Odicta Sr. whose mother is from the Betita clan.
Subic, Zambales town Mayor Jefferson Jay Khonghun also denied being involved in the illegal drug trade.
He also defended his father, Zambales Rep. Jeffrey Khonghun.
"No need for us to become protector of illegal drug trade here, we are not really poor because my family has construction business before we entered politics," Khonghun said.
He said his father Rep. Khonghun was a contractor before he was elected as first district representative.
"My father was Subic mayor for three consecutive terms and now he is running for his last term as congressman; my younger brother Jonjon is on his last term as Zambales first district board member and now Subic town mayoralty candidate and (I am in) my last term as Subic mayor now running for Zambales vice governor," Khonghun said.
Revalidation
Interior and Local Government Secretary Eduardo Año on Thursday said the politicians are facing administrative charges of grave misconduct, conduct unbecoming of a public officer and gross neglect of duty.
The criminal charges related to drug offenses are expected to be filed as well against the 46.
Año said the involvement of the 46 in illegal drugs was evaluated and validated by the Interagency Committee on Illegal Drugs (ICAD) chaired by the Philippine Drug Enforcement Agency (PDEA) in coordination with the Philippine National Police (PNP), Armed Forces of the Philippines (AFP), National Intelligence Coordinating Agency (NICA) and other offices.
PDEA regional director Alex Tablate explained the process of validating the list continues.
"From time to time, we gather new information. We're just submitting it to the higher headquarters but we can't divulge that because of confidentiality," Tablate said.
Western Visayas regional director Chief Supt. John Bulalacao said those who were not mentioned are either cleared or are still undergoing revalidation.
"Evidence gathering is crucial in the filing of cases," he said.
Both officials noted some known personalities were not included in the drug list.
They stressed they are simply following the protocol laid down by their superiors in Manila.
"I just would like to emphasize that PDEA is one of those law enforcement agencies that were given directive to conduct validation and gathering of information from the ground pertaining to these alleged narco politicians," Tablate said.
"At the end of the day, at the regional level, we have no authority to divulge anything," he said. – Jennifer Rendon, Michelle Zoleta, Artemio Dumlao, Eva Visperas, Bebot Sison