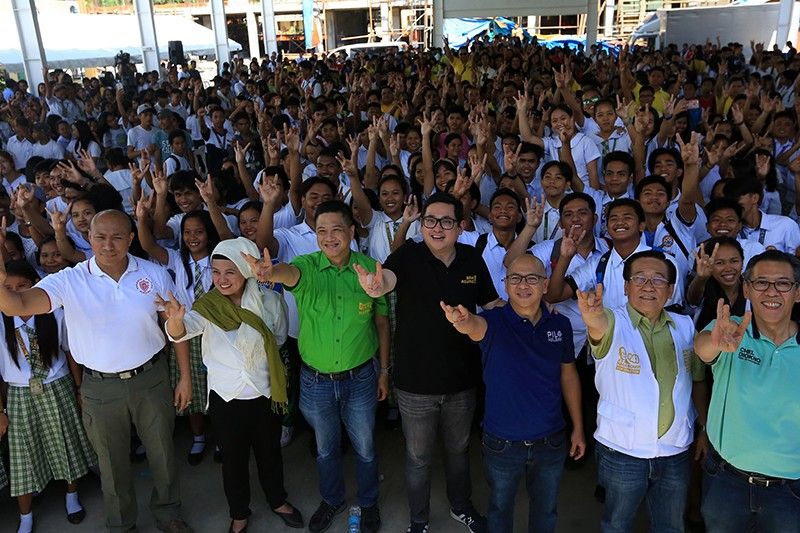 Otso Diretso: Criticism of government part of opposition's job
MANILA, Philippines — Members of Otso Diretso, an opposition senatorial slate, reminded President Rodrigo Duterte on Monday that being critical is part of the opposition's job.
The Liberal Party-led coalition was responding to a tirade that the president unleashed while campaigning for the administration slate on Sunday when he said the Otso Diretso did nothing but criticize.
"It is the opposition's job to question, criticize and give alternative ways to run government," human rights lawyer Jose Manuel "Chel" Diokno. "It would be better for the president to not be onion-skinned — this is the spirit of democracy."

READ: Duterte lashes out at Otso Diretso bets
"Sinong ipalit mo diyan sa 'yang 'Otso Diretso' papuntang impiyerno? Totoo lang, hindi ako na-ano. Walang ginawa 'yang mga tao na 'yan puro criticize, hindi pa maniwala (Who will you vote instead of that Eight Straight to hell? To be honest, I'm not – Those people do nothing but criticize, and they don't even believe you)," Duterte said at a campaign sortie in Zamboanga City on Tuesday.
The statement came a week since the Otso Diretso slate had been egging on the Hugpong ng Pagbabago — the regional party led by Davao City Mayor Sara Duterte-Carpio — to a debate.
The president's daughter rebuked the opposition's challenge as an "obsession" while the Palace dismissed it as a publicity stunt.
"Mr. President, the opposition's job is to object to the administration's incorrect policies," Diokno said in Filipino.
RELATED: Sara Duterte: Otso Diretso bets 'fixated' on debates | Palace says Otso Diretso challenging Hugpong bets to debate to gain publicity
"This is still a democracy and not a dictatorship, right? Don't take it personally, this is just work," former Solicitor General Florin Hilbay said.
Duterte said on Sunday that the opposition candidates should go to Lanao [there are Lanao provinces: Lanao del Norte and Lanao del Sur], and if they do, "he'll behead them."
He said the eight candidates are "worthless people" who have "not done anything for us Moros." Duterte claims kinship with the Maranao people through his grandmother.
Hilbay: I helped with arbitration case
Responding to this, Hilbay reminded the president that he was one of the lawyers who helped win the 2016 Permanent Court of Arbitration ruling that determined China's claims over disputed waters in the South China Sea were invalid.
"We've met in person. And we saw each other the day the ruling came out because he asked for a briefing," Hilbay said.
The administration has been criticized for not asserting the ruling and instead focusing on building diplomatic and economic ties with China, which claims a large part of the South China Sea, including the West Philippine Sea.READ: Consistency in asserting rights crucial in Philippines' sea claim, says expert
Gutoc: Respect all women, not just me
Former Bangsamoro Transition Commission member Samira Gutoc was spared from the president's tirades, at least for now. "Si Samira, babae man 'yan, ayaw ko magsalita diyan (Samira, she's a woman, I don't want to say anything against her," the president said.
"Eh ganun 'yan ang rule eh pagka babae kalaban mo (that's my rule when your opponent is a woman), you just shut up. Samira Ali Gutoc. So I have nothing to say to you, ma'am," he added.
"I would like to sincerely thank you, Mr. President, for your recent show of respect for me," Gutoc responded. "I know how you tend to be harsh to your critics, especially those who have expressed dissent to your policies and public pronouncements."
But the activist from Marawi City said that she would prefer the president extend the courtesy to all women, opponent or not.
"I also ask you to afford the same respect to all women, as we celebrate National Women's Month this March," Gutoc said. "The president we saw yesterday was the same president I pledged to work for before," the former commissioner added.
"I know that you will be a better president and a great father to this nation if you will just learn to temper your words to the occasion and revisit your anti-poor policies."
But the president has called Vice President Leni Robredo "incompetent" and made comments about her legs in front of audiences.
RELATED: Duterte: I won't resign to make 'incompetent' Robredo president | Leni on Duterte's remarks: Right to be offended by it
Prior to filing of drug charges against Sen. Leila de Lima, Duterte told her that she should "hang herself."
De Lima, a critic of Duterte's record on human rights, has been detained on drug charges since 2017.
READ: Duterte to De Lima: Resign, hang yourself
On the president's claims that the opposition slate hasn't done anything for the country, Diokno fired back with his own question: "I'll ask the same question of the president: what have your bets done so far?"
He stressed that the Senate is not about putting up tarpaulins. "We will make laws there and these need to be debated," he said.