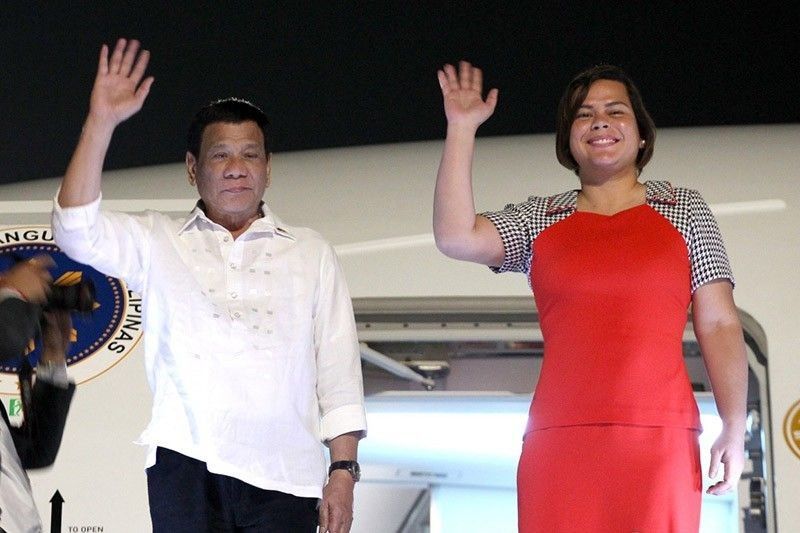 President Duterte said he would no longer be active in the political scene once he steps down from office three years from now.
Arcel Valderrama/Presidential Photo/File
Sara now taking lead in political decisions — Duterte
Alexis Romero
(The Philippine Star) - February 26, 2019 - 12:00am
MANILA, Philippines — Davao City Mayor Sara Duterte-Carpio is now calling the shots on the political decisions of the first family, President Duterte said, as he claimed that his daughter is worse than him when it comes to enforcing regulations.
Duterte said he would no longer be active in the political scene once he steps down from office three years from now.
"But now Inday (Sara's nickname) is the one taking the lead. Inday is the one who controls the (political decisions). Wala na ako eh (I will be gone). I know that after three years, wala na talaga ako (I will be really gone). I will no longer be able to run and you will also not be able to tell Inday what to do," the President said during the distribution of grants to cash transfer beneficiaries in Cebu last Sunday.
Duterte went on to talk about how tough his daughter is as mayor of Davao City.
"If you go to Davao, you have to go about it carefully. I beat people up too but Inday is worse than me. Have you seen the sheriff that she punched? She even pulled his hair. He was almost bald," the President said.
He was referring to a confrontation between Sara and a court sheriff during a demolition of informal settlers' shanties in 2011.
Duterte also recalled how Sara plotted the ouster of former speaker Pantaleon Alvarez.
"Have you seen Inday? Alvarez was just kidding around. But I can also impeach him. So if you will make a joke, don't joke around with someone who has a father, mother, sibling and children behind her. You better watch out," he said.
"She started planning it in Davao. Alvarez was replaced. I wasn't even aware that she was angry. But with Inday, you just can't," he added.
Earlier this month, Duterte apologized to Alvarez, admitting that he could not control his daughter.
Duterte has said fathers like him do not want to clash with their daughters because such disagreement could lead to a shouting match.
Alvarez was replaced by former president and Pampanga Rep. Gloria Macapagal-Arroyo during Duterte's second State of the Nation Address in July 2018. Duterte has also advised people to "be careful" with Sara, who heads the regional political party Hugpong ng Pagbabago. The HNP is endorsing 13 senatorial bets in the 2019 midterm polls.
Foreign Affairs Secretary Teodoro Locsin Jr. said yesterday that he believes no one will go after Duterte after he steps down from office, citing "three reasons."
"No one will go after Duterte after he steps down for three reasons: (1) No one would dare. (2) He will have done a lot to advance the extinction of the drug trade as far as it goes. And yes (3) the drug-funded opposition will not win the election," Locsin said in his tweet.
Locsin also praised Duterte, saying he believes the President has delivered on all of his campaign promises except traffic.
"In this case believe him. No one has done as much as he has to advance our country," Locsin said.
Duterte blamed Congress for refusing to grant him emergency powers to solve the traffic mess.
At the Cebu event, Duterte expressed support for the congressional bid of former presidential communications assistant secretary Mocha Uson.
Uson is a nominee of the Kasosyo party-list, which she said aims to help Filipinos become successful entrepreneurs.
"Vote for Mocha. She's really for the masses," Duterte said.
"Help her, help her. She's one of the people who helped me," he added. – Pia Lee-Brago