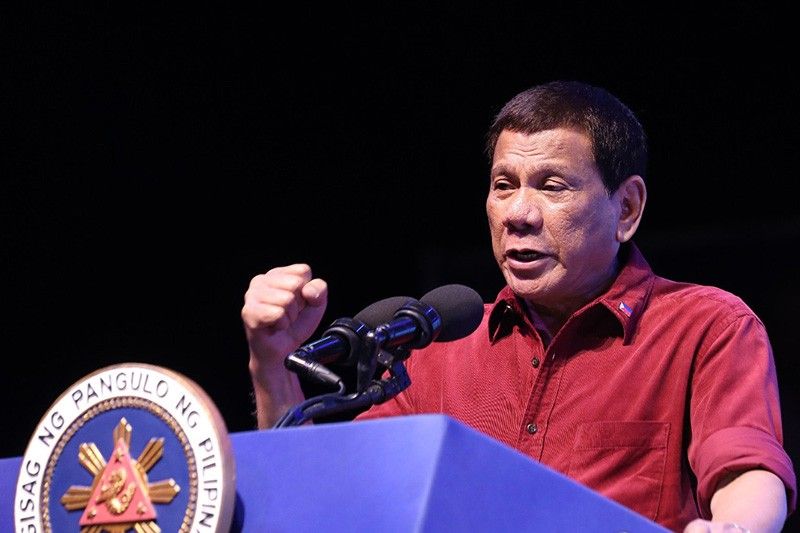 President Rodrigo Duterte delivers his speech during the Partido Demokratiko Pilipino-Lakas ng Bayan campaign rally at the Plaza Independencia in Cebu City on Feb. 24, 2019.
Alfred Frias/Presidential Photo
Duterte changes tune, now warns those threatening to harm priests
(Philstar.com) - February 25, 2019 - 5:38pm
MANILA, Philippines — President Rodrigo Duterte changed his tune in addressing the Catholic Church as he said that those going after priests should "lay off" or risk facing him.
The president has, in the past, launched lengthy tirades directed at the Catholic Church. Presidential spokesperson Salvador Panelo defended Duterte's tirades saying that "if the men of the cloth" can criticize the president, then they should receive some lashes too.
READ: A look at the Church's 'tirades' vs Duterte
On Sunday night, at the Partido Demokratiko Pilipino-Lakas ng Bayan campaign rally, Duterte shifted gears and instead directed his ire at those who are threatening the leaders of the Catholic Church.
Duterte quoted part of Manila Archbishop Luis Cardinal Tagle's letter to him saying that Bishop David and some priests received death threats from "someone claiming to be working for the president's family."
The president said that there is nothing of that sort, and added: "Do not touch the priests, they had nothing to do with politics."
"Either Muslims or Christians, they had nothing to do with us. Do not do it. Do not try to do it. Ang religious [leaders] had nothing to do with the vagaries of life. Lay off! Stop threatening them or ako ang makakalaban ninyo (you will have to face me)," he added.
This is a reversal from the president's remark in December last year when he suggested that bystanders rob and kill Catholic bishops who he called "useless."
"These bishops, kill them. They are useless fools. All they do is criticize," Duterte said in a mix of English and Filipino.
READ: CHR: Duterte's 'kill bishops' remark may embolden violence vs clergymen
While Duterte did not expound on who is the "Bishop David" identified in the letter, the only listed bishop of the Catholic Bishops Conference of the Philippines is Caloocan Bishop Pablo Virgilio David.
David was at the receiving end of Duterte's accusations — including stealing donation and drug trade involvement — and rants in November 2018.
RELATED: Barbs and the Bible: The continuing clashes between Duterte and Bishop David
The firebrand leader also openly expressed his disdain at the Catholic Church, including Pope Francis in 2015, and his verbal attacks continued to intensify into his second year in office.
On July 9, 2018, Duterte and Archbishop Romulo Valles, CBCP president, had a private meeting where the two "agreed to a moratorium on statements about the Church."
Duterte broke the "ceasefire" just a day later.
Last month, Panelo suggested to just let the "word war" be.
— Kristine Joy Patag