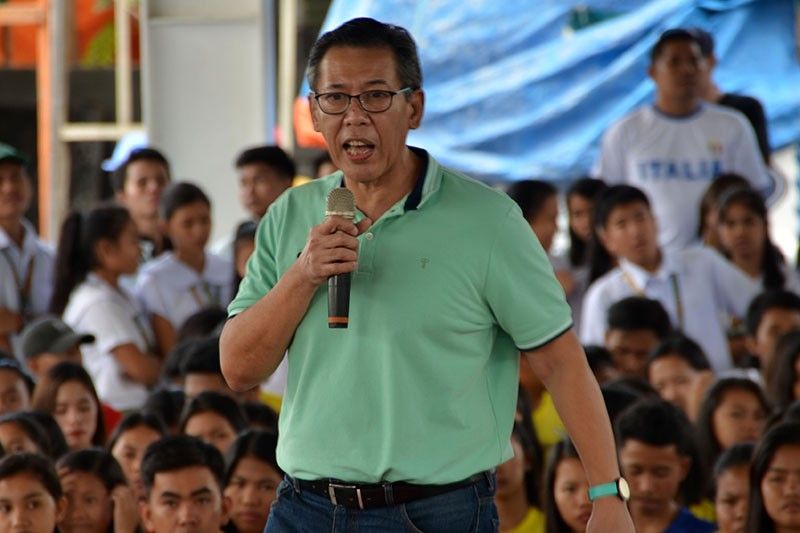 In this Feb. 13, 2019 photo, human rights lawyer Chel Diokno attends a campaign sortie in Camarines Sur.
The STAR/Edd Gumban
Fact check: Trolls twist Diokno's stand on death penalty
MANILA, Philippines — Online detractors are putting words into human rights lawyer and senatorial bet Chel Diokno's mouth following his statement on capital punishment.
A quote card of Diokno's supposed remarks on the matter has been spreading on social media.
Several Facebook pages have been posting a photo claiming that Diokno said, "Tutol ako sa Death Penalty kahit rapon at patayin pa ang aking anak na babae."
(I am against the death penalty even if my daughter gets raped or killed.)
This is false.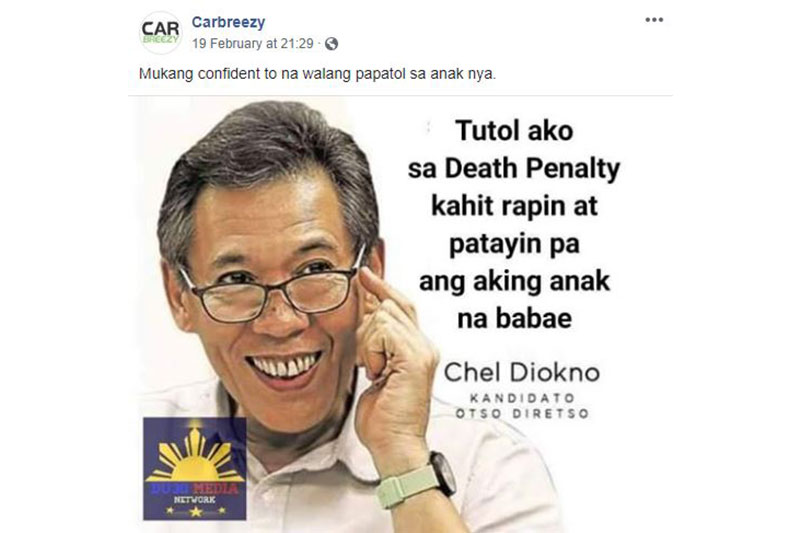 Facebook page "Carbreezy" is one of the pages that shared a false quote of Otso Diretso senatorial bet Chel Diokno on the death penalty.
What Diokno actually said
During ABS-CBN's "Harapan 2019" senatorial town hall debate last Sunday, Diokno was asked, "Kung anak mo ang na-rape o napatay, dapat bang i-death penalty ang kriminal?"
(If your child was raped or killed, should the criminal be punished with the death penalty?"
The Liberal Party candidate was quick to answer, saying that he was against the imposition of death penalty in the country.
"Tutol na tutol ako sa death penalty dahil anti-poor po ang death penalty. (I am extremely against the death penalty because it is anti-poor.) It is not the severity of the punishment but the certainty that stops the crime," Diokno said.
Diokno said he was against the death penalty but he never said it was alright for his daughter to be raped or killed.
The Duterte administration has been advocating for the reinstatement of death penalty since assuming office in June 2016. This was abolished in 2006 during the administration of President Gloria Macapagal-Arroyo, who is now speaker of the House of Representatives.
An October 2018 survey found that nearly six in 10 Filipinos are in favor of reinstating the death penalty for heinous crimes.
A study conducted by the Social Weather Stations and the Commission on Human Rights showed that 56 percent of Filipinos agree that the death penalty should be restored for those proven to have committed heinous crimes.