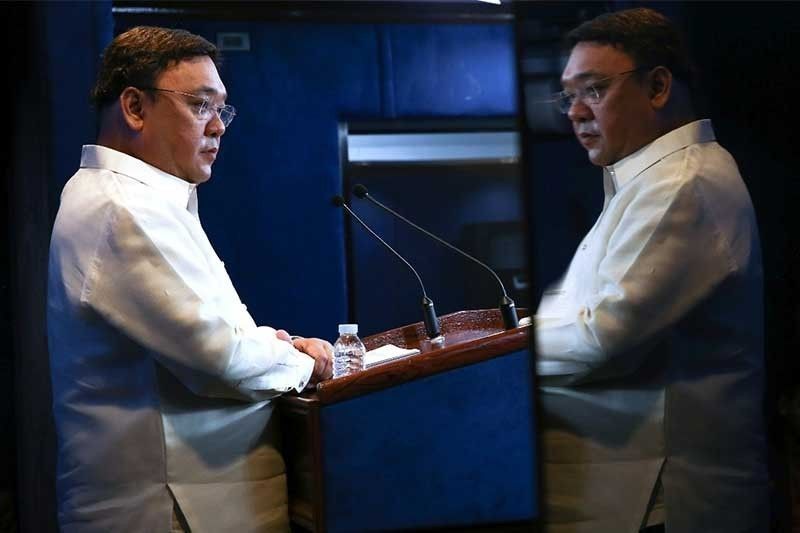 Presidential spokesperson Harry Roque stressed that reinstating death penalty is still a priority of the administration amid the declaration of the Roman Catholic Church that death penalty is "inadmissible."
Presidential photo/Toto Lozano
Palace: Fate of death penalty in the hands of senators
MANILA, Philippines — Reinstating of death penalty for serious drug offenses is still a priority of the current administration but Malacañang is leaving its fate to the Senate.
Presidential spokesperson Harry Roque stressed this Friday amid the declaration of the Roman Catholic Church that death penalty is "inadmissible."
"The matter of death penalty is in the hands of the senators now so we leave it to the Senate whatever decision they may have," Roque said.
President Rodrigo Duterte, however, will still "try gentle persuasion," he added.
READ: Sotto: Death penalty easier to pass in Senate if focused only on high-level drug trafficking
Senate President Vicente "Tito" Sotto III earlier said that the proposed bill reinstating capital punishment has better chances of hurdling the upper chamber only if it would be aimed at drug lords.
Sotto, who favors the restoration of capital punishment, added he would allow debates for death penalty limited to high-level drug trafficking on the Senate floor.
Among the senators who have either filed bills to revive death penalty of have expressed support for them are Sens. Manny Pacquiao, JV Ejercito, Sherwin Gatchalian and Cynthia Villar.
Last year, the House of Representatives approved on third and final reading the bill reimposing death penalty but only for drug-related offenses.
Death penalty was abolished in 2006 under former president Gloria Macapagal-Arroyo.
Pope Francis approved the change to the catechism, which covers a wide range of moral and social issues, during a meeting in May.
The new text now states: "The Church teaches, in the light of the Gospel, that 'death penalty is inadmissible because it is an attack on the inviolability and dignity of one person."
The pope has long opposed death penalty, saying that the execution of a human being is fundamentally against the teachings of Christ because, by definition, it excludes the possibility of redemption.
Francis has also called for an "international consensus" on the abolition of capital punishment.
More than two-thirds of countries, including Catholic states, have abolished or suspended judicial killings.
However, Amnesty International recorded at least 2,591 death sentences in 53 countries and nearly 1,000 executions in 2017 alone. — with a report from Agence France-Presse