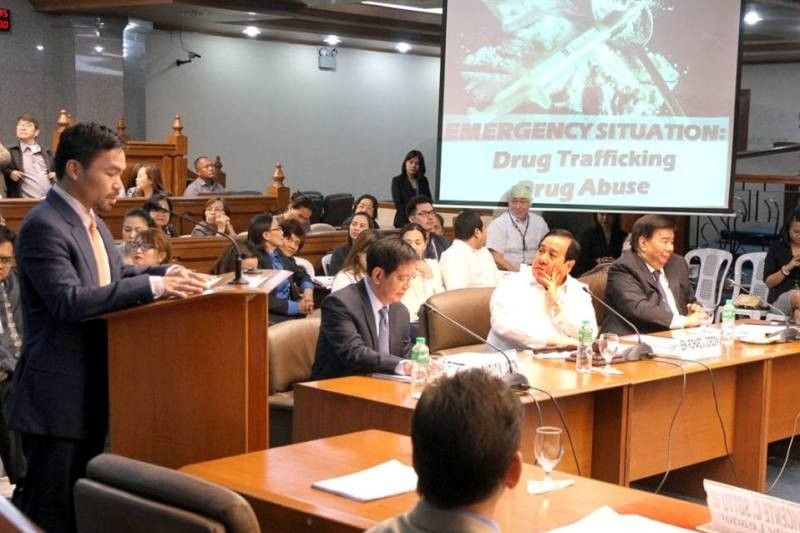 In this file photo, Sen. Manny Pacquiao explains why the death penalty should be reimposed for drugs and other heinous crimes during the public hearing into its proposed revival.
Senate PRIB/Cesar Tomambo
Majority of Filipinos want death penalty brought back, SWS poll finds
MANILA, Philippines — Nearly six in every 10 Filipinos agree that the death penalty should be reinstated for heinous crimes, according to a study that Social Weather Stations and the Commission on Human Rights released on the Wednesday, the World Day against Death Penalty.
Of the 59 percent who agreed that the death penalty should be restored for people proven in court to have committed heinous crimes, 42 percent strongly agreed while 17 percent somewhat agreed.
Only 23 percent said they strongly disagree, nine percent said they somewhat disagree, while the remaining eight percent were undecided.
This yielded a "moderate" net agreement of +26.
Only 3 in 10 favor death penalty if other modes of punishment available
The study, however, emphasized that only 33 percent of Filipinos want death penalty if there are other punishment options.
For the crimes of importation of illegal drugs, maintenance of drug dens, manufacture of illegal drugs, murder under the influence of drugs, sale of illegal drugs and working in drug dens, the demand for death penalty ranges from 22 to 33 percent.
Demand for life imprisonment, instead of death, is from 51 to 55 percent.
The strongest demand for capital punishment is at 47 percent for rape under the influence of drugs.
Death penalty an admin priority
Last August, presidential spokesperson Harry Roque Jr. stressed that reinstating of death penalty for serious drug offenses is still a priority of the current administration but Malacañang is leaving its fate to the Senate.
Senate President Vicente "Tito" Sotto III earlier said that the proposed bill reinstating capital punishment has better chances of hurdling the upper chamber only if it would be aimed at drug lords.
Last year, the House of Representatives approved on third and final reading the bill reimposing death penalty but only for drug-related offenses.
Death penalty was abolished in 2006 durng the administration of President Gloria Macapagal-Arroyo.
Those opposed to the reimposition of death penalty have questioned the effectiveness of death penalty as a deterrent for crime. In congressional hearings in 2017, the CHR and the Department of Social Welfare and Development said there is no correlation between the death penalty and a change in crime rates.
The CHR said then that death penalty is against the "poor, uneducated, vulnerable and powerless." It also cited data that showed the danger of wrong convictions.
It disclosed data that demonstrated that there was 71.77 percent judicial error rate in the country which meant that there was a high possibility that an innocent individual would be executed once death penalty was revived.
The CHR has also said that reimposing the death penalty would violate treaties that the Philippines is party to.
Reasons for approval
The top reason given by those who agreed that death penalty should be reinstated for people proven by courts to have really committed crime is that capital punishment curbs crime (55 percent).
Thirty-seven percent said death penalty dispenses justice.
For those who were undecided if they agree or disagree with the re-instatement of capital punishment, 32 percent said it depends on the gravity of the crime and 30 percent cited the questionable justice system in the country.
Forty-two percent of those who disagree with the restoration of the death penalty cited religious reasons. Twenty-one believes that it is possible for criminals to reform, while 14 percent said there are alternative penalties to death penalty.
The survey on the public perception on death penalty was conducted from March 22 to 27, using face-to-face interviews of 2,000 respondents aged 15 and above.
It has sampling error margins of ±2.2 percent for national percentages, and ±5 percent each for Metro Manila, Balance Luzon, Visayas, and Mindanao.