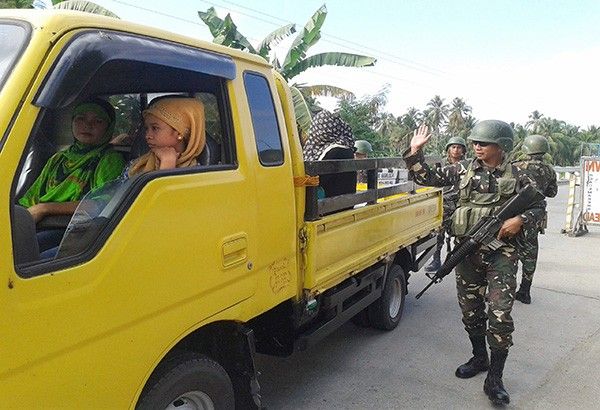 In this file photo, soldiers man a checkpoint on a highway in Maguindanao province.
Philstar.com/John Unson, File photo
SC ruling on martial law a 'rubberstamp' on Duterte's tyranny — petitioner
(Philstar.com) - February 20, 2019 - 11:29am
MANILA, Philippines — The Supreme Court affirmation of the martial law extension in Mindanao only put a "rubberstamp" on the "anti-people tyranny" of the administration of President Rodrigo Duterte, said one of the petitioners in the case.
In a statement, Kabataan party-list slammed the ruling as they stressed that the martial law rule in Mindanao "only turned the region in a hotbed of human rights violations, trumped-up criminal charges and illegal arrests."
Rep. Sarah Elago (Kabataan party-list) joined the Makabayan bloc as the second group of petitioners against the third extension of martial law.
But the SC, voting 9-4 on Tuesday, junked all four petitions, including one filed by residents of Mindanao themselves.
READ: SC upholds 3rd martial law extension
It was the third time that the high court upheld the constitutionality of martial law and suspension of the writ of habeas corpus in Mindanao.
But Kabataan raised that the situation of Lumad schools has worsened under martial law as more schools "have been forced to shut down due to the militarization of their communities."
"More people had to evacuate their communities due to militarization brought by martial law. More Lumad students, parents and teachers have been harmed, threatened, and killed by state forces in Mindanao," they added.
The full text of the decision has yet to be released as of this story's posting.
Government welcomes ruling
The Malacañang and Office of the Solicitor General welcomed the court's ruling with the government's chief legal counsel saying that SC's decision, "together with the successful conduct of the Bangsamoro plebiscite, is a significant step towards achieving lasting peace in Mindanao."
READ: Calida insists rebellion exists in Mindanao
The Palace, in a statement posted by state-run PTV, said that with the ruling, the three branches of the government "have forged a unified stand against the forces of rebellion and terrorism."
The request for ruling came from the executive branch, which was granted by the legislative branch and was later affirmed by the judiciary, through the SC ruling.
The Palace added it showed that the three branches are "on the same page in quelling the rebellion as well as combating and dissipating terroristic acts destructive to lives and properties unleashed by ruthless and barbaric local and foreign armed lawless elements." — Kristine Joy Patag