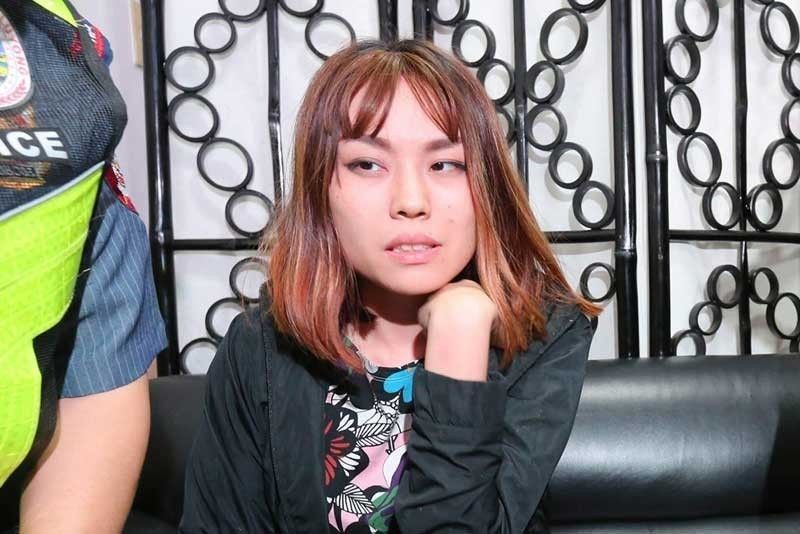 NCRPO Director Guillermo Eleazar said that before the incident, the policeman told Zhang Jiale about the MRT policy prohibiting liquid substances after a cup of taho was found inside her paper bag when she entered the station at around 8:30 a.m. of February 9, 2019.
The STAR/Boy Santos
Prosecutor OKs direct assault charge vs foreign student in 'taho' throwing incident
MANILA, Philippines — A local prosecutor recommended direct assault charge against the foreign student who threw her soybean curd or "taho" cup against a cop manning the Bonifacio Avenue train station.
In a one-page resolution, Senior Assistant City Prosecutor Leynard Dumlao recommended the indictment of Chinese student Zhang Jiale on charge of direct assault.
City Prosecutor Bernabe Augustus Solis approved Dumlao's recommendation.
Dumlao said that there is probable cause to charge Zhang with direct assault as the action employed "must be serious in character as to indicate respondent's determination to defy the law and its representative at all hazards."
The prosecutor noted that Zhang threw the cup at PO1 William Cristobal who was then in uniform. Her act "is considered deliberate and serious defiance to a police officer who was performing his duties at that time."
"It is offensive both by legal and moral norm considering that there was no provocation on the part of the police officers," the Mandaluyong prosecutor added.
Dumlao dismissed the complaint for disobedience against Zhang as "the same is necessary consequence of the assault." The unjust vexation rap was also dismissed as it was deemed absorbed in the direct assault charge.
A charge of direct assault is punishable under Article 148 of the Revised Penal Code.
Earlier on Tuesday, the Bureau of Immigration legal panel said that it saw probable cause to file a deportation case against Zhang.
The recommendation would be later be taken up by the BI Board of Commissioners who decide on deportation cases.
Immigration spokesperson Dana Sandoval said that should the bureau decides to deport Zhang, the police's case against Zhang would have to be resolved first before she would be ordered to leave the country.
If deported, Zhang would be placed in the bureau's watchlist.
Zhang is a 23-year-old student who has been residing in the Philippines for six years.
On Saturday morning, PO1 William Cristobal asked Zhang to finish her "taho" as part of the Philippine train lines' implementation of liquid ban following a bomb threat but the student threw her cup at Cristobal.
Zhang apologized for her behavior and said that she was just in a "bad mood" when the incident happened.
READ: Robredo, opposition bets denounce 'taho' tantrum, call out gov't's 'special treatment' to Chinese | Panelo to Robredo on 'special treatment' to Chinese: Stop giving statements that 'inflame' issues
Related video: