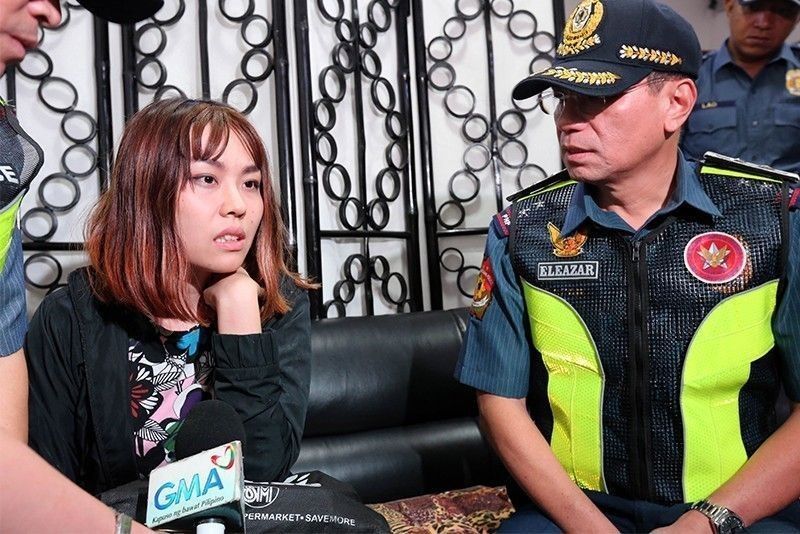 In this, Feb. 9, 2019 photo, NCRPO Director Guillermo Eleazar talks to Chinese national Zhang Jiale.
The STAR/Boy Santos
BI legal team saw basis to deport foreign student in 'taho' throwing incident
MANILA, Philippines — The legal panel from the Bureau of Immigration saw basis to deport the foreign student who threw soybean curd or "taho" at a policeman enforcing food and liquid ban inside the MRT.
Immigration spokesperson Dana Sandoval said in a statement on Tuesday that the bureau's legal team saw that there was probable cause to file for deportation against Chinese student Zhang Jiale.
Sandoval added that the case may be filed motu proprio (on own impulse) "especially since there are photos showing what happened." The recommendation would be taken up by the Immigration's board of commissioners that decide on deportation cases.
On Monday night, Zhang apologized for her act, saying that she was just in a "bad mood" when the incident happened on Saturday.
Zhang is a 23-year-old student who has been residing in the Philippines for six years.
PO1 William Cristobal asked Jiale to finish her "taho" as part of the ban of the Philippine train lines' implementation of liquid ban following a bombing threat, but Zhang threw her cup at Cristobal.
Police on Monday filed unjust vexation, disobedience to a person in authority and direct assault complaints before the Mandaluyong prosecutor's office.
Sandoval said that if the Immigration board of commissioners rule to deport Zhang, the case would still continue.
"The case has to be resolved first before we implement the deportation," she added.
Immigrations Commissioner Jaime Morente said that the bureau would not tolerate such acts that "show disrespect to the country."
Vice President Leni Robredo said that the incident is a "wake-up call," noting the government's "special treatment" given to Chinese nationals.
Foreign Affairs chief Theodoro Locsin, meanwhile, argued against deporting Zhang. He noted that she has been a student "who believes in us to study here."
The Palace, however, chided the vice president for "blowing up" the incident. Palaces spokesman Salvador Panelo said that incidents like Zhang's are not uncommon and not limited to Chinese.
Related video: