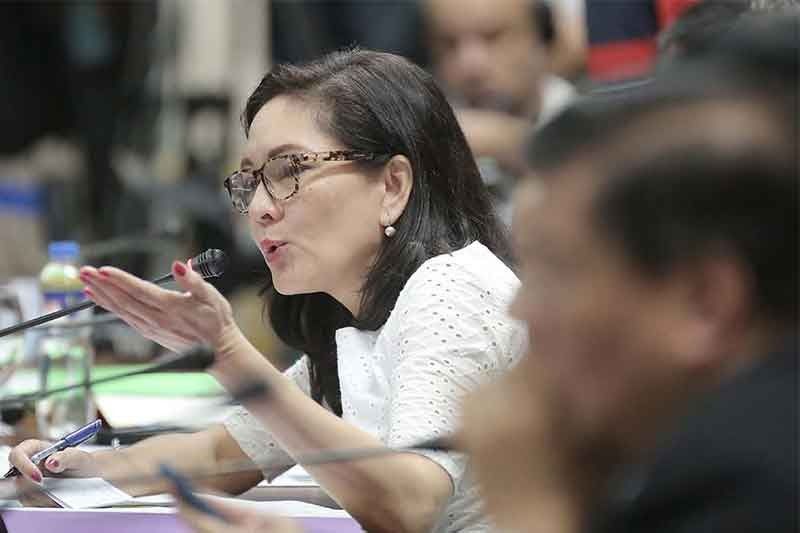 This file photo shows Sen. Risa Hontiveros speaking during a hearing at the upper chamber.
Senate PRIB
Hontiveros: Lowering minimum age of criminal responsibility 'immoral, ineffective'
MANILA, Philippines — Sen. Risa Hontiveros is still against the lowering of the minimum age of criminal responsibility in the country even after her counterparts at the House of Representatives revised the threshold to 12 years old from the initially proposed nine.
In a statement Thursday, Hontiveros called both proposals "immoral, unscientific and ineffective."
"There is no sense debating and choosing whether the minimum age of criminal responsibility should be pegged at 12 or 9 years old. There is really no difference. Can a 12 year old compared to a nine year old get married, get a driver's license, participate in elections, buy alcohol and watch R-16/18 films? The obvious answer is no," she said.
The opposition senator echoed the opinions of experts that minors — whether nine or 12 years old — are not equipped with the same intellectual and mental capacities as adults.
The Psychology Association of the Philippines emphasized that children's cognitive abilities to control impulses, make reasoned decisions and regulate emotions are still under development during the early to middle adolescent stage.
"We have come to a point where, without concrete and well-researched data, government is deciding whether children at nine or 12 years old should be treated like fully-functioning adults under the law," Hontiveros said.
She added: "The real question we should ask ourselves is if it is even proper for government to place the burden of blame for criminal acts on minors used by adult criminals and who cannot even be expected to take care of themselves," Hontiveros said.
After only two days of plenary deliberations, the lower house voted to approve House Bill 8858 on Wednesday. At the last minute, however, the House leadership revised the minimum age of criminal liability to 12 years old.
Hontiveros said that instead of thinking about at what age children should be considered as criminals, the government should focus on improving programs that would ensure they would stay out of conflict with the law.
Under the controversial bill, children as young as 12 years old who commit serious crimes with discernment would be mandatorily confined at Bahay Pag-asa centers — youth care facilities mandated by law to offer rehabilitation and intervention to children in conflict with the law.
In the upper chamber, Senate President Vicente "Tito" Sotto III filed a bill seeking to lower the minimum age of criminal responsibility to "above 12 years old," while Senate Minority Leader Franklin Drilon wants to lower the age to 12 years old.