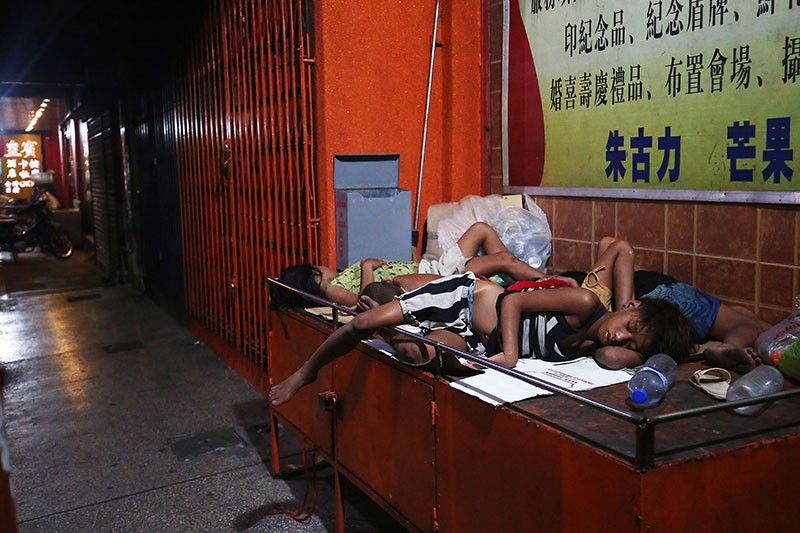 This file photo shows children sleeping outside a closed restaurant in Binondo, Manila.
The STAR/Miguel de Guzman, File
House leader: Experience over science on lowering age of criminal responsibility
MANILA, Philippines — The proposal to lower the minimum age of criminal responsibility should be grounded more on experiences than scientific studies, one of the measure's proponents said Wednesday.
Newly-installed House Majority Leader Fredenil Castro (Capiz) stressed this point amid arguments made by experts and child's rights groups on the proposed shift in policy.
"The problem is that we're always talking of science. We are relying so much on science instead of relying on what we see, the real experience that we encounter in our daily lives," Castro said in an interview on ANC's "Early Edition."
Castro said his experience is based on what he sees everyday on the streets.
"My own experience is not based on psychology, not based on anything except on what I see everyday in my life that when I traverse the streets of country, I see these children that they are neglected. I see the parents who do not perform their obligation to the children," he said.
The representative from Capiz added: "I hear in the news, I see on television that these children are being exploited not only by parent, not only by some people whose minds are centered for profit but even hardened criminals."
The House justice committee on Monday gave their thumbs up to the controversial bill that would subject children who commit serious crimes with discernment to mandatory confinement in youth care facilities.
Castro said the bill was filed with intention to reform children in conflict with the law, not to punish them.
He added that the proposed shift in policy would urge parents to look after their children.
"It will call the attention and provoke a more aggressive care of the parents who really care for their children," the lawmaker said.
Malacañang earlier claimed children as early as nine years old are already capable of discernment.
"For me, nine is fine. Considering the modern technology, nine is like the equivalent of 12, 15 years old. They have discernment already," presidential spokesperson Salvador Panelo, who is not a child psychology expert, said.
Discernment, as defined by the Rule on Juveniles in Conflict with the Law, is the "capacity of the child at the time of the commission of the offense to understand the differences between right and wrong and the consequences of the wrongful act."
What does science say?
The Psychological Association of the Philippines emphasized that children and adolescents differ significantly from adults in decision making, propensity to engage in risky behavior, impulse control and overall maturity as their cognitive abilities are still under development during the early to middle adolescent stage.
"The developmental immaturity of young people mitigates their criminal culpability. Although they may be able to discern right from wrong action, it is their capability to act in ways consistent with that discernment that is undermined, given the following characteristics at this stage," PAP said.
Children and adolescents are vulnerable to coercion, the association also said.
"As minors, young people lack the freedom that adults have to assert their own decisions and extricate themselves from criminal situations," it said.
PAP, moreover, noted that children in conflict with the law typically come from dysfunctional families and are victims of neglect and lack of parental care.
"To place such a young person, already victimized, into the hands of the criminal justice system further curtails his or her future prospects and pushes them further toward a negative life trajectory," it said.
Evidence-based legislation
Senate President Pro Tempore Ralph Recto earlier said that the proposal to lower the minimum age of criminal responsibility should be grounded on facts, not on whims and unproven theories.
"The proposal to lower the minimum age of criminal responsibility calls for evidence-based legislation. We need to read the scholarship behind the proposed policy. In the absence of any, we may be legislating based on superstition," Recto said.
He added: "If a law is meant to remedy a problem, then what is the projected drop in the crime index that the desired policy will bring?"