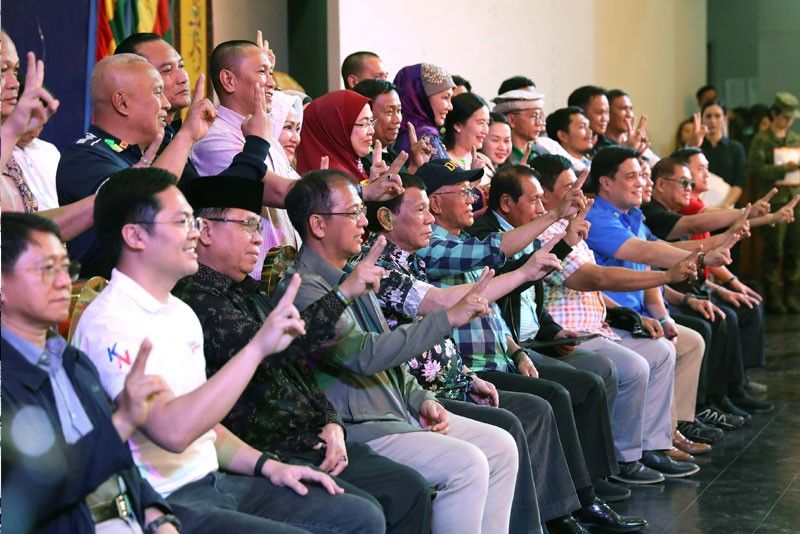 Presidential spokesman Salvador Panelo thanked the Filipinos for "continuously believing in the President's promises to bring compassion and real change to the nation."
Simeon Celi Jr./Presidential Photo
Palace to Pinoys: Keep faith in Duterte
MANILA, Philippines — Malacañang yesterday urged Filipinos to continue putting their faith in President Duterte after a nationwide poll suggested that more Filipinos expect the Philippine leader to deliver most of his promises.
A survey conducted by the Social Weather Stations (SWS) from Dec. 16 to 19 found that 48 percent of adult Filipinos expect Duterte to fulfill most, if not all, of his promises, higher than the 46 percent recorded in March.
About a third or 35 percent said the President could fulfill "most" of his promises while 13 percent said he could deliver "all or nearly all" of them. The same survey showed that 46 percent of Filipinos said Duterte could only fulfill "a few" of his promises while six percent said he would complete "none or almost none" of them.
Presidential spokesman Salvador Panelo thanked the Filipinos for "continuously believing in the President's promises to bring compassion and real change to the nation."
"We urge the people to continue putting their faith in our President in the remainder of his term even as we remain committed in fulfilling our aspiration for a comfortable and crime-free life in the Philippines," Panelo said in a statement.
Panelo attributed the poll results to Duterte's campaign against illegal drugs, crime and corruption.
"These three main issues form the heart of (President Duterte's) campaign platform in 2016," the spokesman said.
Because of Duterte's efforts, Filipinos have witnessed the voluntary surrender of more than a million drug personalities, the making of safe neighborhoods and the firing of erring officials in the government, Panelo added.
The December survey used face-to-face interviews of 1,440 adults nationwide. It used sampling error margins of ±2.6 percent for national percentages, and ±5 percent each for balance Luzon, Metro Manila, Visayas and Mindanao.