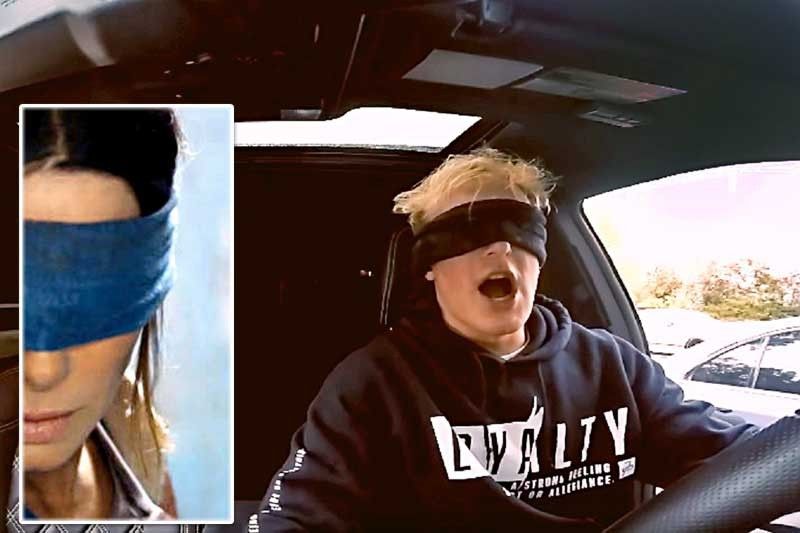 YouTube star Jake Paul takes the Bird Box Challenge, driving blindfolded in a stunt inspired by the Netflix movie Bird Box, starring Sandra Bullock (inset).
YouTube bans Bird Box challenge, other stunts
Janvic Mateo
(The Philippine Star) - January 18, 2019 - 12:00am
MANILA, Philippines — Internet video platform YouTube has explicitly banned content featuring dangerous pranks in an apparent response to the popular Bird Box "challenge" that requires motorists to drive blindfolded.
The company updated its policy following reports of accidents related to the so-called Bird Box challenge, named after the Netflix movie that featured scenes showing characters driving with a blindfold.
"We recently announced updates to our policies regarding dangerous challenges and pranks. Challenges that present an apparent risk of death are not allowed on YouTube," an announcement in the platform's community help center said.
"We also don't allow pranks that lead victims to believe they are in physical danger or that can cause real physical harm. Dangerous or abusive pranks that may cause emotional distress to children are not allowed," it added.
YouTube said its community guidelines have always prohibited content that encourages dangerous activities that are likely to result in serious harm.
However, it said that it has to update its policy to make it clear that challenges or pranks that can or have already caused death have no place on the platform.
"YouTube is home to many beloved viral challenges and pranks, like Jimmy Kimmel's terrible Christmas presents prank or the water bottle flip challenge," it said.
"That said, we've always had policies to make sure what's funny doesn't cross the line into also being harmful or dangerous. Our community guidelines prohibit content that encourages dangerous activities that are likely to result in serious harm," it added.
The dangerous content it cited includes challenges that involve eating laundry detergent and setting oneself on fire, as well as home invasion and drive-by shooting pranks.
The company did not identify the so-called Bird Box challenge as among those that will be prohibited on the platform, but the announcement came less than a week after a teenager in Utah crashed his car while doing the said task.
Netflix has earlier appealed to netizens not to do the challenge.
"Please do not hurt yourself with this Bird Box challenge. We don't know how this started, and we appreciate the love, but Boy and Girl have just one wish for 2019 and it is that you not end up in the hospital due to memes," Netflix said in its Twitter account for subscribers in the United States.
In addition to dangerous pranks and challenges, YouTube said it would also prohibit those that cause children to experience severe emotional distress.
"We've worked directly with child psychologists to develop guidelines around the types of pranks that cross this line. Examples include the fake death of a parent or severe abandonment or shaming for mistakes," said the company.