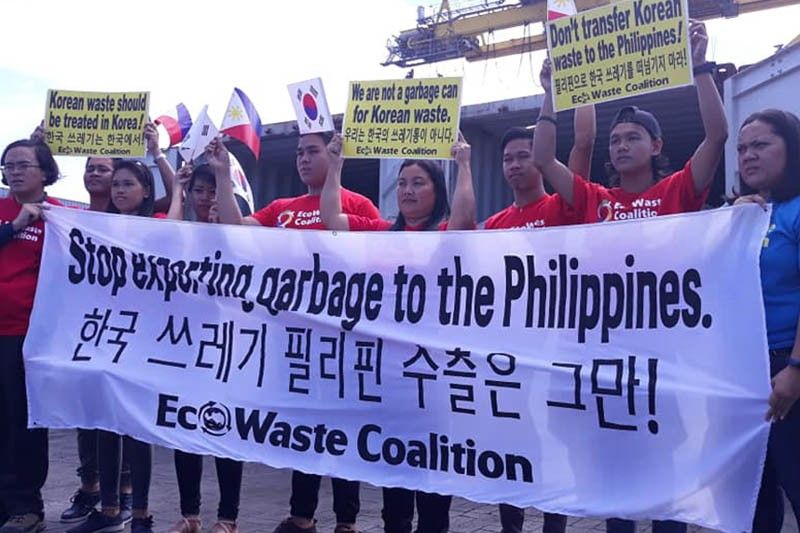 EcoWaste Coalition lauds the departure from the Philippines of the 51-trash filled containers from South Korea.
EcoWaste Coalition/Facebook, Released
DENR urged to stop influx of plastic waste imports
MANILA, Philippines — An environmental watch group on Tuesday called on the Department of Environment and Natural Resources to ban plastic waste importation as a means to prevent dumping and pollution in the country.
EcoWaste Coalition made the statement days after the 51 garbage-filled containers languishing at a Mindanao port were shipped back to South Korea—six months after the arrival of the shipments in the country.
Aileen Lucero, EcoWaste Coalition national coordinator, stressed that the DENR should follow China's move to ban plastic waste importation "to safeguard human health and the environment."
"We request DENR Secretary Roy Cimatu to impose tough measures that will prevent discarded plastics that could no longer enter China from being diverted into the Philippines due to loopholes in existing regulations," she said.
Lucero noted that there has been a significant rise on waste exports from South Korea to the Philippines after China prohibited the importation of scrap plastic in 2018 to protect the country's environmental interests and people's health.
Data from the Korea Customs Service showed that waste exports from South Korea to the Philippines rose from 4,398 tons to 11,588 tons after China closed its doors for plastic waste imports from overseas.
"Waste traders from industrialized countries are frantically looking for places with lenient regulations where their plastic waste can be shipped for so-called 'recycling' like what we have seen in the controversial plastic garbage shipments from Canada and South Korea," Lucero said
The EcoWaste executive added: "We need to take action now like what Malaysia and Vietnam did before it's too late."
In May last year, Vietnam temporarily banned plastic waste imports after the surge in trash shipments caused by China's ban congested several ports.
Two months later, Malaysia permanently stopped the issuance of import permits for plastic wastes.
While South Korea took back the shipments of garbage dumped in the country, Canada remained quiet.
Between 2013 and 2015, close to 100 container vans of garbage were also imported to the Philippines from Canada and only belatedly discovered.
Canadian Prime Minister Justin Trudeau said his country is committed to solving the garbage dumping issue during the 2017 Association of Southeast Asian Nations summit in Manila. He made the same statement in 2015 during his visit to the country for the Asia-Pacific Economic Cooperation summit.