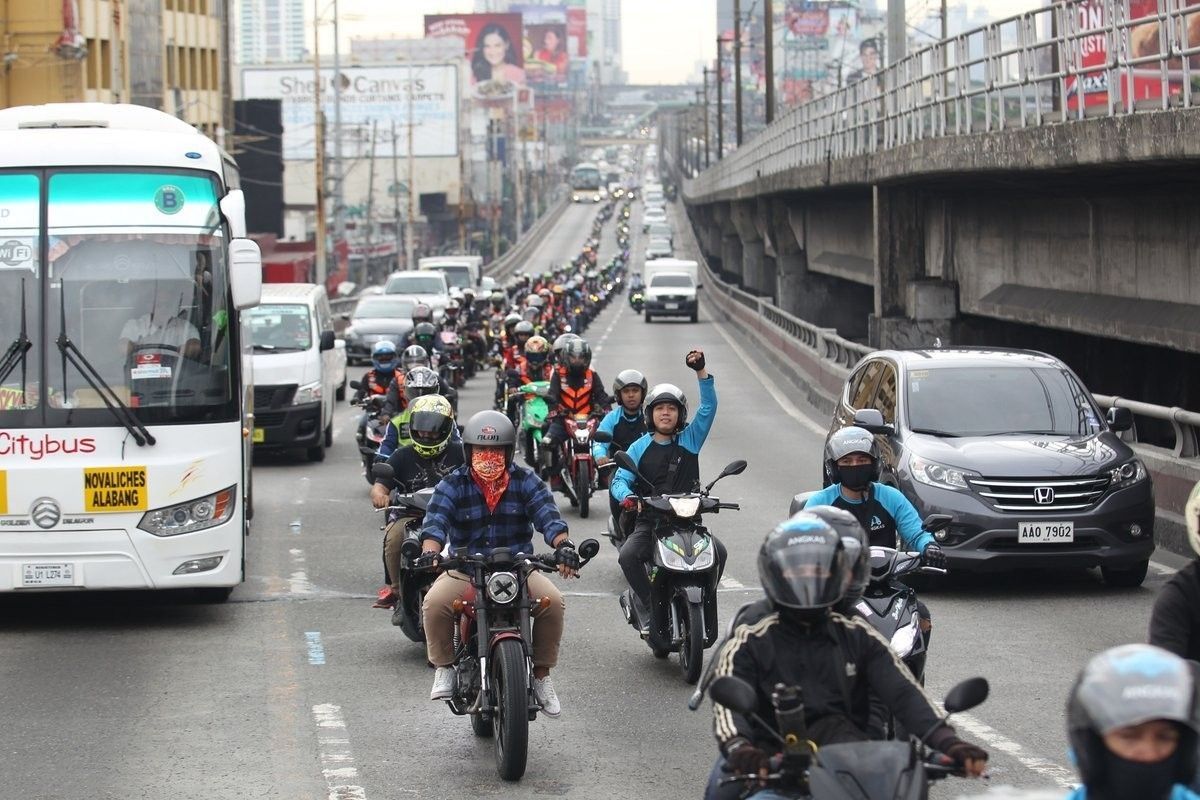 Rep. Ruffy Biazon files a bill to legalize motorcycles as a form of public transportation.
Michael Varcas/The STAR
Biazon files House bill legalizing motorcycle-for-hire services
MANILA, Philippines — Supporters of motorcycle-hailing app Angkas may get their wish to legalize the service soon if a House Bill 8822 filed by Rep. Rufino "Ruffy" Biazon (Muntinlupa) is passed.
The bill filed on Monday afternoon amends parts of Republic Act 4136 or the Land Transportation and Traffic Code prohibiting the use of motorcycles and scooters as forms of public transportation.
I filed House Bill 8822 today, proposing amendments to RA 4136, the Land Transportation Code, to provide the legal environment for motorcycle for hire services such as Angkas. pic.twitter.com/kR5ywgavge

— Ruffy Biazon (@ruffybiazon) January 14, 2019
Biazon said in a tweet that the bill provides the "legal environment" for motorcycles-for-hire such as Angkas.

"The bill provides the legal environment for motorcycles to be classified as 'for hire,'" Biazon told Philstar.com. "It seeks to address the objection/denial by the LTFRB to give franchises to services like Angkas," he said.
Last December, Angkas was ordered to halt operations again after the Supreme Court ordered an injunction on its Temporary Restraining Order stopping the Land Transportation Franchising and Regulatory Board from regulating the service.
Biazon's bill requires motorcycle drivers to get their franchises from the LTFRB "since their business model provides them to render transport services across local government unit jurisdictions."
Currently, tricycles are regulated by LGUs and are only permitted to operate within the jurisdiction of particular cities or municipalities.
While Biazon cannot say yet which other representatives support this bill, others have said they would like to allow Transport Network Vehicle Services to operate.
A change.org petition to save Angkas has garnered about 140,000 signatures so far. The service markets itself as the more affordable and faster alternative to transportation in gridlocked metropolitan areas such as Metro Manila and Metro Cebu.

READ: Osmeña to ask SC to let Cebu City regulate motorcycles-for-hire

In Cebu City, Mayor Tomas Osmeña has taken up cudgels for motorcycle-for-hire services despite the legal issues.
Osmeña said last month he would file a petition at the high court on behalf of the riding public to allow the city to regulate motorcycles-for-hire instead of totally banning them, arguing that motorcycles provide an important service for residents living in upland barangays of his city that are inaccessible to public transportation.
Angkas maintained that they would operate until the SC decides with finality on the legality of using motorcycles as a form of public transportation.

Despite the court order, Angkas said they would provide financial support to drivers who are caught by LTFRB and other authorities.
READ: Riders protest 'discrimination' vs motorcyclists, Angkas crackdown

George Royeca, public affairs head for Angkas, said in a statement last month: "This is not about LTFRB vs Angkas… The 25,000 riders and riding public lose."