Riders protest 'discrimination' vs motorcyclists, Angkas crackdown
December 16, 2018 | 3:01pm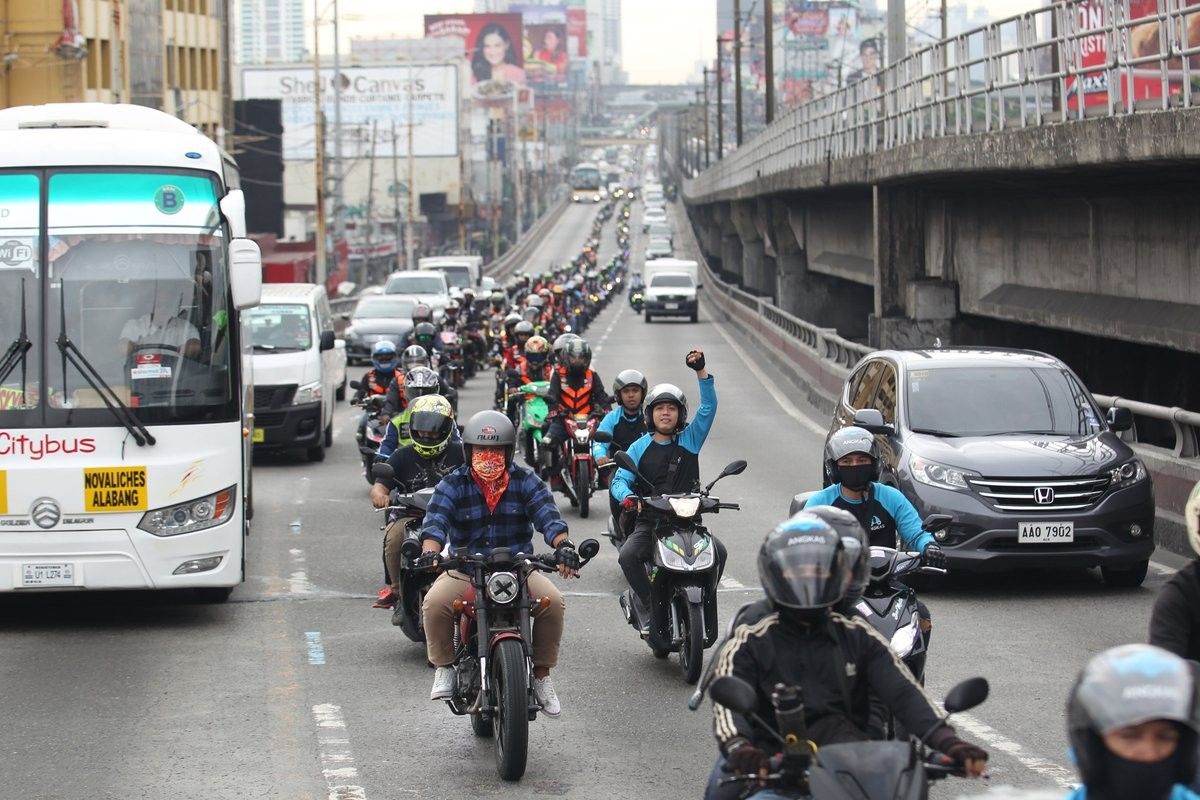 MANILA, Philippines (Updated 3:32 p.m.) — Hundreds of Angkas riders took to EDSA on Sunday afternoon to protest an impending crackdown by the Land Transportation Franchising and Regulatory Board on the motorcycle-hailing service.
The Angkas riders were part of a larger "unity ride" by motorcycle rights organizations protesting the government's alleged discrimination against motorcycle riders. The ride was meant to protest the proposed Motorcycle Crime Prevention Act of 2017, which will require supposed crime prevention measures for motorcycle riders.
According to a Senate press release on the bill, if passed, will require the installation of "bigger and reflectorized plate numbers which must be placed in both front and rear parts of the motorcycle. The plate numbers should be big enough to be readable from a distance of between 12 to 15 meters."
Sen. Richard Gordon, author of the bill and who has been trying to get similar legislation passed since the 14th Congress, is quoted in the same press release as saying: "Motorcycles have become crime machines."
Gordon also said: "With their small plate numbers, criminals perpetrating crimes while on board motorcycles easily flee from the scene of the crime and usually there are no witnesses who can read or identify plate numbers so that the authorities can go after the criminals."
Motorcycle riders' groups like the Motorcycle Rights Organization oppose the proposal, saying it treats motorcycle riders as criminals.
LTFRB board resolution on Angkas
In a board resolution last week, the LTFRB directed its law enforcement units and other authorized traffic enforcement agencies to apprehend and impound motorcycles of Angkas. The resolution came after the Supreme Court issued a temporary restraining order on the writ of preliminary injunction issued by a Mandaluyong court in August that allowed Angkas to ferry passengers again.
The LTFRB earlier said motorcycles are barred from being used for public transport under Republic Act 4136 or the Land Transportation and Traffic Code.
Violators will be fined P6,000 and their motorcycles will be impounded for three months.
Angkas on TRO
A representative from Angkas earlier said that despite the Supreme Court's TRO, they will continue to operate.
George Royeca, Angkas head of regulatory and public affairs, said they would continue both their parcel delivery and public transport operations until a court decides with finality on whether the services are legal.
But, on Sunday, he said that the company will comply with the Supreme Court TRO and that the company will not defy it.
???? picture muna bago magpatraffic pic.twitter.com/FwTlBMhfpE

— Angkas (@angkas) December 16, 2018
"Let me reiterate that the TRO from the Supreme Court is about the injunction granted by the RTC. No decision on Angkas being legal or illegal," he said in Filipino during a press briefing on Friday.
Angkas CEO/Mumshie Angeline Tham (aka amo naming tunay) joining the #SaveAngkas Unity Ride pak ganern pic.twitter.com/O0CYUhgToY

— Angkas (@angkas) December 16, 2018
Labor group Defend Job Philippines said it supports the call to lift the Supreme Court TRO and to allow Angkas to operate.
"[The TRO] in effect suppresses the source of income of thousands of bikers of the motorcycle ride-hailing app," they said in a press statement. "The lifting of the TRO would also help out the thousands of Angkas commuters, who were depending on the app service for their faster means of transportation."
According to the group, 25,000 riders would lose their livelihoods if Angkas is banned from operating.
In case Angkas drivers do get caught by LTFRB or other authorities, Angkas promised that they would provide financial supporter for their drivers.
"This is not about LTFRB vs Angkas… The 25,000 riders and riding public lose," Royeca said.
Accroding to a report in The STAR, three drivers have already been apprehended along EDSA in Makati last week in the LTFRB's crackdown against the service. — Ryan Macasero/The STAR