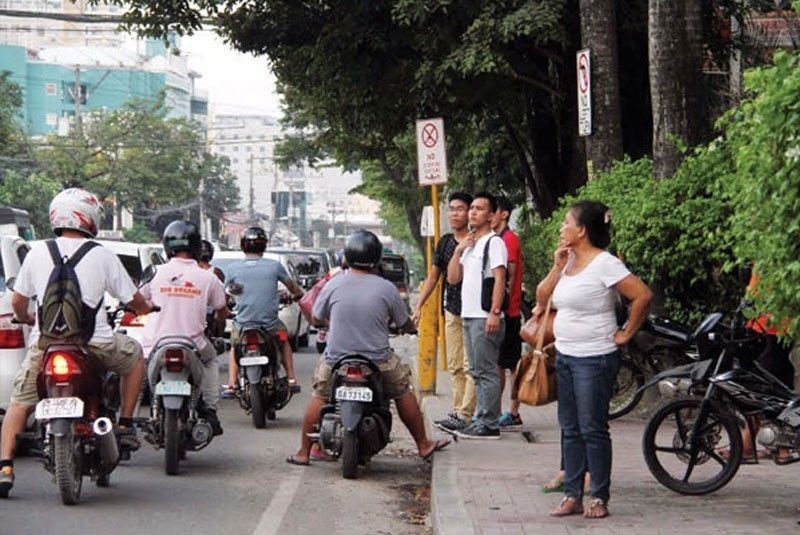 Cebu City plans to file a petition at the Supreme Court to allow the local government unit to regulate motorcycles-for-hire
Philstar.com/File
Osmeña to ask SC to let Cebu City regulate motorcycles-for-hire
MANILA, Philippines (Updated 8:00 p.m.) — Cebu City Mayor Tomas Osmeña told reporters in a press conference on Tuesday that he is planning to petition the Supreme Court to allow the city to regulate motorcycles-for-hire or "habal-habal".
The announcement comes in light of a temporary restraining order from the Supreme Court on an injunction on a government regulator's order against Angkas, a service that allows passengers to book motorcycle rides via a mobile phone application. Angkas had been operating since September because of the injunction on a Land Transportation Franchising and Regulatory Board order for it to shut down.
"[And] I will be submitting to the City Council another request for special session to authorize me to file on behalf of the riding public an appeal to Supreme Court to address this issue," Osmeña said.
"The habal-habal drivers already have their legal case. What we're going to file is on behalf of the riding public," he added. "They're really the people who are suffering"
Cebu City amenable to habal-habal operations
Despite the legal issues over motorcycle-for-hire services, Cebu City has made it a policy to seek to regulate habal-habals rather than ban them completely.

"The city is not interested in making money. We are interested in providing a service. This is not a business for the city," Osmeña said in April.
He's said on several occasions he would prefer to professionalize habal-habal drivers in the city and cited Angkas as a model he'd like to adopt. He said Angkas' system could address the problem of excessive rates that habal-habal drivers demand from passengers who flag them down on the streets.
The city will also be providing assistance to motorcycle-for-hire drivers who cannot work due to orders by the Land Transportation Franchising and Regulatory Board (LTFRB) to crack down on motorcycle-for-hire drivers.
"We'll give them one sack of rice each. "We have list [of drivers], we just have to update it. We have been organizing them [and] "I've been meeting with their presidents," he said.
LTFRB apprehension order
The LTFRB directed its law enforcement units and other authorized traffic enforcement agencies to apprehend and impound motorcycles of Angkas last week. The resolution came after the Supreme Court issued a temporary restraining order on the writ of preliminary injunction issued by a Mandaluyong court in August that allowed Angkas to ferry passengers again.
The LTFRB earlier said motorcycles are barred from being used for public transport under Republic Act 4136 or the Land Transportation and Traffic Code.

Osmeña estimates there are 6,000 motorcycle-for-hire drivers in the city. On Monday, the Cebu City Council approved the release of P15 million to assist drivers affected by the crackdown.

"Very clearly, the scenario, it's not healthy at all. Without encouragement, we'll do it anyway. How will the kids go to school? You expect them to walk?" he said.
"We have over 30 upland barangays where there's no public transportation," Osmeña told PhilStar.com in a phone interview.
"My prognosis is that people will be forced to disobey the law [against habal-habals]," Osmeña said. "The law is the law, how can we explain to the people? But this will create resentment, what's going to happen is disobedience," he added.
Osmeña went on further to say that this kind of regulation can create civil unrest, "like an early form of cancer. Where [we] don't have any faith in this government."
He said that they would soon hold a mass for the public affected by this decision, "to try to divert the public's attention from the agitation. At least we can turn to something more spiritual and appeal for consideration."
LTFRB-7 chief Eduardo Montealto Jr. told the state-run Philippine News Agency that they will include in their operation the apprehension of "habal-habals" operating in various mountain barangays in Cebu.
"From the beginning, the practice of taking passengers using a motorcycle for a fee has been illegal," he said.
Montealto emphasized the fact that the motorcycles have no franchise from the government and are considered "colorums" (vehicles unauthorized for use as public transportation).
A Supreme Court insider told The STAR on Monday that Angkas operator DBDOYC Inc. could be held in contempt for defying the temporary restraining order (TRO) issued by the court that effectively halted its services and allowed the Land Transportation Franchising and Regulatory Board (LTFRB) to proceed with its crackdown on the popular app-based service.

READ: Angkas faces contempt for defying Supreme Court order
"LTFRB may file a motion for contempt against Angkas and the court may act on it," the source said in a report by The STAR. — with reports from Jean Marvette Demecillo/The Freeman