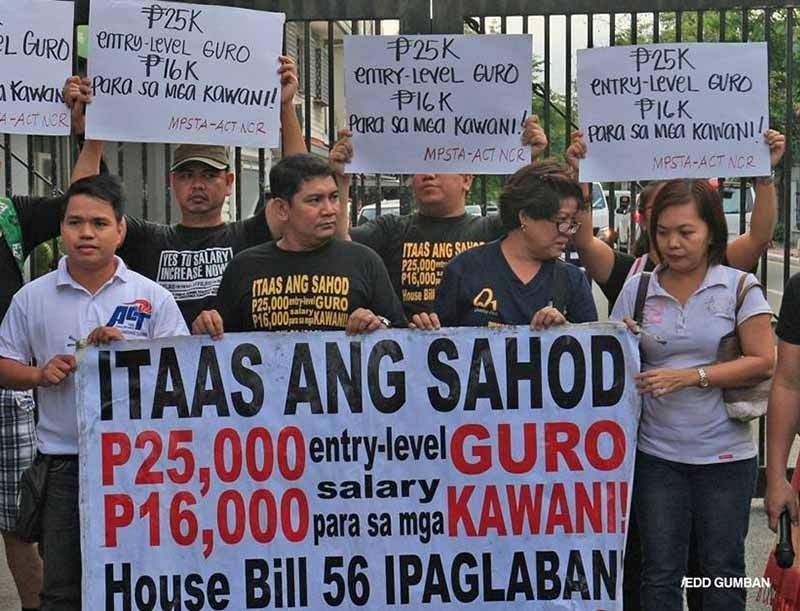 In this file photo, members of the Alliance of Concerned Teachers are urging the government to raise the salary of teachers.
The STAR/Edd Gumban, File
ACT to police: Hands off our teachers
(Philstar.com) - January 6, 2019 - 12:29pm
MANILA, Philippines— Alliance of Concerned Teachers on Sunday denounced a supposed move by the Philippine National Police to profile their public and private school teacher members.

"This is a grossly illegal and unconstitutional attack on our collective right to free expression and right to self-organization," ACT said in a statement telling the Philippine National Police to back off.
ACT, which is represented in Congress by ACT Teachers partylist, was reacting to supposed PNP memoranda "ordering 'all concerned' to submit a list of all ACT members in every school." The police said the order was based on previous orders from police intelligence and for the upcoming midterm elections in May.
ACT said "the operations appear to be of a nationwide scale and points to the top PNP leadership as the foremost source of the order as we received similar reports from our members in Manila, Malabon, Las Pinas, Zambales, Bulacan, Rizal, Mindoro, Sorsogon, Agusan Del Sur, among others."
According to an ABS-CBN News report on Saturday, the heads of the National Capital Region Police Office and the Manila Police District have both denied ordering police to conduct the school visits.
The intelligence chief of the Zambales Provincial Police Office confirmed in the same report that a memorandum is legitimate and that police are only following orders.
'Profiling' violates privacy, freedom to organize
The party is urging the PNP to stop profiling its members and to junk all memoranda on its members.
ACT said the PNP "concerted national scheme to single out" its party and "extract a list of all its members from principals and other school officials is a clear violation of the constitutional right to self-organization, freedom of expression and assembly, and right to privacy."
According to a supposed Department of Education memorandum released by ACT, public and private elementary secondary school heads are to submit the names of teachers who are members of ACT. It cited an unnumbered memorandum dated December 26 signed by Chief Inspector Rexson Layug of the Manila Police District Intelligence Branch as basis.
"Contents of which are self-explanatory for information and appropriate action," the supposed DepEd memorandum reads.
The January 4 memorandum was signed by Sheryl Gatola Cese, Assistant Schools Division superintendent officer-in-charge of DepEd.
In its defense, ACT said it is a "legitimate teachers' organization with a long history of service to professional teachers, education support personnel, and the Filipino people in general."
"As a matter of fact, government agencies such as the Civil Service Commission, Department of Education, and Department of Labor and Employment recognize ACT and its affiliate organizations in both public and private schools," ACT said.
"ACT unions hold the distinction of being the Sole and Exclusive Negotiating Agent (SENA) for public school teachers in regions V, VII, and XI and in NCR; and with registered and accredited unions from the rest of the regions, constantly participating in dialogues and negotiations with DepEd and school officials for the advancement of teachers' welfare as well as the betterment of the country's basic education system," it added.
The party said PNP's move violates the Magna Carta for Public School Teachers. They said it also violates all the related laws, orders, and issuances that protect their right to self-organization and trade union rights in both public and private schools.
"Unionism is not a crime," ACT said.
Profiling ACT members similar to 'tokhang'
ACT also likened the PNP's memorandum to the tokhang list "that the PNP forced barangay officials to fill out" with names of alleged drug suspects. It said the PNP has no business in meddling with the affairs of the teachers.
"The PNP will have blood on their hands, and the fascist State shall be held responsible if anything untoward happens to any ACT member," the party warned.
"Rather than waste its time on intimidating and harassing legitimate teachers' organizations, the PNP should instead focus on apprehending big drug lords, plunderers, human rights violators, etc," it said.
ACT then urged the DepEd officials to take a stand with teachers against the attacks on free expression and right to self-organization.

"We, therefore, strongly urge DepEd officials to take a stand against this repressive scheme and to not allow the agency to be used by the PNP in the violation of teachers' rights," ACT said.
"DepEd must order the withholding of any information about ACT members which may be used by the PNP to intimidate and harass teacher-unionists who fight for decent salaries and benefits, for the people's right to education and other basic services, and for the rights and well-being of the people," it added. —Rosette Adel