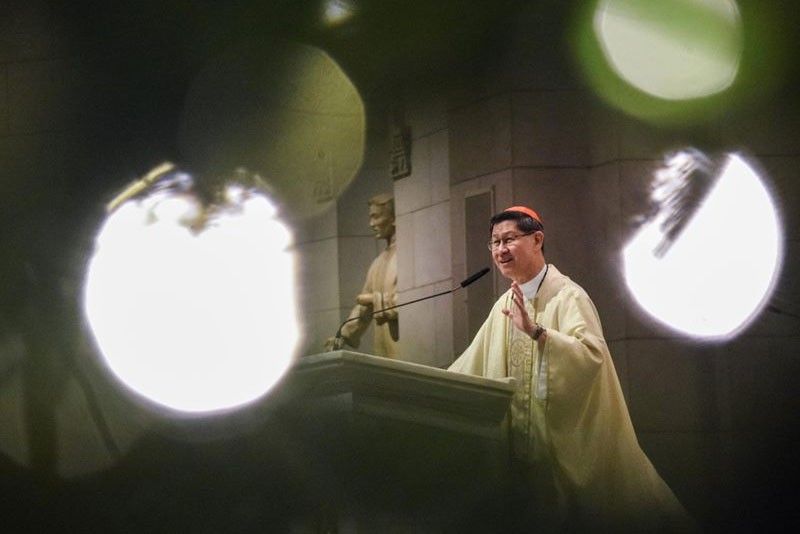 "Do not bully anyone. Do not use your power to disrespect others. Do not use your power to coerce others," Tagle said in his homily at the Manila Cathedral on Sunday, December 16.
Manila Cathedral FB Page
Duterte to Tagle: When did I threaten you?
MANILA, Philippines — Malacañang claimed he did not feel alluded to by the prelate's remarks but President Duterte has reacted harshly to Manila Archbishop Luis Antonio Cardinal Tagle's reminder that power should not be used to bully people.
Without naming names, Tagle said in a homily last Sunday that power should not be used to disrespect or coerce other people. The prelate also claimed that the "most afraid and insecure" are the ones using their power to belittle others.
Tagle made the remark after Duterte attacked the Catholic Church for lecturing about morality despite its supposed failure to address the sexual abuses involving the clergy.
The Catholic Church, the religious group of more than 80 percent of Filipinos, has been critical of Duterte's war on illegal drugs, which has left more than 5,000 people dead.
Palace: Duterte did not feel alluded to
Last Tuesday, presidential spokesman Salvador Panelo said Duterte did not feel alluded to by Tagle's comments because the president "does not bully people."
Duterte, however, appeared to have contradicted his spokesman as he reacted to Tagle's homily even if he was not mentioned in it.
"They say I shouldn't threaten Bishop Tagle. When have I ever done that?" the president said during a gathering of barangay officials in Davao City onTuesday.
Duterte went on to claim that a priest had wished him dead during a mass in support for Sen. Antonio Trillanes IV, an outspoken critic. A priest identified as Fr. Noel Gatchalian jokingly wished Duterte sick during a mass last September but did not wish the president dead.
"To get back at them I'll say, 'Okay, kill all the bishops who are inutile,'" Duterte said.
The president, who claims to believe in God but not in organized religion, went on to claim that Catholic priests portrayed him as a devil. The Catholic Church did not issue such statement.
"Using your religion as a platform to attack a person is wrong because of the separation of church and state," Duterte said, referring to a constitutional provision primarily against the establishment of a state religion and against curtailing freedom of religion.
"We will never reach an understanding. We will never come to terms. The government is difficult to navigate. It too has no God," he added.
Duterte has been making unsubstantiated claims against the Church like 80 percent of priests are gay and that bishops are stealing Church funds to support their mistresses.