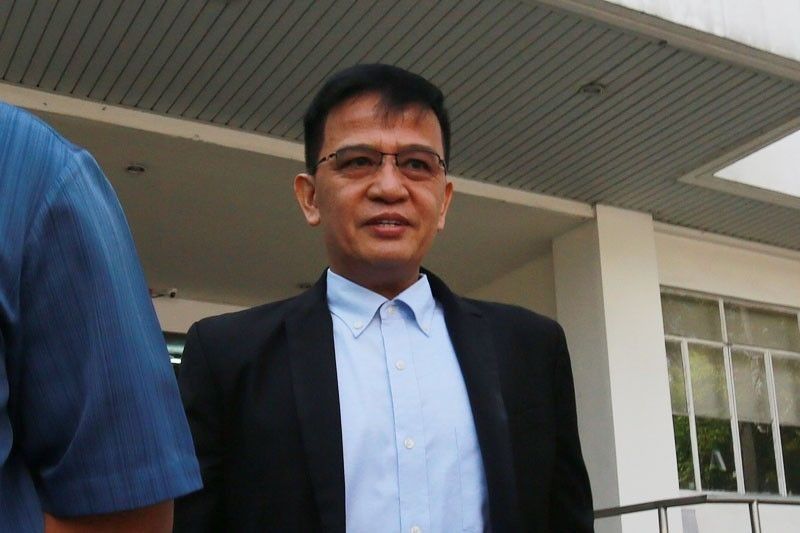 File photo shows Bureau of Corrections Director General Nicanor Faeldon. He said earlier said that he would his son should investigation prove that he was involved in illegal drugs.
The STAR/Michael Varcas
Faeldon offered to go on leave amid son's arrest, Guevarra says
MANILA, Philippines — Bureau of Corrections chief Nicanor Faeldon offered to take a leave of absence from his post following the arrest of his son in a suspected drug den early on Friday, said Justice Secretary Menardo Guevarra.
The Justice chief, however, told reporters in a text message that he advised Faeldon not to take an official leave.
"I told him that until and unless a reasonable ground to believe that his son is involved in drug use has been show, I see no reason why [Faeldon] should go on leave," Guevarra said.
The BuCor is an agency under the Department of Justice, which Guevarra heads.
READ: Faeldon won't interfere with probe into son's suspected drug links
Early on Friday, news broke out that Faeldon's son and namesake, Nicanor Faeldon Jr. was arrested along with three others at a suspected drug den in Naga City, Camarines Sur.
Faeldon said that he only learned of his son's arrest in the media, explaining that Nicanor Jr. went to Naga six or seven months ago to study. He told ANC in a phone interview that his son has been staying with his girlfriend's family.
The BuCor chief said that the father of his son's girlfriend was the police's main suspect.
Faeldon, who is holding his third post in the Duterte government since his resignation from the Bureau of Customs and transfer from the Defense department, said that he would not interfere with the police's investigation.
Should authorities prove Nicanor Jr.'s involvement in illegal drugs, Faeldon vowed that he would "kill that idiot [his son]."
"In any event, if the police investigation will show that my son, Nicanor Jr., is indeed, a drug-pusher and therefore a menace to society, then there will be no need to prosecute or jail him. I will personally obliterate him from the face of the earth," Faeldon added.
Palace: No whitewashing
Presidential spokesperson Salvador Panelo, meanwhile, said that there would be no whitewashing in the probe into Faeldon's son.
He also "commended" Faeldon for distancing himself from the investigation and allowing the investigation to take its course.
Duterte appointed Faeldon to his current post, as head of the Corrections bureau, last month.
Faeldon previously held a position at the Office of the Civil Defense at the Department of National Defense.
Before joining the Defense department, Faeldon took the helm of the Bureau of Customs. He stepped down from his post amid the issue of P6.4-billion drug shipment that slipped past the Customs department.