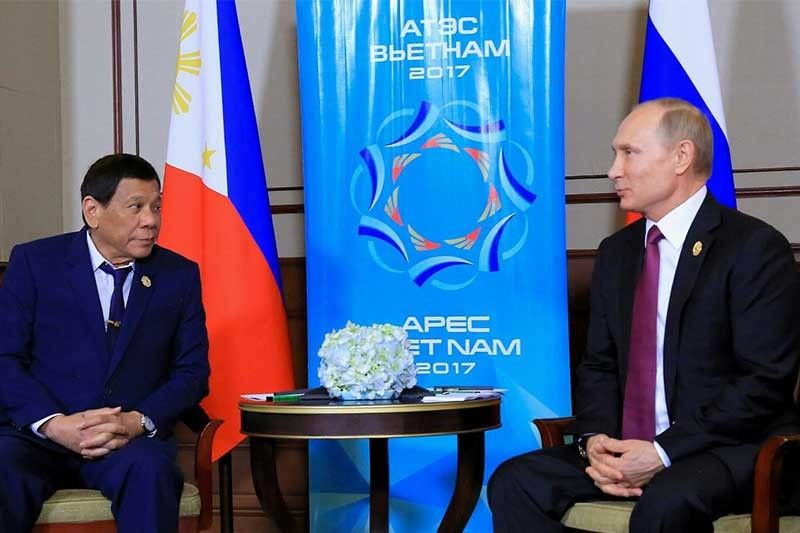 In this Nov. 10, 2017 photo, President Rodrigo Duterte discusses matters with Russian President Vladimir Putin during their bilateral meeting at the Vinpearl Da Nang Resort and Villas in Da Nang City, Vietnam.
Presidential Photo/Albert Alcain, file
Philippines' pivot to Russia may signal decline of US hegemony — political science prof
(Philstar.com) - December 6, 2018 - 4:03pm
MANILA, Philippines — The pivot of President Rodrigo Duterte to Russia, a non-traditional ally of the Philippines, may show the collapse of a United States-dominated unipolar world, a Polish political science professor said.
Krystian Cholaszczynski, a visiting professor from the College of Social and Media Culture in Torun, Poland, called move of the Philippines to deepen its ties with alternative power like Russia a "symbolic situation."
"It's quite significant that we have two states at this moment which are really close to Russia but earlier were really close to America: Turkey—the most important non-American member of the North Atlantic Treaty Organization and the Philippines—the most important ally of America which is not part of NATO," Cholaszczynski said in a forum held at the University of Santo Tomas Thursday.
He added: "It's very interesting that these two states decided to seek new partnerships and they found this partner in Russia."
The Philippines began expanding its relationship with Moscow and Beijing and lessening its historical dependence on Washington when President Rodrigo Duterte assumed office in 2016. The outreach to Russia came after the United States' supposed meddling in Duterte's violent anti-drug campaign.
But Malacañang earlier said the outreach to Russia is part and parcel of Duterte's independent foreign policy.
"When I heard that the Philippine government treat Russia as a partner, I understand that you need partners, you need powers. Just like us in the central Europe, we need more powerful allies. We found our allies not in Europe but in America. You found one in Russia," Cholaszczynski said.
In October 2017, the Russian government turned over military equipment to the Philippine government.
Last October, Philippine Navy vessel BRP Tarlac made a historic port call to Vladivostok, Russia.
Duterte, a vocal admirer of Russian leader Vladimir, visited Russia in May 2017 but he had to cut his trip short after a local terrorist group attacked Marawi City in Mindanao.
"For Russia, this situation is a symbol that American hegemony in the world will collapse because the most important American allies in NATO and non-NATO suddenly treat Russia as a friend. For Russia, it underscores that the world soon needs a new world order," Cholaszczynski said. — Gaea Katreena Cabico