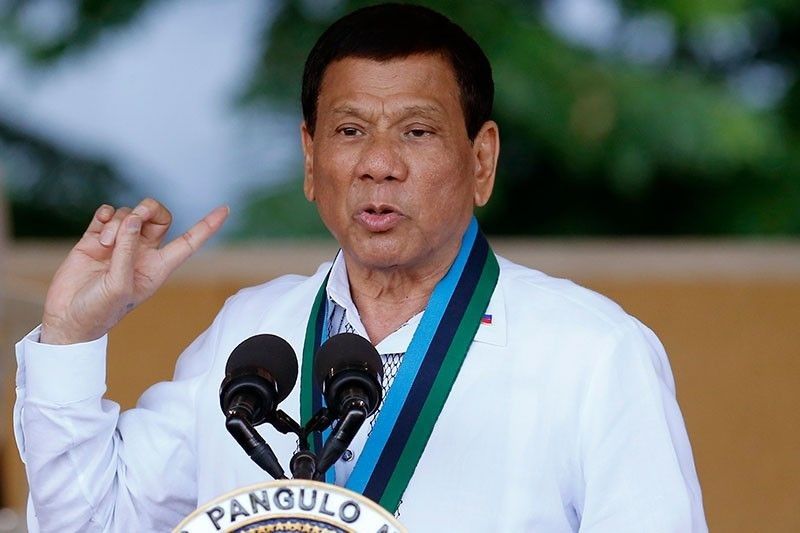 President Rodrigo Duterte on Tuesday said he will create an armed civilian group to target members of New People's Army's "sparrow" units.
AP/Bullit Marquez
Duterte's 'death squad' is still just an idea, Palace says
MANILA, Philippines — Malacañang on Thursday claimed President Rodrigo Duterte's plan to form a hit squad to take out communist rebels does not violate due process, implying the "death squads" would be acting preemptively against alleged assassins.
Rights groups and government critics on Wednesday sounded the alarm on the president's announcement that he would create an armed civilian group to target members of New People's Army's "sparrow" units. "Sparrows," for Special Partisan Units, are NPA hit squads blamed for assassinations.
He sad the unit would go after "suspected NPAs" and that this would negate the communist rebels' "advantage" of having Special Partisan Units.
Duterte's statement, they said, would give the unit license to kill rebels, leftists and even civilians.
But presidential spokesperson Salvador Panelo said Thursday that Duterte would only be doing his duty to protect Filipinos if the planned hit squad, which may include former rebels, is realized.
'You're running after people who will assassinate us'
"Why are you violating due process? You're running after criminals. You're running after people who will assassinate us. You will prevent it from happening," he told reporters in a press briefing.
Panelo, who is also Duterte's chief legal adviser, added: "In other words, we have situation here where there is a group of men who will kill with impunity. What do you want the state to do? Just sit idly and watch? You cannot do that. It's the duty of the state to protect the citizens."
Article III, Section 1 of the 1987 Constitution holds that "no person shall be deprived of life, liberty or property without due process of law, nor shall any person be denied the equal protection of the laws."
He added that the proposed unit will only go after members of the NPA "Sparrow" units. "You will know if they're not ("sparrows") if you're with their former comrades, then you will know... that's what the president meant," he said.
Death squads prohibited 'under all circumstances'
Commission on Human Rights Chair Chito Gascon on Wednesday said that protecting people from lawless violence should adhere to established rules of engagement and due process.
"International humanitarian law requires states to use only regular armed forces under strict military discipline. Thus this strictly prohibits death squads under all circumstances," Gascon said.
Even Defense Secretary Delfin Lorenzana warned that there might be "great danger of abuse or mistakes" on Duterte's proposition.
Despite criticisms, Panelo stressed that the creation of a "death squad" to counter communist insurgents is only an idea at the moment.
"He's floating that idea and some are responding—others for, others against. Let's see how it develops," he said.
'Stepped up' operations
This is not the first time that taking action against the "sparrow" units.
In March, Duterte and Ronald Dela Rosa, then Philippine National Police director general, claimed that the NPA's "sparrow" units had stepped up operations against government personnel.
"I'm trying to enlist also the help of former police officers assigned in Mindanao for the 'sparrow''s most active," a GMA News Online report quotes Duterte as saying at the time.
In response to the plan, the Communist Party of the Philippines said: "It seems Duterte is doing some scenario-building to hatch up another tyrannical scheme. The PNP plan to have a group of 'seasoned retired
police officers' to train PNP field personnel on 'anti-sparrow' operations sound shady, to say the least."
"Recall that in the late 1980s, the PNP and AFP used the 'anti-sparrow' operations to set up so-called "secret marshalls" which were used to attack activists, especially among the urban poor groups, resulting in numerous cases of 'salvagings'," the CPP also said.