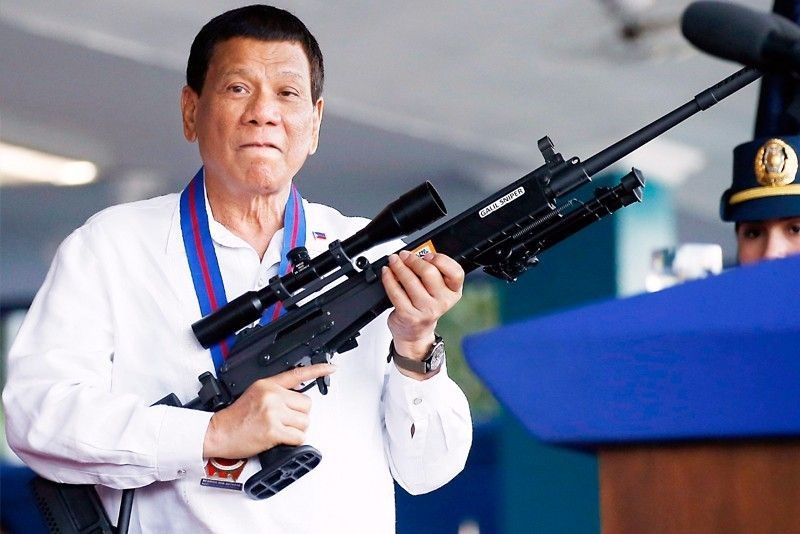 The president on Tuesday said he will create an armed civilian group to target members of New People's Army's Sparrow unit, a group of urban assassins. He said the hit squad would be sent to public places to kill suspected armed fighters and even loiterers.
Presidential Photo/Arman Baylon
Justice chief on 'death squad' plan: Duterte meant 'use reasonable force'
MANILA, Philippines — Justice Secretary Menardo Guevarra on Wednesday played down President Rodrigo Duterte's announcement that he will form a civilian "death squad" to take out communist rebels.
"We should always understand that kind of statement to mean: Use reasonable force to apprehend suspected assassins," Guevarra told Philstar.com when asked if there can be legal basis for the move or for issuing orders to kill NPA rebels.
The Justice secretary added: "But if there is armed resistance and your life is seriously endangered in the process, shoot back."
The president on Tuesday said he will create an armed civilian group to target members of New People's Army's "sparrow" units. "Sparrows", for Special Partisan Units, are NPA hit squads blamed for assassinations.
"What I lack is a sparrow unit. That's their advantage...So I will create a sparrow. Duterte Death Squad against the sparrow. There's no problem. They are the enemies," he said.
"I will create my own sparrow. Walang hanapin kundi mga istambay na mga tao, prospective NPAs at bibirahin sila (They will not look for anyone but idlers, prospective NPAs and kill them)," he also said.
Under Article III, Section 1 of the 1987 Constitution, "no person shall be deprived of life, liberty or property without due process of law, nor shall any person be denied the equal protection of the laws."
The chief executive's statement on creating a supposed "Duterte Death Squad" have raised concerns from a human rights group and from communist party founder Jose Ma. Sison.
Duterte, who had billed himself as the country's first president "from the Left", revived peace talks with the Communist Party of the Philippines and New People's Army in 2016. But ties between him and the Sison-led communist insurgents have soured due to clashes between government forces and rebels.
In March, Duterte and Ronald Dela Rosa, then Philippine National Police director general, claimed that the NPA's "sparrow" units had stepped up operations against government personnel.
"I'm trying to enlist also the help of former police officers assigned in Mindanao for the 'sparrow''s most active," a GMA News Online report quotes Duterte as saying at the time.
In response to the plan, the CPP said: "It seems Duterte is doing some scenario-building to hatch up another tyrannical scheme. The PNP plan to have a group of 'seasoned retired
police officers' to train PNP field personnel on 'anti-sparrow' operations sound shady, to say the least."
"Recall that in the late 1980s, the PNP and AFP used the 'anti-sparrow' operations to set up so-called "secret marshalls" which were used to attack activists, especially among the urban poor groups, resulting in numerous cases of 'salvagings'," the CPP also said.
'Open season vs. Reds, critics'
Sison has called Duterte's plan a "dangerous proposal."
"He is giving out the license again for military officers to just kill anyone in bus terminals, trunk lines in urban areas, just because they don't like the looks of anyone who is on standby and suspected as a candidate for being a red fighter of the New People's Army," Sison said in an interview on ANC's "Headstart."
For Human Rights Watch, Duterte's statement is a "declaration of open season against rebels, leftists, civilians and critics of the government."
"Given how easy it is for the authorities to accuse anybody of being a rebel or a 'communist sympathizer' and declare them as 'enemies of the state,' Duterte's announcement is abominable and should be rejected by Filipinos, human rights defenders and the international community," HRW Philippines researcher Carlos Conde said.
Conde called on the military and the police to ignore what he said would be an "illegal order."
He, moreover, said that the president's latest pronouncement should prod the International Criminal Court to take interest in the country's situation. The Hague-based tribunal is conducting a preliminary examination into Duterte's alleged crimes against humanity in the context of the government's brutal war on drugs.
"Duterte once again affirmed extrajudicial killings as his administration's official policy against government critics," Conde said.
Trillanes: Death squad statement meant to strike fear in Filipinos
Sen.Antonio Trillanes IV, one of Duterte's most vocal critics, meanwhile, said the president's remarks were meant to "strike fear in the hearts and minds of Filipinos." He said that the move is a way for the president "to keep people in check," claiming that the widely popular Duterte is "losing his grip on power."
The senator said the president's statement is also an attempt "to deceive the ICC into believing that, since it is only now that he is planning to create a death squad, he is not responsible for the death squads going around killing thousands of Filipinos all over the country the past two and a half years."
Trillanes has accused Duterte of, among other things, being behind extrajudicial killings linked to the government's campaign against illegal drugs. According to government data, more than 4,900 "drug personalities" have been killed in anti-drug operations. Human rights groups have higher estimates of the number of people killed in the campaign.
The government has also repeatedly said that extrajudicial killings are not state sanctioned and are not government policy.
Trillanes said the announcement was also an attempt to divert attention from recent agreements signed between the Philippines and China as well as from allegations of corruption against Duterte. — with a report from Kristine Joy Patag