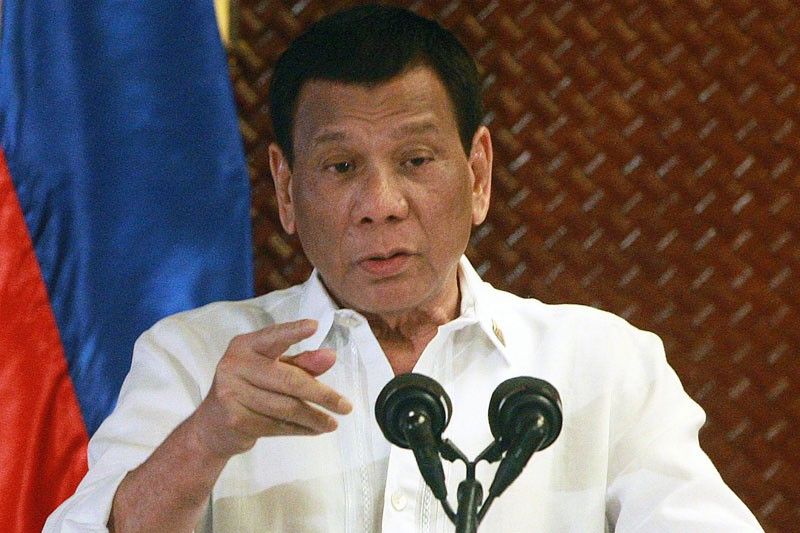 "The Duterte government has chosen a soft stand on China, opting for a defeatist and meek attitude towards China's aggression and hogging of our territories. Duterte remains mute and has failed to assert the international tribunal ruling," Palabay said.
Joven Cagande
Assert Philippines sovereignty, Duterte urged
Helen Flores
(The Philippine Star) - November 21, 2018 - 12:00am
MANILA, Philippines — The Duterte government must heed the general sentiments of Filipinos to defend the country's sovereignty and territorial rights in the West Philippine Sea (WPS), former solicitor general Florin Hilbay said yesterday.
Sen. Risa Hontiveros aired a similar concern as she urged President Duterte to stop kowtowing to China and start asserting Philippine sovereignty.
She said Chinese President Xi Jinping's two-day state visit to the Philippines is an important test of Duterte's political leadership in asserting the country's sovereignty and territorial integrity.
"Now is the perfect time for President Duterte to demonstrate to the public what he is really made of," Hontiveros said in a statement. "This will test the President's courage. Will he continue to obey China or will he be brave enough to fight for our country and territory?"
In a television interview, Hilbay cited the Social Weather Stations (SWS) survey that showed more than 80 percent of Filipinos opposed the administration's apparent inaction against China's intrusion in the WPS—an issue that he said not only deals with sovereignty but also the country's food and energy security.
He called on Duterte not to put aside the country's victory in the Permanent Court of Arbitration (PCA).
Hilbay led the Philippine case against China over the disputed territories before the PCA in The Hague, Netherlands in 2012. The PCA ruled in favor of the Philippines in 2016 and invalidated Beijing's "historical maritime rights" over contested areas in the WPS.
"The next generation will not forgive us if they found out that there's an administration that gave away the decision which we have won," he stressed.
Hontiveros said Duterte likes to project himself as a tough-talking, strong leader.
"But all of this is empty bravado if he continues to kowtow before China and endanger our territorial integrity by doing nothing to defend the West Philippine Sea," she added.
She said the President must reject any proposal for a joint WPS exploration that doesn't fully recognize the Philippine sovereignty and territorial integrity and decline any loan agreement that will plunge the country into a new debt trap.
Hontiveros fears that the recent measure to divide Palawan island into three provinces would give China "the opportunity to infiltrate and influence smaller government units."
At the House of Representatives, several opposition congressmen urged Duterte to be transparent on the agreements he would sign with Xi.
"We welcome the Chinese president on his arrival in the country as we want to pursue and maintain diplomatic relations with other countries," Magdalo Rep. Gary Alejano said as he cautioned Duterte to protect the country's territorial claims and national interest in signing the agreements.
He noted that Finance Secretary Carlos Dominguez has announced that Duterte and the Chinese leader might sign an oil exploration deal. "There should be transparency on these agreements especially since our national policies have been more in line with China's interests rather than ours."
According to constitutional experts, such a deal would still comply with the Constitution if the Chinese would be considered as contractors in projects that are within the Philippines' 200-mile exclusive economic zone.
Anakpawis party-list Rep. Ariel Casilao said Duterte "has the obligation to the Filipino people to reveal fully these agreements, especially on conditionalities and commitments that will bind the country and our people."
He claimed that the administration needs P8.4 trillion for its Build, Build, Build program and that "it is eyeing China to oil its ambitious projects."
Freedom from Debt Coalition president Rene Ofreneo also cautioned Duterte against securing a bilateral loan agreement with China for the P12.2-billion Kaliwa dam, one of several dams proposed to be constructed within the Sierra Madre to improve the water supply to nearby communities.
Defeatist, meek attitude
Meanwhile, a few hours before the Chinese leader's arrival in the Philippines yesterday, hundreds of militant groups gathered at the Chinese embassy in Makati City to protest against Xi's two-day state visit.
Cristina Palabay, secretary-general of the militant group Karapatan, said they want to remind the government to assert it rights over the international tribunal ruling in The Hague, which recognized the country's sovereign rights over the WPS.
"The Duterte government has chosen a soft stand on China, opting for a defeatist and meek attitude towards China's aggression and hogging of our territories. Duterte remains mute and has failed to assert the international tribunal ruling," Palabay said.
"In effect, the government is gift-wrapping our sovereignty and territory in exchange for being the next debt colony of China," she added.
Senior Superintendent Rogelio Simon, Makati City police chief, estimated the number of rallyists—representing militant groups Bayan Muna, Migrante International, Anakpawis, Selda, Kalisakan, Akbayan, Karapatan, Sandugo, Hustisya, Dumagat Rizal and Agham—to be around 300.
Simon said the protesters "self-dispersed" before noon and concluded their protests peacefully. No violence or any untoward incident was reported during the protest outside the Chinese embassy.
Also, authorities are reminding the public of some road closures at the Bonifacio Global City where Xi is billeted. — With Cecille Suerte Felipe, Paolo Romero, Jess Diaz, Ding Cervantes, Robertzon Ramirez, Rhodina Villanueva