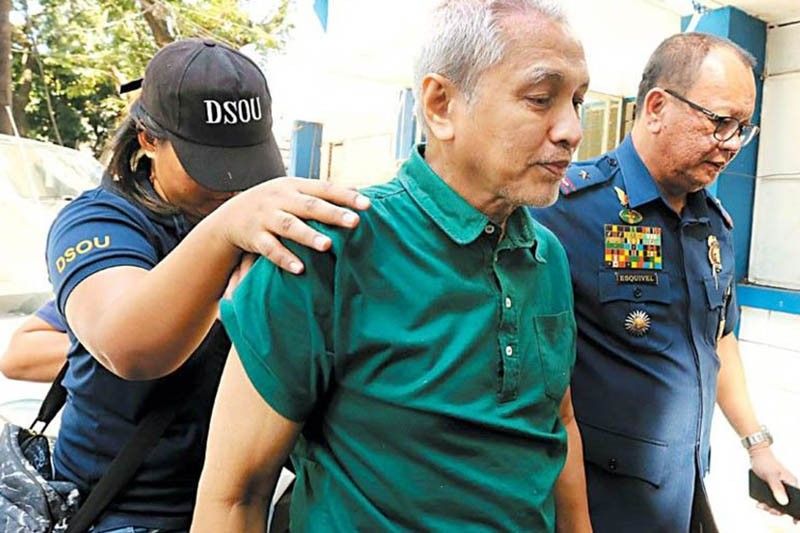 Vicente Ladlad was arrested last week for alleged illegal possession of firearms in a house in Novaliches, Quezon City.
The STAR/Boy Santos
Lorenzana: NDFP's Ladlad nabbed in legitimate operation
MANILA, Philippines — Defense Secretary Delfin Lorenzana maintained Wednesday that National Democratic Front of the Philippines peace consultant Vicente Ladlad was arrested in a legitimate law enforcement operation.
Ladlad and two others was arrested for alleged illegal possession of firearms in Novaliches, Quezon City last week.
Ladlad's wife, Fides, has accused arresting officers of planting evidence against her husband, saying he was only set up as part of the government's crackdown on communists.
"The arrest of Mr. Vicente Ladlad was a legitimate law enforcement operation conducted by the proper authorities who recovered high-powered firearms and explosives in his possession," Lorenzana said in a statement.
He added: "Anyone found violating Philippine laws will be dealt with accordingly. This is now best left to the courts. Mrs. Ladlad should trust in the fairness of our justice system."
'No peace talks for Ladlad arrest to affect'
Director General Oscar Albayalde, Philippine National Police chief, earlier said that Ladlad violated the Comprehensive Law on Firearms and Ammunition.
The Defense chief also denied the claim of Ladlad's wife that his arrest is meant to hurt the peace talks.
"She is wrong. How can the peace process be derailed when it has been suspended or stopped last June by the president? Upon termination of the peace talks, Mr. Ladlad should have turned himself in as his provisional liberty to be part of the NDF negotiating panel as a negotiator had also expired," Lorenzana said.
Groups supporting Ladlad said his arrest violates the Joint Agreement on Safety and Immunity Guarantees, the agreement signed by the Philippine government and the NDFP in 1995.
According to JASIG, "duly accredited persons are guaranteed immunity from surveillance, harassment, search, arrest, detention, prosecution and interrogation or any other similar punitive actions due to any involvement or participation in the peace negotiations."
It adds: "All immunities acquired by virtue of this Joint Agreement shall remain in full force and effect even after the termination of this Joint Agreement, provided said immunities shall not cover acts which are contrary to the purposes of the peace negotiations and outside and beyond involvement or participation in the peace negotiations."
Disagreements over the coverage and implementation of JASIG also led to the breakdown and eventual collapse of talks during the administration of President Benigno Aquino III.