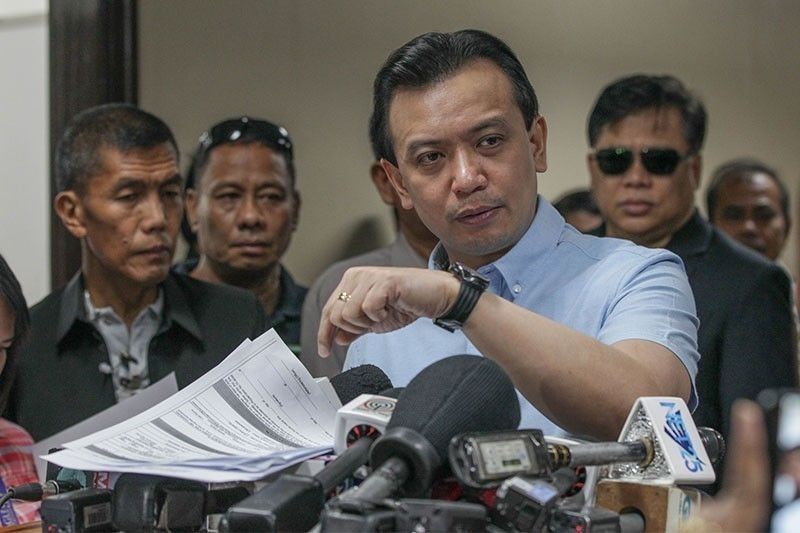 Article 142 states that inciting to sedition can be done through speeches, proclamations, writings, emblems, cartoons, banners or other representations "that tend to disturb or obstruct any lawful officer in executing the functions of his office, or instigate others to cabal and meet together for unlawful purposes, or which suggest or incite rebellious conspiracies or riots, or which lead or tend to stir up the people against the lawful authorities or to disturb the peace of the community, the safety and order of the government, or who shall knowingly conceal such evil practices."
The STAR/Geremy Pintolo
Paras, Luna: Trillanes cannot use immunity in sedition complaint
MANILA, Philippines — Labor Undersecretary Jing Paras and lawyer Manuelito Luna on Thursday insisted that Sen. Antonio Trillanes IV should be charged for inciting to sedition and for conspiracy or proposal to commit coup d'etat.
The complainants filed their Reply to Counter-affidavit before the Office of the City Prosecutor of Pasay City on Thursday.
Trillanes filed his defense last October 25. In his counter-affidavit, the senator asserted his parliamentary immunity and said that his remarks cited in an interview with members of the media were made in his capacity as a lawmaker.
But the complainants argued Trillanes was not acting as a member of Congress when he made the statements cited in their petition.
"It is, thus, clear that parliamentary non-accountability cannot be invoked when the lawmaker's speech or utterance is made outside sessions, hearings or debates in Congress, extraneous to the 'due functioning of the (legislative) process,'" Luna and Paras said.
"They bear no relation to the discharge of official functions or in aid of legislation. In fact, the acts of sedition were perpetrated as he was displeased and furious with the President for promulgating Proclamation 572," they added.
They also insisted that jurisprudence dictates that "there should be any disturbance or breach of the peace in order that the act may come under the sanction of the Penal Code."
Trillanes: Complainants failed to show incitement to sedition
Trillanes had argued in his counter-affidavit that the complaint against him should be junked as the complainants failed to show how he "incited the people to rise publicly or tumultuously" for sedition.
Luna and Paras want Trillanes charged over his "incendiary and hateful speeches against President Duterte after issuance of Proclamation 572 that voided the amnesty granted to him during the previous administration."
Proclamation 572 was the order voiding amnesty granted to Trillanes in 2011. The senator has questioned the proclamation in court.
Article 142 of the Revised Penal Code states that inciting to sedition can be done through speeches, proclamations, writings, emblems, cartoons, banners or other representations "that tend to disturb or obstruct any lawful officer in executing the functions of his office, or instigate others to cabal and meet together for unlawful purposes, or which suggest or incite rebellious conspiracies or riots, or which lead or tend to stir up the people against the lawful authorities or to disturb the peace of the community, the safety and order of the government, or who shall knowingly conceal such evil practices."
READ: Trillanes confident inciting to sedition charge will be junked
The next preliminary investigation proceeding is set on November 22 for Trillanes' filing of his Rejoinder-Affidavit.
Last March, Pasay City Senior Assistant City Prosecutor Joahna Gabatino-Lim charged Trillanes for inciting to sedition, over a separate complaint, over his pronouncements on Duterte's alleged hidden wealth.
The case was raffled off to Pasay Metropolitan Trial Court Branch 45.