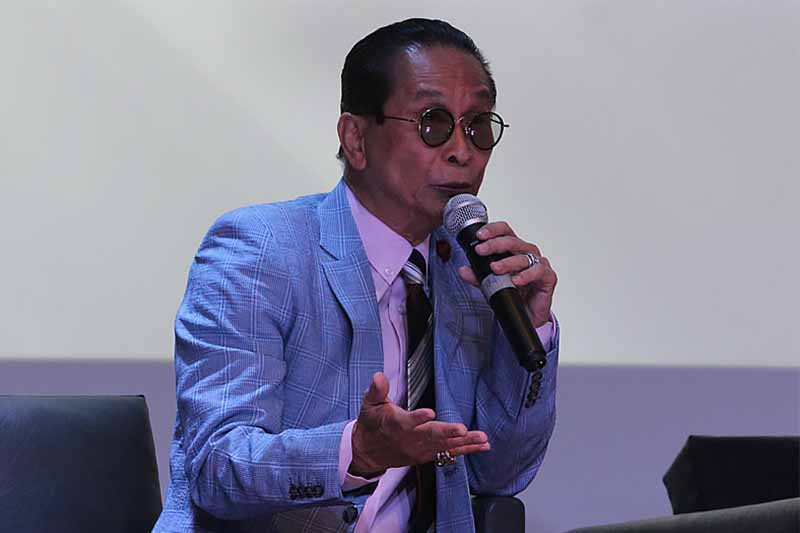 "I don't think there's a need for that (amending the law) because that's for the benefit of the families, I think all parents would welcome that," Panelo said
Parents will welcome mandatory drug tests for school kids, Palace says
MANILA, Philippines (Updated 7:08 p.m.) — "I think it's a good idea."
This was presidential spokesperson Salvador Panelo's reaction Thursday morning when asked whether the administration of President Rodrigo Duterte supports random drug testing for students in Grade 4 and above.
Panelo said he believes drug testing, even of young kids, is a good idea "because at least parents will know if their children are addicted — or being used in the drug industry."
On Wednesday, Social Weather Stations released a survey that found that 51 percent of Filipinos support drug testing for young students.
The survey was conducted between September 15 and 23.
The survey also found that 76 percent of respondents said they were satisfied with the administration's campaign against illegal drugs.
The move was originally proposed by Philippine Drug Enforcement Agency Director General Aaron Aquino earlier this year, to "save the children."
The Comprehensive Dangerous Drugs Act allows requiring drug tests at the secondary and tertiary levels but Aquino said in June that the agency has encountered children as young as 10 already involved in drugs.
READ: 'School drug tests need Congress nod'
Palace thumbed down mandatory drug tests in June
When PDEA chief Aquino first floated the idea, Harry Roque—presidential spokesperson at the time—said the administration was against the proposal because of the unconstitutionality of the proposal.
"We can only have drug testing in high school. Although the Philippine Supreme Court does not have a decision on the constitutionality of drug testing, there are two decisions on that in America," Roque, a lawyer said in Filipino.
"In America, random drug testing in high school has been upheld as consitutional but as for mandatory drug testing in high school it was struck down as being unconstitutional because it is mandatory and not random," also said.
Roque said at the time that the Palace would defer to Education Secretary Leonor Briones on the matter. The DepEd said then that tje Comprehensive Dangerous Drugs Act needs to be amended to include drug testing in lower school levels.
The DepEd also stressed that it already has an active drug testing program for students and school personnel.
"The program covers all 1,300 officers and personnel at the central office, 3,800 in the regional offices, and 26,000 in schools division offices. It also covers a sample population of all teachers, numbering 10,000, and a sample population of all secondary students, numbering 21,000," DepEd said in a statement .
Even Senate President Vicente "Tito" Sotto III, principal author of the Comprehensive Dangerous Drugs Act of 2002 said Wednesday that drug testing should be left to schools.

"The mandate that we have in the law in Republic Act 9165 is for the [school] authorities to do it, not the PNP," Sotto told reporters in a news conference Wednesday.
Palace: Parents will welcome that
But Panelo said that he doesn't believe amending the drug law would be necessary to implement the drug testing policy. "I don't think there's a need for that (amending the law) because that's for the benefit of the families, I think all parents would welcome that," Panelo said. "As a parent, I would welcome that," he added.
The basis for allowing drug testing, Panelo said, is the "drug menace in the country."
Panelo has previously used the "drug menace" to justify—incorrectly—a proposal to declare martial law in the Phillippines. He also said drug smuggling through the Bureau of Customs constitutes "lawless violence."
Although the president's spokesman was eager to back drug testing for kids, he was cool in October to a proposal to require candidates in the 2019 elections to take drug tests.
Panelo said the suggestion to make drug testing for Senate and House of Representatives candidates mandatory violates the 1987 Constitution as it adds another qualification outside of that enumerated by the Constitution.
"The same principle applies to local candidates as it also adds to the qualifications imposed by law. Voluntary drug testing is a favorable process," Panelo said.