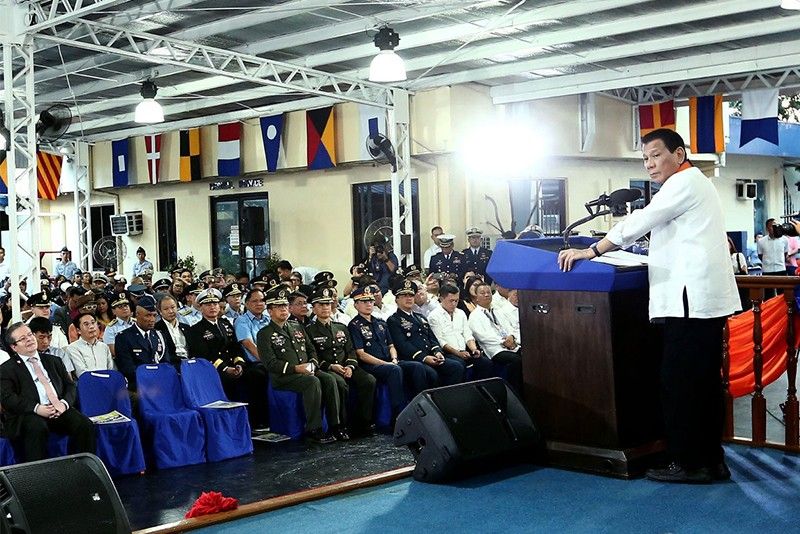 President Rodrigo Roa Duterte delivers his speech during the 117th anniversary of the Philippine Coast Guard (PCG) at the Port Area in Manila on October 25, 2018.
REY BANIQUET/PRESIDENTIAL PHOTO
Duterte's trust rating up 5 points in Q3 survey — SWS
(Philstar.com) - October 27, 2018 - 5:29pm
MANILA, Philippines — Filipinos' trust in President Rodrigo Duterte stayed in the "very good" territory in the third quarter, according to a new poll by the Social Weather Stations.
Results of a September 15 to 23 SWS poll of 1,500 adults showed Duterte's net trust rating spiked five points to +62 from +57 a quarter ago.
The pollster uses trust ratings to gauge public opinion on a president's personality. Based on SWS methodology, a score of 70 and above is classified as excellent, 50 to 69 is very good, 30-49 good and 10-29 moderate.
To compute Duterte's trust rating, SWS subtracts the percentage of respondents with "much trust" in the president from those who had "little trust" in him.
Broken down, 74 percent had trust in Duterte while 12 percent distrusted him. The rest were "undecided."
Increased trust in Metro Manila, Luzon
According to SWS, the five-point surge in Duterte's overall trust score was due to increments posted in Metro Manila and Balance Luzon, combined with steady ratings registered in Visayas and his home region of Mindanao.
The firebrand leader's net trust rating also stayed "very good" across all degrees of education.
The survey was taken more than a week after the government announced an over nine-year high inflation rate of 6.4 percent in August. In September, inflation jumped 6.7 percent.
Soaring prices continue to hurt the poor, who account for nearly a quarter of the country's 105 million population.
In the same report, SWS said Duterte's net trust rating has averaged a "very good" +68 from June 2016 to September 2018.
Just days before his inauguration, Duterte's net trust score hit a personal record-high of an "excellent" +79. — Ian Nicolas Cigaral