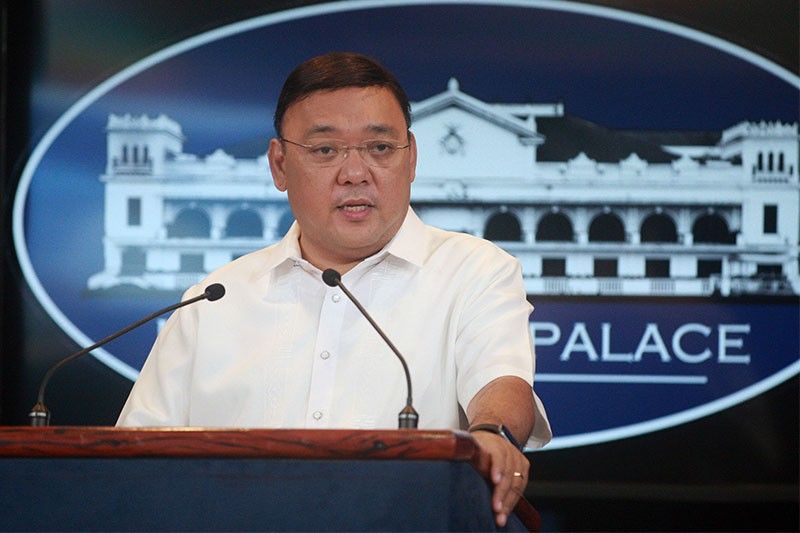 Presidential spokesperson Harry Roque said President Rodrigo Duterte told him that his best option was to return to the House of Representatives.
STAR/Joven Cagande
Roque drops Senate bid for House comeback
MANILA, Philippines — Former presidential spokesperson Harry Roque on Monday announced that he would run as party-list representative in the 2019 midterm elections.
Roque said that his decision not to run for senator came after a conversation with President Rodrigo Duterte on Sunday evening.
"I am taking the advice of the president. While it was always my intention to file a certificate of candidacy for the position of senator, I will actually file a certificate of nomination for party-list under Luntian Pilipinas Party-list," Roque said in his final press briefing at Malacañan.
According to Roque, Duterte told him that his best option was to return to Congress instead of seeking a seat in the Senate.
"Masikip talaga ang Senado. We have seven re-electionists and five comebacking senators in addition to the new faces and finance has always been a hindrance anyway," he said.
The outgoing Malacañang spokesman will be the first nominee of the environmental party-list while Ciara Sotto, daughter of Senate President Tito Sotto, will be the second nominee.
Roque said his choice to represent an environmental group was influenced by mining-induced landslides in Itogon, Benguet and Naga, Cebu.
"If you recall the president has repeatedly said that he wants open pit mining closed and this will be the advocacy that we will be pushing in Congress," Roque said.
Last week, Malacañang announced that Roque would be on leave amid Duterte's offer for him to serve as the press secretary.
Roque's leave of absence came days after he and Special Assistant to the President Bong Go issued conflicting statements on the president's whereabouts.
"I cannot be effective as a spokesperson unless I know everything about the president. Now, people think I lied, I'm telling the nation I did not, I did not know," Roque earlier said.