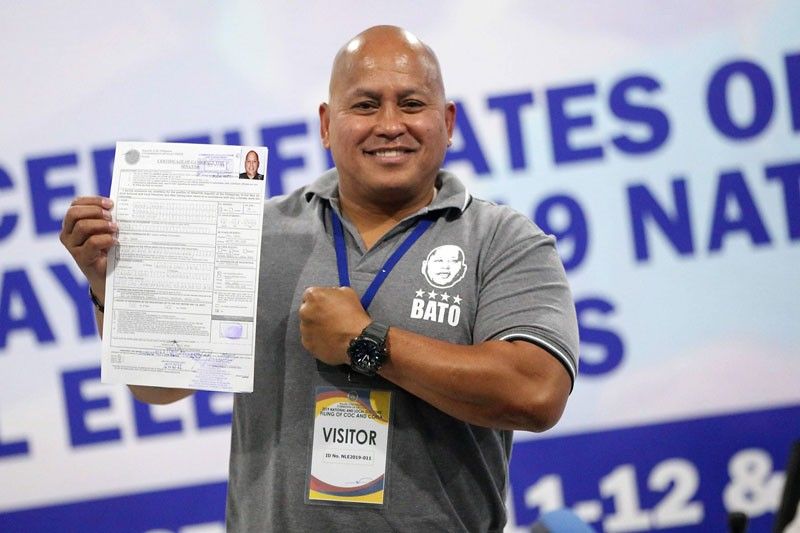 Former Bureau of Corrections chief Ronald 'Bato' dela Rosa files his certificate of candidacy for senator at the Commission on Elections in Intramuros, Manila yesterday.
KJ Rosales
Friday bad luck? Certificates of candidacy filing slows down
MANILA, Philippines — Few candidates went to the Commission on Elections main office in Intramuros, Manila yesterday on the second day of filing of certificates of candidacy for the May 2019 elections.?But some notables led by former national police chief Ronald "Bato" dela Rosa appeared before the Comelec to file their COCs.
Re-electionist Sen. Nancy Binay, known as the "accidental candidate" six years ago, also filed her COC at the Comelec office yesterday.
Dela Rosa filed his COC at exactly 11 a.m., which he claimed is a lucky number for him based on feng shui.
"There is nothing wrong if you believe in feng shui. It is said that at 11 a.m., the sun is directly above you so the sun's energy is going directly to Bato's head. Since I don't have hair, I absorb all of this energy," Dela Rosa told reporters.
Comelec spokesman James Jimenez said there were few candidates who filed their COCs, attributing this to their feng shui belief.
"Relatively speaking there are fewer candidates who came compared to the first day. I don't know what is the auspicious day for feng shui, but it's probably not Friday," Jimenez remarked.
Candidates are expected to come in droves on the last day of filing on Wednesday, but Jimenez said they have observed some politicians choosing their own time in filing their COCs in the last few elections.
Jimenez said the process and system of filing of COC remained orderly for two days.
"The process so far is orderly and has not broken down. This is a good sign and I hope this will continue until the end," he said.
Philippine National Police (PNP) chief Director General Oscar Albayalde said there were no major untoward incidents on Thursday, the first day of filing of COCs nationwide.
Senatorial candidates and party-list groups have until Oct. 17 to file their COCs and certificate of nomination and acceptance (CONA). Comelec offices are closed during weekends.
As of 4 p.m. yesterday, a total of 37 senatorial candidates have filed their COCs.
Officials said 30 party-list groups have filed with the Comelec their CONA.
Among the groups that filed their CONAs are Gabriela, Aasesnso, Natcco, Ang Partido ng mga Pilipinong Marino Inc. (ANGKLA), Alyansang General Parent Teacher-IP, Construction Workers Solidarity, Hugpong Federal Movement of the Phil. (Hugpong Federal), Aangat Tayo, Act Teachers, 1 Edukasyon, An Bisaya and Kabataan.
Team Bato
?Dela Rosa is running under the administration's PDP-Laban but he enjoys the support of Hugpong ng Pagbabago party of Davao City Mayor Sara Duterte.
Hugpong is also supporting presidential spokesman Harry Roque; Special Assistant to the President Christopher Go; Maguindanao Rep. Zajid Mangudadatu; Sens. JV Ejercito and Cynthia Villar, Taguig Rep. Pia Cayetano and Ilocos Norte Gov. Imee Marcos. They have yet to file their COCs.
While Dela Rosa was filing his COC, his supporters figured in a sort of clash with militants led by members of the Gabriela party-list.
As Dela Rosa was being interviewed by media, Gabriela supporters shouted and accused the former national police chief and Bureau of Corrections director of having a hand in the killing of thousands of suspected drug offenders under President Duterte's drug war.
Supporters of Dela Rosa, most of whom are men and former police officers themselves, responded by chanting "Team Bato" while Gabriela supporters kept talking about the failure of the administration to improve their lives.
Dela Rosa promised to focus on law enforcement and security if he is elected senator in May 2019. He added that he will push for restoration of the death penalty to effectively address heinous crime and drug-related cases in the country.
Binay, on the other hand, is seeking a second term in the Senate.
"Time flies so fast. It's been six years and what I have done as a member of the Senate already speaks for itself – if I deserve to win as senator again," she told reporters after submitting her COC.
In the 2013 polls, Binay was a surprise candidate, having no political experience except being the personal assistant of her father, former vice president Jejomar Binay.
The younger Binay is the second senatorial bet of the United Nationalist Alliance (UNA), following the party's deputy secretary general Danilo Roleda who filed his COC for senator on Thursday.
Larry Gadon, the lawyer who initiated the impeachment complaint against former chief justice Maria Lourdes Sereno, also filed his COC later in the afternoon.
Gadon's filing immediately hit a snag when he used the wrong COC form but denied this when interviewed by the media. He claimed that he had no photographs with him when he filed his COC.
Gadon made the pitch that if elected senator in May 2019, he would support the killing of children-terrorists.
"If they are terrorists, they have to be exterminated," Gadon remarked. – with Emmanuel Tupas
Related video: