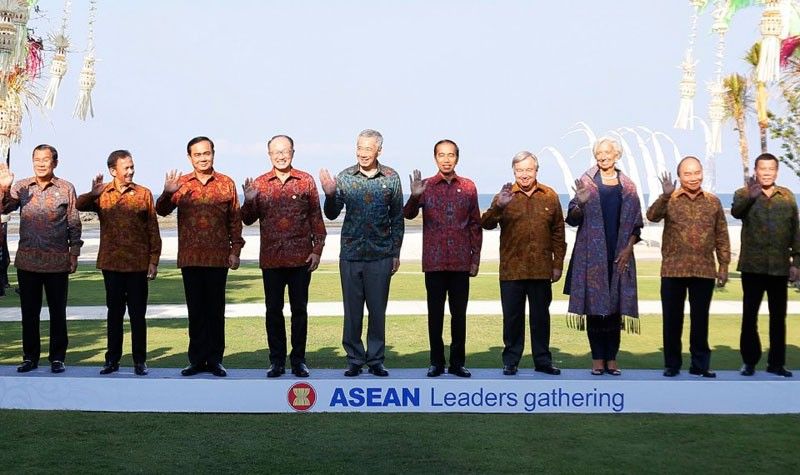 Southeast Asian leaders pose for family photo during ASEAN Leaders Gathering ont the sidelines of International Monetary Fund and World Bank Annual Meeting 2018 in Nusa Dua, Bali, Indonesia, Thursday, Oct. 11, 2018. From left, Cambodia's Prime Minister Hun Sen, Brunei Sultan Hassanal Bolkiah, Thailand's Prime Minister Prayuth Chan-ocha, World Bank President Jim Yong Kim, Singapore Prime Minister Lee Hsien Loong, Indonesia's President Joko Widodo, United Nations Secretary General Antonio Guterres, IMF Managing Director Christine Lagarde, Vietnam's Prime Minister Nguyen Xuan Phuc and Philippines President Rodrigo Duterte.
Johannes P. Christo/AP
Quake rocks Bali as Duterte, world leaders gather
BALI – It was barely five hours after President Duterte arrived in this resort island in Indonesia when a 6.3 magnitude earthquake struck at around 2:45 a.m. yesterday.
The President, who said there was an escape route prepared for him, was safe. He went back to sleep after the initial shock.
At least three people were killed in the strong quake that also hit some places in Java and Papua New Guinea.
Indonesia has been reeling from an earthquake and tsunami that killed over 1,800 people and displaced more than 200,000 others in Palu, Central Sulawesi the other week.
Thursday's earthquake struck on the eve of the Association of Southeast Asian Nations (ASEAN) Leaders' Gathering, which will be attended by heads of state of 10 member-countries and by 1,800 delegates to the International Monetary Fund and World Bank annual meeting.
Duterte arrived at 9:09 p.m. Wednesday at Bali's Ngurah Rai International Airport and immediately proceeded to Patra Bali Resort and Villas where he was to spend the night before the leaders' gathering yesterday.
He had a private meeting with some Cabinet members, including Special Assistant Christopher Go, Chief Legal Counsel Salvador Panelo, Presidential Communications Operations Office Secretary Martin Andanar and Foreign Affairs Secretary Alan Peter Cayetano.
The President was already asleep in his room when the earthquake struck. Go said he immediately went to check on Duterte, who was awakened by the tremor.
"I immediately asked the Presidential Security Group (PSG) if they have prepared an escape route for the President and they said they have one that would lead to the tennis court," Go added.
He stressed that the President is prepared for any eventuality and that he always has in mind that if it is one's time, then one has to go.
The Department of Foreign Affairs said no Filipino was injured.
Meanwhile, the government of Indonesia has expressed its gratitude to the Filipino people for the humanitarian aid extended to victims of earthquake and tsunami.
A Philippine Air Force (PAF) C-130 cargo plane loaded with food and non-food relief items for Sulawesi island residents took off yesterday in response to Indonesia's international call for humanitarian assistance.
Defense Secretary Delfin Lorenzana said another shipment of relief goods is scheduled for next week, although the PAF plane that would carry these will temporarily be stationed in the island so the Indonesian government could use it.
"On behalf of the government and the people of Indonesia, we would like to thank the government and the people of the Philippines for the support about disaster in Palu and Donggala," said Indonesian Ambassador Harry Sarundajang. – Jaime Laude, Pia Lee-Brago AP