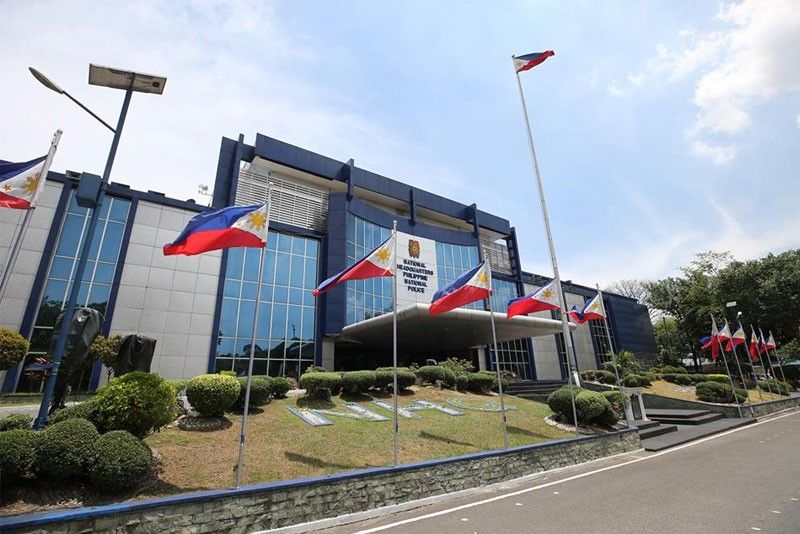 President Duterte disclosed a drug matrix implicating the two former police officers and four active policemen.
www.facebook.com/pnp.pio
Cops in drug matrix recalled to Crame
MANILA, Philippines — A police colonel and three other policemen named in a matrix on illegal drug operations have been recalled from their respective provincial assignments to the Philippine National Police headquarters at Camp Crame in Quezon City, a PNP official said.
President Duterte disclosed a drug matrix implicating the two former police officers and four active policemen.
In an order dated Oct. 10, Director Lyndon Cubos, chief of the PNP Directorate for Personnel and Records Management, yesterday said Senior Supt. Leonardo Suan, Senior Inspector Lito Pirote, Inspector Conrado Caragdag Jr. and Senior Police Officer 4 Alejandro Liwanag were all reassigned to the Police Holding Administrative Unit (PHAU).
PNP spokesman Chief Supt. Benigno Durana Jr. said the reassignment of the police officers was made on orders of PNP chief Director General Oscar Albayalde.
Durana said Suan was initially assigned to Autonomous Region in Muslim Mindanao but the order was canceled and instead directed him to report to PHAU at Camp Crame.
Pirote used to be assigned in Central Luzon, while Caragdag was detailed in the Cordillera Administrative Region. Liwanag was assigned at the Cagayan Valley regional police.
Aside from the four police officers, Duterte's drug matrix included Philippine Drug Enforcement Agency (PDEA) deputy chief for administration retired general Ismael Fajardo, dismissed Senior Supt. Eduardo Acierto and Jimmy Guban, an agent of the Bureau of Customs (BOC) Intelligence and Investigation Service who were recently tagged in the P6.8-billion shabu shipment that reportedly slipped past the BOC.
The National Bureau of Investigation (NBI) has also started a parallel probe on the alleged involvement of several law enforcement officials in the illegal drug trade in the country as recently revealed by President Duterte.
Justice Secretary Menardo Guevarra bared yesterday that he has ordered NBI Director Dante Gierran to conduct a fact-finding investigation to validate and build possible cases from the intelligence report that implicated officials from PNP, PDEA and BOC in the supposed "recycling" of seized shabu and in operations of illegal drug syndicates.
Durana said the PNP will not pursue administrative cases against the two former police officers since they are no longer connected with the police organization.
After he retired, Fajardo was appointed to PDEA while Acierto was dismissed from the service last August for his alleged participation in the registration of more than 1,000 AK-47 rifles, which ended in the possession of the New People's Army.
Fajardo and Acierto were mentioned in the Senate investigation on the alleged smuggling of P6.8 billion worth of shabu hidden inside magnetic lifters.
"So far, the PNP has yet to file any charges against the police officers. But since their names were already made public, definitely an investigation will look into that report," said Durana.
Suan said he is willing to face any investigation regarding the drug matrix to prove his innocence.
A member of the Philippine National Police Academy Class '88, Suan admitted he was formerly assigned at the PNP anti-drug unit but claimed that he has the most number of drug lords arrested that were convicted up to the Supreme Court.
"My family was distraught. They are crying every day since my name was included in the drug matrix," Suan said in an interview.
"They cannot believe it because they know me and that I'm clean when it came to illegal drugs."
Suan admitted he knew Fajardo, Acierto, Caragdag, Pirote, Liwanag and Lorenzo Cusay Bacia, all formerly assigned to the PNP's Anti-Illegal Drugs Special Operations Task Force (AIDSOTF).
While he headed the Special Operations Unit 5 and later SOU2, Fajardo was the AIDSOTF deputy chief and later on chief of the SOU3.
When Acierto was named officer-in-charge after a Korean national was killed inside the Anti-Illegal Drugs Group office at Camp Crame, Suan said he was already assigned in Police Regional Office 12 (PRO 12).
In PRO12, Suan said he became a lecturer in police and school activities regarding illegal drugs.
"We are elated when President Duterte ordered an all-out war against illegal drugs because we too at AIDSOTF are against it. So we worked hard to lick the drug problem in the country but I don't know why it ended with myself being linked to the drug matrix," Suan said. – With Non Alquitran, Edu Punay